City on a Hill: A History of American Exceptionalism (Hardcover)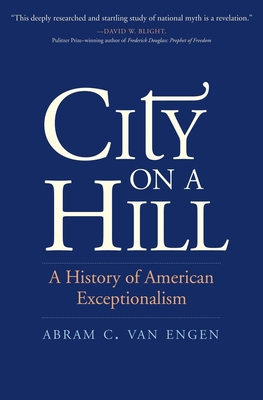 $32.00

Special Order - Subject to Availability
Description
---
A fresh, original history of America's national narratives, told through the loss, recovery, and rise of one influential Puritan sermon from 1630 to the present day
 
"Americans are transiting to a new political chapter. They may want their city to shine again. How can they reconnect to their historical vision of their country's special mission? Thankfully, a fascinating guide for that task is right at hand, an elegant piece of historical detective work by . . . Abram Van Engen."—David Frum, The Atlantic
 
"[An] important book. . . . We can be grateful that Van Engen has taught us so much about the misuses—and the possible appropriate uses—of John Winthrop's vision."—Richard Mouw, Comment
 
In this illuminating book, Abram C. Van Engen shows how the phrase "city on a hill," from a 1630 sermon by Massachusetts Bay governor John Winthrop, shaped the story of American exceptionalism in the twentieth century.
 
By tracing the history of Winthrop's speech, its changing status through time, and its use in modern politics, Van Engen asks us to reevaluate our national narratives. He tells the story of curators, librarians, collectors, archivists, antiquarians, and other often anonymous figures who emphasized the role of the Pilgrims and Puritans in American history, paving the way for the saving and sanctifying of a single sermon and its eventual transformation into an American tale. This sermon's rags-to-riches rise reveals the way national stories take shape and shows us how they continue to influence competing visions of the country—the many different meanings of America that emerge from its literary past.
About the Author
---
Abram C. Van Engen is associate professor of English at Washington University in St. Louis, where he is also associate professor (by courtesy) at the John C. Danforth Center on Religion and Politics.
Praise For…
---
"Van Engen is an elegant, accessible writer, and this is a truly illuminating study of America."—Ron Charles, Washington Post

"Engaging and substantive."—Barton Swaim, Wall Street Journal

"An elegant piece of historical detective work . . . City on a Hill grasps a phrase you may think you understand—and then it turns that phrase to open the door to a huge room of rediscovered knowledge. . . . [A] wonderful archaeology of an American idea."—David Frum, The Atlantic

"[An] important book. . . . We can be grateful that Van Engen has taught us so much about the misuses—and the possible appropriate uses—of John Winthrop's vision."—Richard Mouw, Comment

"Engagingly written, insightfully argued, [with] fascinating, sometimes rollicking, tours through the ways Puritans have been characterized—and caricatured—over time."—Jenny Hale Pulsipher, Reviews in American History

"A remarkable work of historical scholarship. . . . [Van Engen's] prose is engaging . . . his argumentation is seamless . . . and the story he tells is fascinating."—Glenn A. Moots, Law and Liberty

"Van Engen intrepidly followed the evidence where it led, with exacting legwork, out of which a second history emerges, one . . . grounded in an uneven textual history."—Michael Ditmore, Early American Literature

"Thought-provoking, especially for anyone whose work relies directly or indirectly on these archives. . . . Van Engen navigates the vagaries of early twentieth-century intellectual history with aplomb."—Jonathan Beecher Field, Eighteenth-Century Studies

"A compelling interpretation. . . . Van Engen has written a worthwhile history of American exceptionalism and the part 'A Model of Christian Charity' has played in that history."—James Kabala, Journal of Church and State

"Van Engen explores fresh questions and etches new textures. . . . In its breadth, organization, and care, Van Engen's book provides a fitting conclusion . . . to an important and fertile scholarly conversation."—Eric C. Miller, Journal of Communication and Religion

"Van Engen has created an engrossing, highly recommended intellectual history that counters one of America's founding myths."—Jacob Sherman, Library Journal

"Van Engen's explanation of the history of Winthrop's manuscript will likely require many historians to revise their use of the sermon in their lectures. His exploration of the crucial role that nineteenth-century antiquarians and historical societies played in developing a national narrative is also brilliant. Equally insightful are his chapters on the work of Miller and Bercovitch as well as his careful exegesis of Trump's rejection of American exceptionalism. . . . City on a Hill is an exceptional contribution to American history."—P. C. Kemeny, Journal of Ecclesiastical History

"Demonstrates an impressive command of facts. . . . A masterful account of the resiliency of the Puritan origins narrative."—Steven K. Green, Church History

"Abram C. Van Engen compellingly probes the murky American canonization of a segment of A Model of Christian Charity. . . . [His] revelations about the manuscript are sobering."—William J. Scheick, Seventeenth-Century News

"Engrossing. . . . Well researched. . . . Van Engen's study offers a useful case study in the creation of what we might call monuments of culture."—Cyrus R. K. Patell, ALH Online Review

"A richly documented revisionist history . . . [that] demolishes the patriotic conceit of our American 'citty upon a hill.' . . . A delightful journey through the archives of American history."—Reiner Smolinski, Journal of Religion

Winner of the 2021 Peter J. Gomes Memorial Book Prize, awarded by the Massachusetts Historical Society: "A major contribution to the historical scholarship on Puritanism and American exceptionalism. . . . Truly an influential book."

Winner of the 2022 Pelikan Award, a biannual prize given by an independent committee of Yale faculty, sponsored by Yale University Press

"This deeply researched and startling study of national myth is a revelation. Van Engen takes us on an extraordinary intellectual journey through the idea of exceptionalism. Here, good history punctures our hardened assumptions with evidence, even as it allows for myth's powers over our imaginations."—David W. Blight, author of the Pulitzer Prize–winning Frederick Douglass: Prophet of Freedom

"Fluidly written, deeply and widely researched, persuasively argued, scintillating, and stunningly effective. . . . A landmark contribution."—Mark Noll, author of In the Beginning Was the Word

"Van Engen uncovers the story of the most revered sermon in the American saga, tracing its shadowy origin to the bully pulpit centuries later as a motto for national exceptionalism. A trifecta of scholarship, narrative history, and a timely contribution to debates over our role in the world."—Strobe Talbott, Brookings Institution

"Abram Van Engen has written a brilliant cultural history of how the meaning of America has been defined, over time, by appeals to the Puritans' grand vision of a 'city on a hill.' This story, with its many twists and turns, illuminates the power and the contradictions of these myths of American exceptionalism. The chapters on the influence of Perry Miller are truly exceptional."—Nathan Hatch, president of Wake Forest University

"Abram Van Engen blends deep research in rare primary sources with a gripping story that runs from the 1620s to the present. Drawing on history, religion, and literature, he makes a persuasive argument in page-turning prose about the mythic roots of American exceptionalism. This should be a prize-winning book."—Grant Wacker, author of One Soul at a Time: The Story of Billy Graham