Oblivion or Glory: 1921 and the Making of Winston Churchill (Paperback)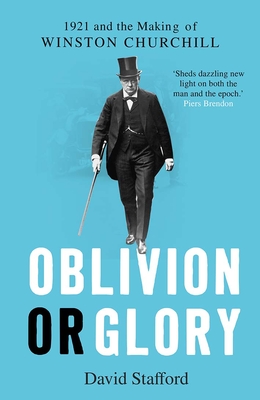 Description
---
An engaging and original account of 1921, a pivotal year for Churchill that had a lasting impact on his political and personal legacy

"Important . . . Its power lies in a vivid re-creation not only of Churchill's public roles but also his private life—of good fortune but also family tragedy."—Paul Bew, Wall Street Journal

After the tragic consequences of his involvement in the catastrophic Dardanelles Campaign of World War I, Churchill's political career seemed over. He was widely regarded as little more than a bombastic and unpredictable buccaneer until, in 1921, an unexpected inheritance heralded a series of events that laid the foundations for his future success.

Renowned Churchill scholar David Stafford delves into the statesman's life in 1921, the year in which his political career revived. From his political negotiations in the Anglo-Irish treaty that created the Irish Free State to his tumultuous relationship with his "wild cousin" Clare Sheridan, sculptor of Lenin and subject of an MI5 investigation, this broad account explores the nuances of Churchill's private and public lives. This is an engaging portrait of this overlooked yet pivotal year in the great man's life.
About the Author
---
David Stafford is an adjunct professor at the University of Victoria and a renowned expert on Churchill. His former publications include Churchill and Secret Service, Roosevelt and Churchill, and Endgame, 1945.
Praise For…
---
"Important. . . . An elegant venture. . . . Its power lies in a vivid re-creation not only of Churchill's public roles but also his private life—of good fortune but also family tragedy—thus producing something close to the actual rhythm of lived history."—Paul Bew, Wall Street Journal

"A fascinatingly detailed account of one of the most important years of Winston Churchill's life."—Anne de Courcy, author of The Viceroy's Daughters

"A brilliant portrayal of the triumphs and tribulations of Churchill's middle age."—Paul Addison, author of Churchill: The Unexpected Hero

"In 1921 Winston Churchill triumphed over political disaster and personal tragedy. He re-shaped the Middle East, pursued peace in Ireland, and "laid the foundations of his future glory." Stafford has had the brilliant idea of focussing on this single, crucial year and he sheds dazzling new light on both the man and the epoch. "—Piers Brendon,  author of The Decline and Fall of The British Empire, 1781-1997

"Vividly adds perspectives and colour to a busy yet little known year of Churchill's life that most biographies can only treat in monochrome."—David Lough, author of No More Champagne: Churchill and His Money

"A fascinating and fluent account of Churchill's efforts to win the peace and hold together the Empire."—Lawrence James, author of Churchill and Empire