Digging Up Mother: A Love Story (Hardcover)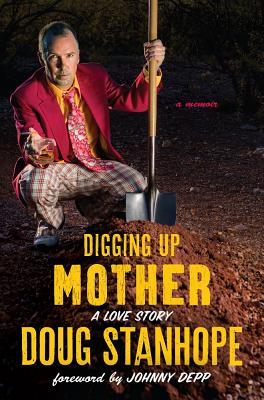 Staff Reviews
---
If you know of Doug Stanhope, you probably love him. If you don't know him, he's probably not for you anyway. Like in his comedy, this book doesn't shy away from the darkness, in fact celebrates it and mocks you for being afraid of it. Though there are plenty of comics on the road type stories, which I'm a big fan of, this is, as the subtitle suggests, a love story about his mother. Make no mistake though, it's not an ode to his mother. Stanhope is too smart for that. He presents his mother as she was, not in some idealistic fashion. He loves her in that true way where he doesn't feel the need to idealize her. For her part, she comes across as hilarious, fascinating, and tragic. Though the prose in this book is more controlled than his rapid fire, rage eruption stage dynamic, it still reads as wild and uncomfortable, and even at times poignant. This is a pretty great book.
—
Danny
Description
---
Doug Stanhope is one of the most critically acclaimed and stridently unrepentant comedians of his generation. What will surprise some is that he owes so much of his dark and sometimes uncomfortably honest sense of humor to his mother, Bonnie. It was the cartoons in her Hustler magazine issues that molded the beginnings of his comedic journey, long before he was old enough to know what to do with the actual pornography. It was Bonnie who recited Monty Python sketches with him, who introduced him to Richard Pryor at nine years old, and who rescued him from a psychologist when he brought that brand of humor to school. And it was Bonnie who took him along to all of her AA meetings, where Doug undoubtedly found inspiration for his own storytelling.

Bonnie's own path from bartending to truck driving, massage therapy, elder abuse, stand-up comedy, and acting never stopped her from being Doug's genuine number one fan. So when her alcoholic, hoarding life finally came to an end many weird adventures later in rural Arizona, it was inevitable that Doug and Bonnie would be together for one last excursion.

Digging Up Mother follows Doug's absurd, chaotic, and often obscene life as it intersects with that of his best friend, biggest fan, and love of his life-his mother. And it all starts with her death-one of the most memorable and amazing farewells you will ever read.

About the Author
---
Doug Stanhope is a veteran of over twenty-five years of stand-up comedy, a stalwart of the hard-drinking, chain-smoking, literally dying breed. With a litany of dubious television credits, he has successfully dodged mainstream fame using his uncompromising brand of stand-up to build a cult-like following around the world. He's won numerous accolades, including being voted the best show of the entire Edinburgh Festival by the British press on his 2002 UK debut, and has recorded over a dozen comedy specials.

Stanhope tours extensively in North America and overseas, described by the New York Times as "an acidic blend of prickly hostility, elaborately articulated self-loathing, and righteous anger" and who Ricky Gervais says "might be the most important stand-up working today." A regular guest on the Howard Stern Show and appointed the Voice of America for Charlie Brooker's BBC TV Wipe shows, Stanhope continues to be an armchair revolutionary for the excluded, ignored, forgotten, and wasted of society, rallying them with what The Guardian calls "comedy with brains and guts and a heart."

Stanhope resides in the US border town of Bisbee, Arizona, with pets who have people names, in an absurd relationship with his galpal Bingo.
Praise For…
---
"In the first chapter of Digging Up Mother, [Stanhope] describes the death of his mother in the meticulous detail of someone fascinated by all things uncomfortable and taboo. While he talked about her in a previous stand-up special, this lucid account, deadpan but too impertinent to be called clinical, is even more harrowing and funny."

—Jason Zinoman, New York Times

"In the first chapter of Digging Up Mother, [Stanhope] describes the death of his mother in the meticulous detail of someone fascinated by all things uncomfortable and taboo. While he talked about her in a previous stand-up special, this lucid account, deadpan but too impertinent to be called clinical, is even more harrowing and funny."—Jason Zinoman, New York Times
12/29/16