Apostle: Travels Among the Tombs of the Twelve (Paperback)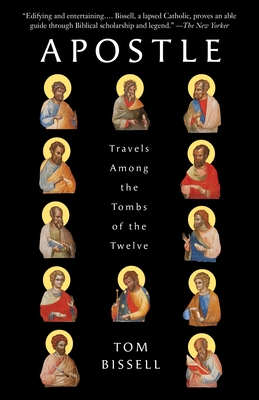 $16.95

Not Available In-Store - Usually Ships from Warehouse in 1-5 Days
Description
---
The story of Twelve Apostles is the story of early Christianity: its competing versions of Jesus's ministry, its countless schisms, and its ultimate evolution from an obscure Jewish sect to the global faith we know today in all its forms and permutations. In his quest to understand the underpinnings of the world's largest religion, Tom Bissell embarks on a years-long pilgrimage to the apostles' supposed tombs, traveling from Jerusalem and Rome to Turkey, Greece, Spain, France, India, and Kyrgyzstan. Along the way, Bissell uncovers the mysterious and often paradoxical lives of these twelve men and how their identities have taken shape over the course of two millennia.
 
Written with empathy and a rare acumen—and often extremely funny—Apostle is an intellectual, spiritual, and personal adventure fit for believers, scholars, and wanderers alike.
About the Author
---
TOM BISSELL is the author of eight previous books, most recently The Disaster Artist, and has been awarded the Rome Prize and a Guggenheim Fellowship. He writes frequently for Harper's Magazine and The New Yorker.
Praise For…
---
"By turns edifying and entertaining, this investigation into the lives of the Twelve Apostles mixes irreverent travelogue and earnest textual analysis. Bissell … proves an able guide through Biblical scholarship and legend." —The New Yorker

"Bissell, in delving into the lives of the twelve apostles, brings us the intrigue of the Bible without the religious agenda. Apostle is interesting history—replete with fun facts . . . Bissell traipses around apostle land with a rogue academic charm." —GQ 

"Expertly researched and fascinating… Bissell is a wonderfully sure guide to these mysterious men.… This is a serious book about the origins of Christianity that is also very funny. How often can you say that?" —The Independent (UK)

"At time when most discussion of religion in the public sphere is couched in impregnable certainty, mealy-mouthed apologetics or scoffing rationalism, Bissell's voice is rare. He is properly caustic and profane about Christianity's absurdities when necessary, but he is also vividly empathetic and conscious that this is not just one of the most significant stories ever told but also one of the most beautiful." —The Times (UK)

"A writer of wanderlust and obsessed curiosity… Apostle is a ride-along through unanswerable questions about 12 imperfect men who set out in the first century to spread the word of Jesus Christ. The book is a trip into faith, history and skepticism. The story glows with enchanting asides and stitches together how Jesus' life and meaning were edited and refined through the ages from contradictory accounts and incongruous translations… Bissell is a writer of magpie instincts, a man seeking enlightenment amid strangers in distant geographies. His entourage of translators, drivers, a monk, an archaeologist and assorted pilgrims are, like the apostles, colloquial and universal, restless and oblivious souls that are at once amusing and profound." —The Los Angeles Times

"Tom Bissell's book is consistently fascinating about the stories that crept as inexorably as lichen over a gravestone around the people closest to Jesus. The travelogue elements make for a pleasant hike out of the archive and into surprising places." —The Guardian (UK)

"A writer of restless curiosity and lively wit… Bissell has mastered his source materials in a meticulous and open-minded manner." —The Seattle Times

"Tom Bissell is a wonderful, elegant writer and a dryly funny non-believer (a lapsed Catholic) who is nevertheless fascinated by Christianity… within [Jerusalem's] Old City he brilliantly evokes the burning tension and borderline madness of a city like no other on earth… Throughout his travels, Bissell listens to today's pilgrims with a laudable mix of good humour, empathy and polite but firm inquiry… Bissell also reads the New Testament with scrupulous attention… Bissell is a cheery traveller, and Apostle is a richly entertaining mishmash of travel book, history of early Christianity, journey of religious non-faith and human comedy." —The Sunday Times (UK) 

"Apostle is a fine mash-up. Certainly, early Christianity is its subject, but storytelling is its object, how we call our world into existence and try to make sense of it. In the end, Bissell asks: 'What if a story is enough for a thing to be?' Just so." —Philadelphia Inquirer 

"Fascinating… the research is deep and well done and incorporates both ecclesiastical and secular sources… Written with tact and thoughtful inquisition, Apostle: Travels Among the Tombs of the Twelve takes the reader though centuries of Christian thought, showing the occasional rocky road of what has emerged as modern Christianity from its beginnings on a hill outside Jerusalem to the far corners of the Roman Empire and beyond." —New York Journal of Books 

"Bissell's eye for detail shines as he recounts his explorations in Europe, the Middle East and Asia . . . A fascinating read for believer and nonbeliever alike. Bissell's sense of place is evocative, vividly casting images in the reader's mind of the catacombs, ruins and cathedrals he sees, as well as the variety of faith he encounters." —BookPage
 
"Bissell's apostolic journeys create a fascinating and quirky blend of contemporary travel narrative and scholarly investigation into the New Testament." —BBC.com "9 Books to Read in March"
 
"Bissell . . . takes on a formidable task: melding a travelogue with intensive biblical scholarship. From 2007 to 2010, he traveled to the tombs of the 12 Apostles . . . Bissell writes with a keen eye about his fellow pilgrims at the tombs: the young Evangelical who, despite his religion's tepid view of the saints, still goes to the resting place of Phillip and James; the Greek guide who can rattle off every fact about John as if they were, well, the gospel truth. But Bissell mostly uses these stops as jumping-off places for an erudite discussion of theology, biblical history, and competing religious theories . . . Profound . . . He is a beautiful stylist . . . This is no ordinary tourist trip through the Holy Land; rather, it's a thoughtful journey and should be savored." —Booklist 

"Apostle is an ambitious hybrid of a book—part history of the early years of Christianity, part group biography, and part travelogue . . . The tension between Bissell's skepticism and his fascination with Christianity weaves an intriguing thread through the book . . . [an] absorbing tale of pilgrimage." —First Things 

"[Bissell's] account of his travels is an excellent cornucopia of history, exegesis, travelogue, biography, analysis, corrective, and hilarity . . . Bissell includes questions, definitions, traveler's tales, and sprightly interviews with the pilgrims, translators, and docents he meets, and these bolster his Bible commentaries; his accounts are always grounded in his meetings with scholars and church fathers. Even if readers don't care about the apostles, Bissell's style is compelling on its own. His unforced humor is delightful, his wealth of research grounds this formidable apostolic project, and his crafty rhetoric and irresistible charm make it a must-read." —Publishers Weekly (starred review)

"A deep dive into the heart of the New Testament, crossing continents and cross-referencing texts…  On the page, Bissell finds the Gospels to be a vast, crazy quilt on which every jot and tittle is suspect, from proper names to history, due to both the vagaries of oral tradition as well as the varying translations and competing agendas of copyists, scribes, and leaders. The author examines all these controversies in scholarly depth. Was there really a Judas? Was John actually the Beloved Disciple of history, or was that someone else? Was James actually the stepbrother of Jesus? Were the Gospels written as a reaction to the fact that the second coming did not immediately occur? As a long-lapsed Catholic, Bissell's driving concern is why people still believe . . . Illuminating . . . A rich, contentious, and challenging book." —Kirkus (starred review)

"Well-documented, with an extensive bibliography, this is a full-bodied read for the religiously curious." —Library Journal