After Dark (Paperback)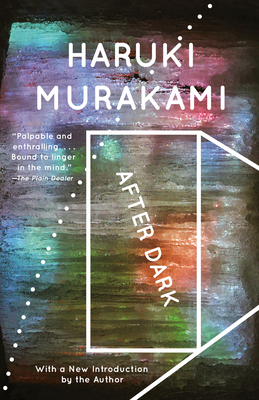 $15.95
Not Available In-Store - Usually Ships from Warehouse in 1-5 Days
Staff Reviews
---
Have you heard all the hype about Haruki Murakami but can't for the life of you figure out where to start? Well good news, this is the perfect spot! This was the first book I ever read by him, when it was still relatively new and I was just a teenager, so it holds a special place in my heart. It takes place, as the title would suggest, in the hours after dark over the course of a single evening, from just before midnight to sunrise. The plot itself is hard to describe, it's loose, dreamlike, as the random, yet prescient, strings of events unfurl and intersect across the nocturnal Tokyo cityscape. The characters are disparate and yet connected, seeming to gravitate one another with eerie celestial rhythms. It sits in a very special place, just between realism and surrealism, right on the edge, giving you a look into Murakami world without totally severing ties with the ordinary one. And it's a very quick read, the perfect thing to bring to a cafe or diner one night, where you might find yourself drawn into something special. — From Salvatore's Picks
Description
---
A sleek, gripping novel of encounters set in Tokyo during the spooky hours between midnight and dawn, by an internationally renowned literary phenomenon.
Murakami's trademark humor, psychological insight, and grasp of spirit and morality are here distilled with an extraordinary, harmonious mastery. Combining the pyrotechnical genius that made Kafka on the Shore and The Wind-up Bird Chronicle international bestsellers, with a surprising infusion of heart, Murakami has produced one of his most enchanting fictions yet.
About the Author
---
Haruki Murakami was born in Kyoto in 1949 and now lives near Tokyo. His work has been translated into more than fifty languages, and the most recent of his many honors is the Yomiuri Literary Prize, whose previous recipients include Yukio Mishima, Kenzaburo Oe, and Kobo Abe.
Praise For…
---
"After Dark [is] hypnotically eerie, sometimes even funny, but most of all, it's [a book] that keeps ratcheting up the suspense."—The Washington Post Book World"After Dark is a streamlined, hushed ensemble piece. . . . Standing above the common gloom, Murakami detects phosphorescence everywhere, but chiefly in the auras around people, which glow brightest at night and when combined." —The New York Times Book Review"Murakami is masterful with symbolism. . . . Night . . . can't blacken the ever-shifting shutter speeds of Murakami's cockeyed Kodak. . . . It is straight-ahead jazz with a quiet grace." —The Los Angeles Times Book Review"A bittersweet novel that will satisfy the most demanding literary taste. . . . Murakami's fiction reminds us that the world is broad, that myths are universal-and that while we sleep, the world out there is moving in mysterious and unpredictable ways." —The San Francisco Chronicle"Hypnotically eerie, sometimes even funny, but most of all, it's [a book] that keeps ratcheting up the suspense." —The Washington Post Book World "After Dark is a gripping dream. . . . In Murakami's hands, hope is nothing more nor less than a deep, cleansing breath." —The Boston Globe "What you'll love: The book's spare yet eerily atmospheric scenes will fester under your skin, poking at your equilibrium long after you've finished reading." —The Washington Post "There's a dreamlike quality to Haruki Murakami's mesmerizing new novel, [where] amid the alienation are flickers of hopefulness springing from seemingly random, serendipitous human interactions and connections. . . . Like a latter-day Walker Percy or Albert Camus, Murakami raises questions about perception and existence [and] captures the palpable loneliness and essential unfathomability at the heart of modern life." —The Christian Science Monitor "This strange, mesmerizing, spell-binding, voyeuristic novel is impossible to put down." —The Providence Journal "A metaphysical mystery. . . . After Dark deftly explores existentialist notions of purpose, control, and identity." —Elle "Gripping. . . . Creepy!" —Wired "In After Dark, night seems to be where Murakami was headed all along. . . . He has a natural curiosity about people, a belief that they contain wonders, perhaps none so great as the capacity for human connection." —Newsday