The Power of Surrender: Let Go and Energize Your Relationships, Success, and Well-Being (Paperback)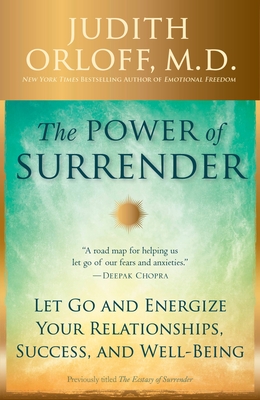 Staff Reviews
---
Judith Orloff has given us an oracle to help us let go and come into our own power. Open the book and it will communicate with you. With a question, a thought or a calm mind, let it speak. Dr. Orloff instructs to honor your gut feelings, pay attention to your insights, surrender to the beauty of the natural world and listen to your body. And as a medical doctor, Judith Orloff's tenth surrender focuses on how to deal with illness and pain--being protective and loving to the injury. She teaches us to care for ourselves.
—
PINNA'S STAFF PICKS
Description
---
Previously published as The Ecstasy of Surrender.

Are you longing for your life to be easier and more fun? Would you like to stop pushing, micromanaging, and forcing things so you can relax? What if you could enjoy what you have instead of always lusting for "more"? What if you could live in "the zone," propelled by powerful currents toward the right people and opportunities? What if you could stop worrying about money and live with more emotional ease in the moment? If you answer "yes" to all these questions and desire lasting positive change, then prepare to experience the ecstasy of surrender.
     The art of letting go, Dr. Judith Orloff explains, is the secret key to manifesting power and success in all areas of  life, including work, relationships, sexuality, radiant aging, and health and healing. In our superconnected world where emails and text messages constantly interrupt us, it's easier to let go than you think. Once embraced, surrendering removes roadblocks and the exhaustion that comes from "trying too hard"—and it helps you achieve goals more effortlessly and brings ongoing happiness.
     With her stunning gift for storytelling coupled with her unique, results-oriented approach to physical, emotional, and spiritual health—marrying neuroscience, psychiatry, intuitive medicine, energy techniques, and more—Judith provides a powerful, practical, and accessible map for anyone who is longing to be happier but who feels stuck, burned-out, tense, worried, or afraid to let go.
About the Author
---
JUDITH ORLOFF, M.D., assistant clinical professor of psychiatry at UCLA, has helped patients practice the art of surrender to achieve emotional freedom for more than two decades. She is the author of the New York Times bestseller Emotional Freedom and the bestsellers Positive Energy, Judith Orloff's Guide to Intuitive Healing, and Second Sight. She has appeared on The Dr. Oz Show, the Today show, PBS, CNN, and NPR, and her TED talk debut of this book has over a half million views on YouTube. Find more information and inspiration at www.drjudithorloff.com.
Praise For…
---
"With wisdom, grace and good humor, Judith Orloff's book provides a road map for helping us let go of our fears and anxieties." —Deepak Chopra, author of What Are You Hungry For?

"This luminous book is crammed full of wisdom on every page."   —Larry Dossey, MD

"There is no real peace, happiness, or joy without surrender. This book gives your intellect the information necessary to trust the wisdom of simply letting go." —Christiane Northrup, MD, author of Womens Bodies, Women's Wisdom

"The Ecstasy of Surrender is a stunning accomplishment. Orloff masterfully explores the multiple facets of letting go and discovering personal and spiritual freedom. This is a wonderful book." —Caroline Myss, author of Anatomy of the Spirit and Defy Gravity

"One of the most important changes we can make is to go from seeing surrender as sign of defeat to seeing it as a land of victory inside ourselves. Dr. Judith Orloff offers beautiful guidance and insight into making the switch. This book takes you straight into the light: our surrender to a intelligence, power, and love that is greater than our own. Dr. Orloff nails it. " —Marianne Williamson, author of A Return to Love
 
"Dr. Judith Orloff not only writes eloquently about the beautiful process of surrender, but she demonstrates it through her open-hearted writing. She shows us the strength and power that comes from healthful vulnerability. Judith and her book The Ecstasy of Surrender are treasures!"  —Doreen Virtue, author of The Miracles of Archangel Gabriel

"The Ecstasy of Surrender: wow! I surrender to my intuition, to my wisdom, to my inner guru, and to the moment." —Ram Dass, author of Be Here Now

"My wise and courageous colleague, Dr. Judith Orloff, has spun a brilliant book--The Ecstasy of Surrender--blending spiritual wisdom, modern medical insights, and Judith's vast intuitional skills. This book will remove blocks to your inner peace, happiness, and health. I highly recommend it." —Brian L. Weiss, MD, author of Many Lives, Many Masters

"In this hope-filled offering, Orloff (Emotional Freedom) posits that the only way to live a powerful, successful life is to surrender to it. Blending neuroscience, energy medicine, psychiatry, and the art of intuition, Orloff, an assistant clinical professor of psychiatry at UCLA, addresses major life issues by breaking them into 12 different "surrenders," including "redefining true success, power, and happiness"; the "four vital insights into power and letting go"; "cultivating impeccable communication"; and "exploring the divinity of your body and sexuality." With a compassionate and empowering tone, she counsels others not to micromanage life details, but to be in "flow" with them and to look for the lessons in all situations as well as to refuse to live a life governed by fear. Self-assessment quizzes allow readers to measure their level of involvement in self-defeating behaviors; helpful and non-judgmental suggestions provide strategies for overcoming these negative mind-sets. Orloff demonstrates her own adherence to these principles by unflinchingly sharing her own experiences in the spirit of teaching others." —Publishers Weekly

"Stop dreaming about the life you want and start living it. Dr. Orloff explains  a dozen ways in which you can let go of what you don't need so you can let in what you do need to lead a happier, fuller life." —Bella New York

In The Ecstasy of Surrender: 12 Ways Letting Go Can Empower Your Life [Dr. Orloff] puts her finger on the number-one behavior that leads to ever-increasing levels of stress in our lives: pushing through, forcing things, and trying to make things happen. This well-written, easy to read, highly practical book will be invaluable for anyone who works too hard, lacks balance, feels unhealthy, is stressed out, has dissatisfying relationships, or just wants to get more joy, pleasure, and spark out of life. —Seattle Post Intelligencer Review

"Go with the flow. Forget trying to control every detail. Life is lots more fun and less stressful when you let go from the get-go!" —Good Housekeeping
 
"The Ecstasy of Surrender empowers readers with the art of letting go and the secrets of manifesting power in all areas of life." —Massage and Bodywork Magazine