The Road (Vintage International) (Paperback)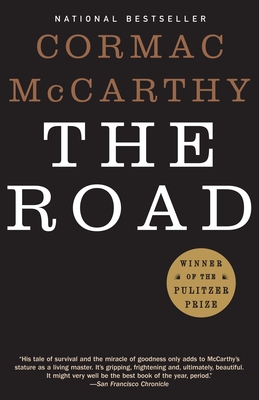 Staff Reviews
---
Ok, admittedly I was a little late to the party on this one. My good friend Aaron always talked about this book, though, so I finally read it. This story has been haunting me ever since I finished it. I know the word "haunting" might have a negative connotation. However, I'd like to make it clear that although this book takes your heart and proceeds to continuously stomp on it throughout the entire tale, you'll find a most intriguing and terrifying exploration of humanity within these pages. You'll be disturbed, you'll probably cry, but you'll also come away from it with a lingering feeling of hope that the protagonists manage to keep aflame. 
—
Becky
Description
---
WINNER OF THE PULITZER PRIZE • NATIONAL BESTSELLER • A searing, post-apocalyptic novel about a father and son's fight to survive, this "tale of survival and the miracle of goodness only adds to McCarthy's stature as a living master. It's gripping, frightening and, ultimately, beautiful" (San Francisco Chronicle). • From the bestselling author of The Passenger

A father and his son walk alone through burned America. Nothing moves in the ravaged landscape save the ash on the wind. It is cold enough to crack stones, and when the snow falls it is gray. The sky is dark. Their destination is the coast, although they don't know what, if anything, awaits them there. They have nothing; just a pistol to defend themselves against the lawless bands that stalk the road, the clothes they are wearing, a cart of scavenged food—and each other.

The Road is the profoundly moving story of a journey. It boldly imagines a future in which no hope remains, but in which the father and his son, "each the other's world entire," are sustained by love. Awesome in the totality of its vision, it is an unflinching meditation on the worst and the best that we are capable of: ultimate destructiveness, desperate tenacity, and the tenderness that keeps two people alive in the face of total devastation.

Look for Cormac McCarthy's latest bestselling novels, The Passenger and Stella Maris.
About the Author
---
The novels of the American writer, CORMAC McCARTHY, have received a number of literary awards, including the Pulitzer Prize, the National Book Award, and the National Book Critics Circle Award. His works adapted to film include All the Pretty Horses, The Road, and No Country for Old Men—the latter film receiving four Academy Awards, including the award for Best Picture. He died in 2023.
Praise For…
---
A New York Times Notable Book • One of the Best Books of the Year: The Boston Globe, The Christian Science Monitor, The Denver Post, The Kansas City Star, Los Angeles Times, New York, People, Rocky Mountain News, Time, The Village Voice, The Washington Post

"His tale of survival and the miracle of goodness only adds to McCarthy's stature as a living master. It's gripping, frightening and, ultimately, beautiful. It might very well be the best book of the year, period." —San Francisco Chronicle

"Vivid, eloquent ... The Road is the most readable of [McCarthy's] works, and consistently brilliant in its imagining of the posthumous condition of nature and civilization." —The New York Times Book Review

"One of McCarthy's best novels, probably his most moving and perhaps his most personal." —Los Angeles Times Book Review

"Illuminated by extraordinary tenderness.... Simple yet mysterious, simultaneously cryptic and crystal clear. The Road offers nothing in the way of escape or comfort. But its fearless wisdom is more indelible than reassurance could ever be." —The New York Times

"No American writer since Faulkner has wandered so willingly into the swamp waters of deviltry and redemption.... [McCarthy] has written this last waltz with enough elegant reserve to capture what matters most." —The Boston Globe

"We find this violent, grotesque world rendered in gorgeous, melancholic, even biblical cadences.... Few books can do more; few have done better. Read this book." —Rocky Mountain News

"A dark book that glows with the intensity of [McCarthy's] huge gift for language.... Why read this? ... Because in its lapidary transcription of the deepest despair short of total annihilation we may ever know, this book announces the triumph of language over nothingness." —Chicago Tribune

"The love between the father and the son is one of the most profound relationships McCarthy has ever written." —The Christian Science Monitor

"The Road is a wildly powerful and disturbing book that exposes whatever black bedrock lies beneath grief and horror. Disaster has never felt more physically and spiritually real." —Time

"The Road is the logical culmination of everything [McCarthy]'s written." —Newsweek

"There is an urgency to each page, and a raw emotional pull ... making [The Road] easily one of the most harrowing books you'll ever encounter.... Once opened, [it is] nearly impossible to put down; it is as if you must keep reading in order for the characters to stay alive.... The Road is a deeply imagined work and harrowing no matter what your politics." —Bookforum