Union Atlantic (Paperback)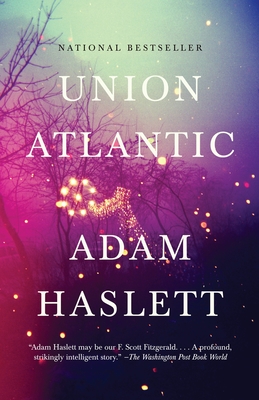 $15.00

Special Order - Subject to Availability
Staff Reviews
---
Much has been made of Adam Haslett's zeitgeist-capturing prescience in Union Atlantic (the New York Times, for example, noted an "eerie overlap of its narrative with current events in the American economy"), but ultimately this is a story about people. Wealthy businessman Doug Fanning is a despicable but compelling protagonist, Charlotte Graves and her unusual dogs are unforgettable, and Nate Fuller's emotionally brutal coming-of-age story ends on a grace note whose poignancy is among the most heartbreaking I've read. Highly recommended.
—
Brandon
February 2010 Indie Next List
---
"Adam Haslett's debut novel is the story of four diverse characters -- a banker, a retired teacher and her brother, and a high school student -- who are thrown together in unexpected ways. Through this powerful and prescient novel, Haslett is asking what it means to be American today."
— Susan Fox, Red Fox Books, Glens Falls, NY
Description
---
From the acclaimed author of Imagine Me Gone and the Pulitzer Prize finalist You Are Not A Stranger Here, a stunning, masterful portrait of our modern gilded age.
 
At the heart of Union Atlantic lies a test of wills between a retired history teacher, Charlotte Graves—who has suddenly begun to hear her two dogs speaking to her in the voices of Cotton Mather and Malcolm X—and an ambitious young banker, Doug Fanning, who is building an ostentatious mansion on what was once Charlotte's family land. Drawn into the conflict is Nate Fuller, a troubled high-school student who stirs powerful emotions in both of them. What emerges is a riveting story of financial power, the defense of tradition, and the distortions of desire these forces create. With remarkable scope and precision, Union Atlantic delivers a striking vision of the violent, anxious world we've come to inhabit.

About the Author
---
Adam Haslett is the author of the novel Imagine Me Gone; the short story collection You Are Not A Stranger Here, which was a Pulitzer Prize and National Book Award finalist and which won the PEN/Winship Award; and the novel Union Atlantic, which won the Lambda Literary Award and was shortlisted for the Commonwealth Prize. His books have been translated into eighteen languages, and he has received the Berlin Prize from the American Academy in Berlin, the PEN/Malamud Award, and fellowships from the Guggenheim and Rockefeller Foundations. He lives in New York City.
Praise For…
---
"Adam Haslett may be our F. Scott Fitzgerald. . . . A profound, strikingly intelligent story." —The Washington Post Book World
"The first great novel of the new century that takes the new century as its subject . . . It's big and ambitious. . . . It's about us, now. All of us." —Esquire
 
"Remarkable. . . . With gorgeous prose and the punch of a first-rate thriller." —USA Today
 
"Funny and insightful. . . . The perfect book for our times. . . . Haslett has created memorable characters whose dysfunctional lives seem to embody the frenetic craziness and moral confusion of the era." —"What We're Reading," National Public Radio

 
"It's remarkable how successfully Union Atlantic continues the nuance of Haslett's earlier [work]…. Swiftly and confidently, Haslett unwinds the ball of yarn that is the global financial crisis to reveal its core." –The New York Times Book Review
 
"Exceedingly well written….A high-spirited, slyly astute exploration of our great bottoming out." –The Boston Globe
 
"An enthralling, lucid and superbly confident work of art that grips from the first page as it puts the reader ringside at the heart of the financial crisis, revealing it finally as an emergency of the human heart and its societal urge….This is a big novel and a masterful debut by a writer whose talent is equal to his project, and whose project could not be more timely." –Chris Cleave, author of Little Bee and The Other Hand
 
"Union Atlantic sets itself the daunting challenge of doing for late capitalism what Heart of Darkness did for late colonialism. It is a measure of Haslett's extraordinary skill that he just about succeeds." –The Financial Times
 
"Haslett has a deeply informed and imaginative grasp of history, and his book reads like a thriller, but it is, stealthily, much more than that: a chronicle of the collective corruption whose fallout we are, right this minute, enduring." –O, The Oprah Magazine
 
"More than a financial page-turner….An ambitious literary work, filled with compelling characters, evocative prose and finely drawn social portraiture….The first serious fictional portrait of the bailout era….Decades from now, this fine novel will help readers understand the period we've just been through." –The Wall Street Journal
 
"Haslett is a major talent….It's been years since a novel has captured the zeitgeist of contemporary America this well; it's been years since a new author has convinced us, with just two books, that there might be nothing he can't do." –Bookslut
 
"[Haslett] has written the first great novel of the new century that takes the new century as its subject, but not simply because it takes the new century as its subject….Rather, Haslett has written a great novel because he has emerged in Union Atlantic as a great novelist, a mystery as abiding as any of the mysteries of the Fed—indeed, a mystery restored, even as the mysteries of the Fed are revealed." –Esquire
 
"Union Atlantic is a bleak, brazen, beauty of a book."—Elle
 
"In Union Atlantic, Haslett presents us with a sweeping, blessedly clear vision of how we wound up in the economic cesspool….And he does it all with modesty and a depth of feeling for his characters that imbues, yet never seeks to explain away, their essence."—GQ
 
"Emerging here as a sort of E.M. Forster of the aughts, Haslett high-steps nimbly from great tenderness to arch social satire, and from the civic to the personal. He even manages to make monetary systems....glow like poetry." —Minneapolis Star-Tribune
 
"Union Atlantic will possibly be the quintessential American novel of the first decade of the 21st century." —Pittsburgh Post-Gazette
 
"[Haslett's] gift for language, his unerring eye, his honesty and his compassion for his characters, many of whom are deeply flawed and deeply troubled, puts him in the company of the best authors writing in English today….In Haslett's hands, there's also humour, insight, and a shard of hope." –The National
 
"[Union Atlantic] takes on the largest possible questions: the fate of the American empire and the meaning of America itself. The action moves with high Aristotelian perfection….Haslett is a skilled writer with a painfully acute feeling for the dynamics of family life in old New England families." –The New Republic