The Corpse Walker: Real Life Stories: China From the Bottom Up (Paperback)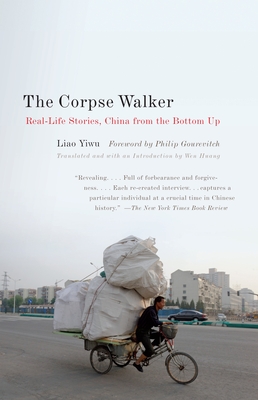 Staff Reviews
---
This is one of the few books that I can say legitimately blew me away. The Corpse Walker is a series of interviews with often outcast members of Chinese society. There are professional mourners, the legendary "Corpse Walkers", a peasant emperor, a human trafficker, and a dozen other jaw-dropping stories. This book was passed around my friend group for a year, and I'm sure will be passed around yours as well.
— From
Will's Picks
Description
---
The Corpse Walker introduces us to regular men and women at the bottom of Chinese society, most of whom have been battered by life but have managed to retain their dignity: a professional mourner, a human trafficker, a public toilet manager, a leper, a grave robber, and a Falung Gong practitioner, among others. By asking challenging questions with respect and empathy, Liao Yiwu managed to get his subjects to talk openly and sometimes hilariously about their lives, desires, and vulnerabilities, creating a book that is an instance par excellence of what was once upon a time called "The New Journalism." The Corpse Walker reveals a fascinating aspect of modern China, describing the lives of normal Chinese citizens in ways that constantly provoke and surprise.
About the Author
---
Liao Yiwu is a poet, novelist, and screenwriter. In 1989, he published an epic poem, "Massacre," that condemned the killings in Tiananmen Square and for which he spent four years in prison. His works include Testimonials and Report on China's Victims of Injustice. In 2003, he received a Human Rights Watch Hellman-Hammett Grant, and in 2007, he received a Freedom to Write Award from the Independent Chinese PEN Center. He lives in China.

Wen Huang is a writer and freelance journalist whose articles and translations have appeared in The Wall Street Journal Asia, the Chicago Tribune, the South China Morning Post, The Christian Science Monitor, and The Paris Review.

Praise For…
---
"Revealing. . . . full of forbearance and forgiveness. . . . Each re-created interview…captures a particular individual at a crucial time in Chinese history."
—The New York Times Book Review

"Stunning. . . . Revealing in its incidental details. . . . Liao brings us fascinating insights into the lives of all manner of workers....an addictive book."
—Bookforum

"Reading The Corpse Walker is like walking with Liao: Even though our feet are not blistered and our bodies are not starved, in the end we are shaken and moved."
—San Francisco Chronicle