Zona: A Book About a Film About a Journey to a Room (Paperback)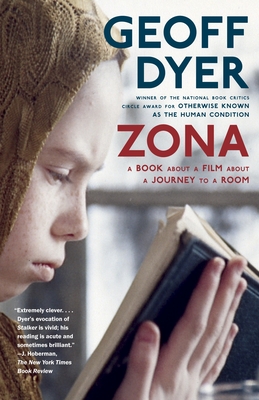 $16.00

Special Order - Subject to Availability
Staff Reviews
---
Brilliant cultural critic Geoff Dyer explores the world of film and his own life through Andrei Tarkovsky's phenomenal film Stalker in this one of a kind book. I highly recommend watching the film and reading the book - it was one of the most extremely enjoyable intellectual exercises I've had lately. If you don't see the film, the book still holds its own - reading Dyer is always interesting, challenging and educational! - Sarah B.
— From
Art / Film / Music (page 1)
Description
---
A Huffington Post Best Book of the Year

There is no other writer at work today like the award-winning Geoff Dyer. Here he embarks on an investigation into Andrei Tarkovsky's Stalker, the masterpiece of cinema that has haunted him since he first saw it thirty years ago.
About the Author
---
Geoff Dyer is the author of four novels (most recently Jeff in Venice, Death in Varanasi); a critical study of John Berger; a collection of essays, Otherwise Known as the Human Condition; and five highly original nonfiction books, including But Beautiful, which was awarded the Somerset Maugham Prize, and Out of Sheer Rage, a National Book Critics Circle Award finalist. He lives in London.
Praise For…
---
"Extremely clever. . . . Dyer's evocation of Stalker is vivid; his reading is acute and sometimes brilliant." —New York Times Book Review

"The most stimulating book on a film in year." —The New Republic

"We all know what it is like to feel indebted to, and inadequate before, a towering work, but few people have ever described that feeling with the ingenuity or the candor of Dyer. . . . [T]he book is not only readable, it is hard to put down." —The New York Review of Books

"Testifying to the greatness of an underappreciated work of art is the core purpose of criticism, and Dyer has delivered a loving example that's executed with as much care and craft as he finds in his subject." —Los Angeles Times

"An unclassifiable little gem. . . . Very funny and very personal." —San Francisco Chronicle 

"An engaging piece of writing that asks questions about the nature of art and provides a new way to write about film." —The Atlantic

"Irresistible. . . . Dyer is an enormously seductive writer. He has a wide-ranging intellect, an effortless facility with language, and a keen sense of humor." —Slate
 
"[Dyer] finds elements along the way that will keep even non-cinéastes onboard. While he dedicates ample energy to how the movie's deliberate pacing runs contrary to modern cinema, its troubled production and the nuts and bolts of its deceptively simple parts, Dyer's rich, restless mind draws the reader in with specific, personal details." —Los Angeles Times
 
"Geoff Dyer is at his discursive best in Zona." —New York Times Magazine
 
"Intimate, engaging, often brilliant." —Michael Wood, London Review of Books
 
"You can read this book in 162 minutes and come away refreshed, enlivened, infuriated, amused, thoughtful, and mystified. An invigorating mixture of responses, but this is a Geoff Dyer book. . . . The most stimulating book on a film in years." —David Thomson, The New Republic
 
"If any film demands book-length explication from a writer of Geoff Dyer's caliber, it's surely Stalker. . . . Dyer is, as the book amply demonstrates, the perfect counterpart to Tarkovsky. Where the film director is stubbornly slow and obscure, Dyer is a fleet and amusing raconteur with a knack for amusing digressions." —Richmond Times-Dispatch
 
"[Dyer] combines a rigorous scholarship and criticism with whimsical digressions, both fictional and autobiographical, to create the light but heady concoction that's become his signature." —Time Out New York
 
"Dyer has been just under the radar for many years now, but [he] deserves the widest of audiences as he writes books that are funny, off-beat and hugely informative. This latest is ostensibly about the Russian filmmaker Tarkovsky, but it's really about life, love and death—with many jokes and painful-but-true bits along the way." —Details
 
"Zona is an unpretentious yet deeply involving discussion of why art can move us, and an examination of how our relationship to art changes throughout our lives. It's also funny, moving and unlike any other piece of writing about a movie." —The Huffington Post
 
"Dyer's language is at its most efficient in this book, conversational and spare. . . . Cultural artifacts worthy of this degree of obsession are rare and it's a pleasure to read Dyer's wrestling with one." —New York Observer 
 
"Fascinating. . . . Dyer remains a uniquely relevant voice. In his genre-jumping refusal to be pinned down, he's an exemplar of our era. And invariably, he leaves you both satiated and hungry to know where he's going next." —NPR
 
"The comedy and stoner's straining for meaning is always present. And, when it is rewarded, as it so often is with rich associative memoir and creative criticism in Zona, we feel complicit, we celebrate the sensation at the end of all that straining, alongside with him." —The Daily Beast
 
"Fascinating. . . . Dyer's unpredictable and illuminating observations delighted and amused . . . all the way through." —Minneapolis Star-Tribune
 
"Wickedly funny. . . . The definitive work of an author whose work refuses definition." —Austin American-Statesman
 
"[Zona] is about the power of art. It is a case study in how something created by anyone but you can seem like your creation, so deeply does it resonate with the details of your life. This is what Stalker calls the 'unselfishness of art' and it is Geoff Dyer's gift to his readers." —The Millions
 
"Geoff Dyer has tricked up Tristram Shandy, cross-bred it with Lady Gaga, and come up with an insightful, audacious, deeply personal, often hilarious and entertaining approach to literature in a world which doesn't much appreciate art or even the book itself. He is one of the most interesting writers at work today in English." —Wichita Eagle
 
"Dyer's musings on everything from on-set disasters to his desire to join a threesome make for a rich and wacky sojourn." —Mother Jones