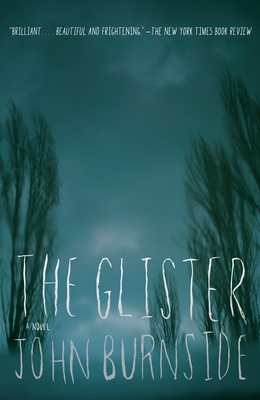 $15.95
Special Order - Subject to Availability
Staff Reviews
---
Teenage boys from Innertown are disappearing. No one knows what is happening to them, and what's worse is the town doesn't seem to care. John Burnside's beautifully written novel, The Glister, seems to show what can happen to a community bombarded by environmental disaster and economic collapse. Can the stress of a crumbling world push people so far they become apathetic, even when their children are in danger? Burnside has beautifully woven together mystery, horror, social commentary and literary fiction. You won't read anything else like The Glister!
—
Sarah B.
Description
---
Acclaimed author John Burnside delivers a profound, page-turning novel about innocence, evil, morality, and the dark corners of the human psyche.
 
Mysterious illnesses affect the inhabitants of the post-industrial village of Innertown, and a pervasive sense of malaise hangs everywhere. So when teenage boys disappear into the poisoned woods surrounding the village's abandoned chemical plant, no one notices, or if they do, they don't say a thing. Not even the town's only cop, whose leads have long since died. To one boy, however, the chemical plant is beautiful, and it is there he will enact a plan to change the fate of the children of Innertown. To do so he will have to confront the blinding reality that burns in the chemical plant's cavernous center.
About the Author
---
John Burnside is the author of the novel The Devil's Footprints, the memoir A Lie About My Father, as well as five additional works of fiction and eleven collections of poetry published in the United Kingdom. The Asylum Dance won the Whitbread Poetry Award, The Light Trap was short-listed for the T.S. Eliot Prize, and A Lie About My Father won the two biggest Scottish literary prizes: the Scottish Arts Council Non-Fiction Book of the Year Award and the Saltire Society Scottish Book of the Year Award.
Praise For…
---
"Brilliant. . . . Beautiful and frightening." —The New York Times Book Review
 
"Haunting. . . . [A] darkly beautiful meditation on death, guilt and redemption." —The Los Angeles Times Book Review
 
"A deeply philosophical tale that goes right to the heart of existence and what one must to do, despite circumstances, to retain humanity."—St. Petersburg Times 
 
"Burnside builds mood and atmosphere with fearsome skill." —Chicago-Sun Times 
 
"By turns beguiling, sinister, playful and never less than mesmerizing. . . . [The Glister] will haunt you." —Irvine Welsh, Guardian 
 
"A hauntingly mysterious . . . story about disappearances and environmental decay." —Toronto Star
 
"Like a later day Jekyll and Hyde, Burnside can turn from luminous verse to prose that keeps you up at night. The Glister is such a novel." —The Financial Times