The Year of the Flood (The MaddAddam Trilogy #2) (Paperback)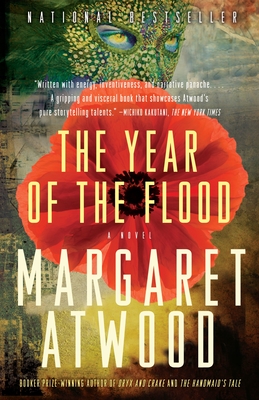 $16.95

Not Available In-Store - Usually Ships from Warehouse in 1-5 Days
Other Books in Series
This is book number 2 in the The MaddAddam Trilogy series.
October 2009 Indie Next List
---
"The Year of the Flood beautifully combines the stories of two women, Ren and Toby, who simultaneously grapple with the new world they are suddenly faced with. As they peel away the layers still left, we as readers do so, too, and we uncover piece by piece their fragmented pasts. Atwood has once again written a novel filled with a mystery that she brilliantly nourishes with fantastic answers."
— Ella Maslin, Oblong Books & Music, Rhinebeck, NY
Description
---
NATIONAL BESTSELLER • From the bestselling author of The Handmaid's Tale and The Testaments—the second book of the internationally celebrated MaddAddam trilogy, set in the visionary world of Oryx and Crake, is at once a moving tale of lasting friendship and a landmark work of speculative fiction.

The long-feared waterless flood has occurred, altering Earth as we know it and obliterating most human life. Among the survivors are Ren, a young trapeze dancer locked inside the high-end sex club Scales and Tails, and Toby, who is barricaded inside a luxurious spa. Amid shadowy, corrupt ruling powers and new, gene-spliced life forms, Ren and Toby will have to decide on their next move, but they can't stay locked away.
About the Author
---
Margaret Atwood, whose work has been published in more than forty-five countries, is the author of more than fifty books of fiction, poetry, critical essays, and graphic novels. In addition to The Handmaid's Tale, now an award-winning TV series, her novels include Cat's Eye, short-listed for the 1989 Booker Prize; Alias Grace, which won the Giller Prize in Canada and the Premio Mondello in Italy; The Blind Assassin, winner of the 2000 Booker Prize; Oryx and Crake, short-listed for the 2003 Man Booker Prize; The Year of the Flood, MaddAddam; and Hag-Seed. She is the recipient of numerous awards, including the Peace Prize of the German Book Trade, the Franz Kafka Prize, the PEN Center USA Lifetime Achievement Award, and the Los Angeles Times Innovator's Award. In 2019, she was made a member of the Order of the Companions of Honour for services to literature.
Praise For…
---
"[Written with] energy, inventiveness, and narrative panache. . . . A gripping and visceral book that showcases [Atwood's] pure storytelling talents." —Michiko Kakutani, The New York Times

"[The Year of the Flood] shows the Nobel Prize-worthy Atwood . . . at the pinnacle of her prodigious creative powers." —Elle
 
"A heart-pounding thriller." —The Washington Post Book World
 
"Leave it to Atwood to find humor in a post-apocalyptic world as she covertly, and brilliantly, addresses questions of how we need to live on an imperiled planet." —Kansas City Star

"Atwood is funny and clever, such a good writer and real thinker. . . . The Year of the Flood isn't prophecy, but it is eerily possible." —The New York Times Book Review
 
"Timely and gripping. . . . Atwood tells a good story, one filled with suspense and even levity." —USA Today
 
"Enthralling. . . . Memorable characters, a tightly controlled pace and shockingly plausible scenes make it fly—to a mysterious, skin-prickling ending." —San Francisco Chronicle
 
"Atwood renders this civilization and these two lives within it with tenderness and insight, a healthy dread, and a guarded humor." —O, the Oprah Magazine
 
"Atwood spins the most arresting alternate mythologies to our hell-bent world. . . . The Year of the Flood is a slap-happy romp through the end times. Stuffed with cornball hymns, genetic mutations worth of Thomas Pynchon and a pharmaceutical company run amok, it reads like dystopia verging on satire. She may be imagining a world in flames, but she's doing it with a dark cackle." —The Los Angeles Times
 
"Thought-provoking, beautifully constructed, and rich with the imaginative flourishes for which [Atwood] is rightly famous. . . . A hugely entertaining and satisfying read." —The Irish Independent
 
"Prodigiously imaginative and outrageously funny. . . . Atwood's wit is biting. . . . Her brilliance dazzles." —The Plain Dealer
 
"Heart-pounding, mysterious and surprisingly touching. . . . She enchants us so convincingly that after her spell is over, the 'real' world seems temporarily transformed. The Year of the Flood is both a warning and a gift." —Jane Ciabattari, "Books We Like," NPR.org
 
"Atwood is a wry wizard at world-building. . . . Fans . . . should grab a biohazard suit, crawl into a hermetically sealed fallout shelter, and dive right in." —The Christian Science Monitor

"Funny. . . . Entertaining. . . . You fall into her intensely inventive world and find yourself carried happily along." —Anthony Doerr, Orion Magazine

"Atwood scores a 10." —Philadelphia Inquirer
 
"Atwood's latest is a fiercely imagined tale of suffering that rivals Job's. . . . As dark as Atwood's vision may be, the bonds among her women give her work a bittersweet power." —People
 
"Richly imagined. . . . Thought-provoking, unexpectedly funny and utterly original." —The Denver Post
 
"Engrossing and suspenseful." —The New York Review of Books
 
"Riveting. . . . Cunning, droll. . . . The intensity of her apocalyptic fantasy doesn't prevent Atwood from giving free rein to her peppery and inventive humor. . . . So she courts us with her puckish wit, holds us spellbound with suspense, and then confronts us with harrowing and tragic scenarios." —The Kansas City Star
 
"Atwood's language remains as juicy and colorful as ever. . . . [She] allows her imagination to roam rudely, widely, and vigorously where lesser minds fear to tread." —Barnes & Noble Review
 
"Vintage Atwood: It's artfully edgy, casting a pitiless eye on her fellow creatures. . . . A powerful indictment of the way human beings have long treated the planet and themselves. . . . The book takes big risks." —Chicago Tribune


"Mesmerizing. . . . Flood's relentlessly fabulous inventions and despondent predictions become almost unbearable, especially told in such gorgeously trenchant prose. In this way, the book recalls Atwood's 1985 masterpiece, The Handmaid's Tale." —Time Out New York (five out of five stars)

"Atwood unflinchingly holds aloft the sanctity of life—for all species—and the human quest for love."  —Chicago Sun-Times

"With Atwood's characteristic brainy humor. . . . The Year of the Flood consistently does what one expects of any work by Margaret Atwood: It entertains, spins out suspense and rewards a reader's basic impulse, all the while subtly and expertly maintaining its literary respectability." —Minneapolis Star Tribune

"[An] entertaining, often mesmerizing, consciousness-raising novel. . . . This is a work that amuses, informs, enlightens and, remarkably, also challenges its readers to be better persons." —San Antonio Express-News
 
"[Atwood] is emerging as literature's queen of the apocalypse. . . . Fine. . . . Illuminating. . . . Gripping and scary, provocative and quite humorous." —Associated Press
 
"A marvelously absorbing novel. . . . Vivid and remarkably drawn." —The A. V. Club
 
"[With] Atwood's trademark wit and clarity of vision." —The Dallas Morning News
 
"Atwood's mischievous, suspenseful, and sagacious dystopian novel follows the trajectory of current environmental debacles to a shattering possible conclusion with passionate concern and arch humor." —Booklist, starred review
Coverage from NPR