MaddAddam (MaddAddam Trilogy #1) (Paperback)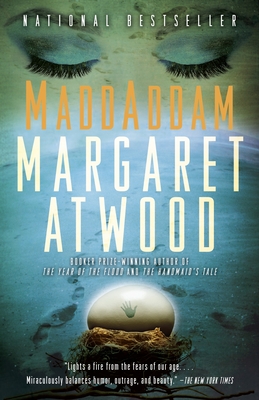 Staff Reviews
---
What captures me most in this trilogy, now more than ever before, is the unconventional narrative style. It reads like a story, as in storytelling, not in book-reading, if you follow me. With the complexity of the characters lives twined together throughout years of events, much of the book is told in dialogue and flashbacks. Our main view point is from Toby for most of the book, and a little from Blackbeard, one of the Crakers, which was very different, but captivating all the same. The language Atwood has come up with for this series--with so many strange combinations of words and play on words that I can't possibly list them--is astonishingly creative. MaddAddam answers all those questions and whereabouts of people that were introduced in the first two books. It ends well, just perhaps not in the way you might expect.
—
LEAH'S STAFF PICKS
Description
---
From the #1 New York Times bestselling author of The Handmaid's Tale

In this final volume of the internationally celebrated MaddAddam trilogy, the Waterless Flood pandemic has wiped out most of the population. Toby is part of a small band of survivors, along with the Children of Crake: the gentle, bioengineered quasi-human species who will inherit this new earth.

As Toby explains their origins to the curious Crakers, her tales cohere into a luminous oral history that sets down humanity's past—and points toward its future. Blending action, humor, romance, and an imagination at once dazzlingly inventive and grounded in a recognizable world, MaddAddam is vintage Atwood—a moving and dramatic conclusion to her epic work of speculative fiction.

A New York Times Notable Book
A Washington Post Notable Book
A Best Book of the Year: The Guardian, NPR, The Christian Science Monitor, The Globe and Mail
A GoodReads Reader's Choice

About the Author
---
Margaret Atwood, whose work has been published in thirty-five countries, is the author of more than forty books of fiction, poetry, and critical essays. In addition to The Handmaid's Tale, her novels include Cat's Eye, short-listed for the Booker Prize; Alias Grace, which won the Giller Prize in Canada and the Premio Mondello in Italy; The Blind Assassin, winner of the 2000 Booker Prize; Oryx and Crake, short-listed for the 2003 Man Booker Prize; and The Year of the Flood. She is the recipient of the Los Angeles Times Innovator's Award, and lives in Toronto with the writer Graeme Gibson.
Praise For…
---
"Lights a fire from the fears of our age. . . . Miraculously balances humor, outrage, and beauty." —The New York Times Book Review

"Margaret Atwood is an utterly thrilling storyteller. . . . [MaddAddam is] wonderfully entertaining and just about everything you could want in a novel." —The Washington Post

"Thoughtful, sardonic, and full of touches that almost resemble a fairy tale, MaddAddam will stick with you long after you've put it down." —NPR

"The most profound [book] of the trilogy. . . . An adventure story and a philosophical meditation on humanity's predilection for carnage and creation." —The Economist
 
"[Atwood's] most incisive and sociologically acute work. . . . A picture of a very near and very plausible future." —New York magazine

"[Atwood's] vision of global disaster in the not-too-distant future is thrilling, funny, touching and, yes, horrific." —The Washington Post

"Fiction master Margaret Atwood wields a mighty pen." —O, The Oprah Magazine

"Sardonically funny. . . . [Atwood] certainly has the tone exactly right, both for the linguistic hypocrisy that can disguise any kind of catastrophe, and for the contemptuous dismissal of those who point to disaster. . . . MaddAddam is at once a pre- and a post-apocalypse story." —The Wall Street Journal

"The culmination of a satirical dystopian saga a decade in the making. . . . Full of adventure and intrigue." —San Francisco Chronicle

"The imaginative universe Atwood has created in these books is huge. . . . It's a dystopia, but it's still fun." —Los Angeles Times

"This third book of Margaret Atwood's acclaimed near-future dystopian trilogy is its best. . . .  Atwood presents a moving and convincing case for our stories' continued existence long after we're gone." —The Seattle Times

"This unsentimental narrative exposes the heart of human creativity as well as our self-destructive darkness. . . . MaddAddam is fueled with edgy humor, sardonic twists, hilarious coincidences." —The Boston Globe

"This novel sings. . . . Close attention to detail, to voice, to what's in the hearts of these people: love, loss, the need to keep on keeping on, no matter what." —The Miami Herald

"There is something funny, even endearing, about such a dark and desperate view of a future—a ravaged world emerging from alarmingly familiar trends—that is so jam-packed with the gifts of imagination, invention, intelligence and joy. There may be some hope for us yet." —Minneapolis Star Tribune