The Persistence of the Color Line: Racial Politics and the Obama Presidency (Paperback)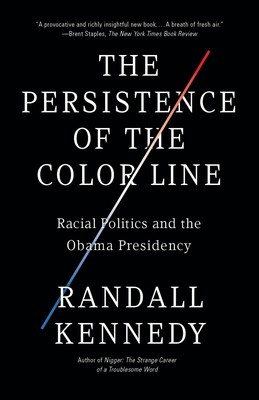 $17.00

Special Order - Subject to Availability
Description
---
A "provocative and richly insightful new book" (The New York Times Book Review) that gives us a shrewd and penetrating analysis of the complex relationship between the first black president and his African-American constituency.

Renowned for his insightful, common-sense critiques of racial politics, Randall Kennedy now tackles such hot-button issues as the nature of racial opposition to Obama; whether Obama has a singular responsibility to African Americans; the differences in Obama's presentation of himself to blacks and to whites; the challenges posed by the dream of a post-racial society; the increasing irrelevance of a certain kind of racial politics and its consequences; the complex symbolism of Obama's achievement and his own obfuscations and evasions regarding racial justice.

Eschewing the critical excesses of both the left and the right, Kennedy offers an incisive view of Obama's triumphs and travails, his strengths and weaknesses, as they pertain to the troubled history of race in America.
About the Author
---
Randall Kennedy is the Michael R. Klein Professor of Law at Harvard Law School. He received his undergraduate degree from Princeton and his law degree from Yale. He attended Oxford University as a Rhodes Scholar and is a former clerk to Supreme Court Justice Thurgood Marshall. He is the author of Race, Crime, and the Law, a winner of the Robert F. Kennedy Book Award; Interracial Intimacies: Sex, Marriage, Identity, and Adoption; Nigger: The Strange Career of a Troublesome Word; and Sellout: The Politics of Racial Betrayal. He lives in Massachusetts.
Praise For…
---
"[A] provocative and richly insightful new book . . . A breath of fresh air." —Brent Staples, The New York Times Book Review

"[A] powerful and ruminative book. . . . [Kennedy] has long been among the most incisive American commentators on race. His books . . . seem to be carved from intellectual granite, yet they have human scale. . . . So resonant and so personal. . . . Pay attention too to this book's many ringing sentences." —Dwight Garner, The New York Times

"Kennedy is an unusual writer on the difficult and divisive subject of race. His voice is measured, calm.  He can discuss highly emotional issues with detachment. But underneath there is an unmistakable passion: for truth, for justice."  —Anthony Lewis, The New York Review of Books

"Kennedy has created a valuable historical document—both for those of us who lived through the 2008 election and would welcome a more academic perspective on it, and for those who one day will look back and wonder what people were talking about." —The Christian Science Monitor
 
"[Kennedy] deftly sketches both the infighting among Democrats in the primary season that pitted two strong candidates with equal yet opposing 'first' aspirations, as well as the ugly history of race-baiting that winds through American politics from the country's birth. At times Kennedy's plainspoken facts seem almost shocking, so degraded has much of our conversation about history become." —The Boston Globe
 
"Those who believe Barack Obama's election signaled a final triumph over racism will learn much from Harvard law professor Randall Kennedy, whose writings on race in America have delighted and provoked many. . . . Kennedy presents convincing evidence that race remains a dominant focus of American political consciousness." —Tikkun
 
"[A] challenging new book." —Richmond Times-Dispatch
 
"Kennedy turns his kaleidoscopic perspective on race in America upon an engrossing and nuanced analysis of 'the racial issues that have surrounded Obama's election and presidency.' . . . Challenging knee-jerk responses—from the left, right, center, and fringe . . . he manages to look beyond race without overlooking race, placing events in a historical political context. . . . Both provocative and informative, arguable and absorbing." —Publishers Weekly
 
"A carefully calculated, sober discussion of why race will continue to haunt American politics." —Kirkus