The Naturalist: Theodore Roosevelt, A Lifetime of Exploration, and the Triumph of American Natural History (Hardcover)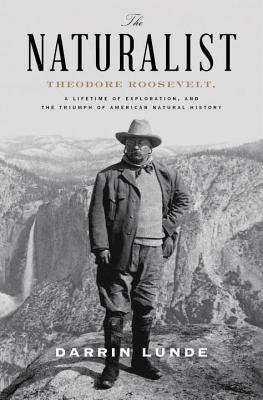 $28.00
Email or call for price.
Description
---
Winner of the inaugural Theodore Roosevelt Association Book Prize

A captivating account of how Theodore Roosevelt's lifelong passion for the natural world set the stage for America's wildlife conservation movement and determined his legacy as a founding father of today's museum naturalism.
 
No U.S. president is more popularly associated with nature and wildlife than is Theodore Roosevelt—prodigious hunter, tireless adventurer, and ardent conservationist. We think of him as a larger-than-life original, yet in The Naturalist, Darrin Lunde has firmly situated Roosevelt's indomitable curiosity about the natural world in the tradition of museum naturalism. 

As a child, Roosevelt actively modeled himself on the men (including John James Audubon and Spencer F. Baird) who pioneered this key branch of biology by developing a taxonomy of the natural world—basing their work on the experiential study of nature. The impact that these scientists and their trailblazing methods had on Roosevelt shaped not only his audacious personality but his entire career, informing his work as a statesman and ultimately affecting generations of Americans' relationship to this country's wilderness.
 
Drawing on Roosevelt's diaries and travel journals as well as Lunde's own role as a leading figure in museum naturalism today, The Naturalist reads Roosevelt through the lens of his love for nature. From his teenage collections of birds and small mammals to his time at Harvard and political rise, Roosevelt's fascination with wildlife and exploration culminated in his triumphant expedition to Africa, a trip which he himself considered to be the apex of his varied life.

With narrative verve, Lunde brings his singular experience to bear on our twenty-sixth president's life and constructs a perceptively researched and insightful history that tracks Roosevelt's maturation from exuberant boyhood hunter to vital champion of serious scientific inquiry.
About the Author
---
DARRIN LUNDE is a Supervisory Museum Specialist in the Division of Mammals at the Smithsonian's National Museum of Natural History. Previously, he worked at the American Museum of Natural History, where he led field expeditions throughout the world. Lunde has named more than a dozen new species of mammals and provided valuable scientific insights on hundreds of others. He lives in Maryland.
Praise For…
---
Praise for The Naturalist

"Teasing apart aspects of ethics, morality, manliness and environmentalism in Roosevelt's approach to collecting, Lunde reveals how the president's impulses overlapped… The Naturalist does highlight the crucial importance of maintaining such legacies. It also helps to disentangle Roosevelt's roles as hunter, conservationist and museum man—and for anyone visiting Sagamore Hill, it enriches contemplation of objects such as the bearskin rug or rhino-foot inkwell." 
—Nature

"Lunde's book offers a compact introduction to Roosevelt's love of the natural world, which vied with politics as his chief passion… Lunde's own writing is clear and well-paced." 
—Newsday

"The Naturalist makes it clear that, though Roosevelt never became the full-time species-hunter and wildlife writer to which he aspired as a youth, he left a lasting mark in the field… Today's conservationists may lionize Roosevelt as a champion of the National Park System and of environmental legislation, but Roosevelt probably would have been satisfied with the respect of a museum man like Darrin Lunde."
—Natural History

"[The Naturalist] sheds light on Teddy Roosevelt's interests in the natural world and his contributions to the environmental movement in this mix of biography and examination of the field of natural history preservation. Lunde covers Roosevelt's environmental activism and his accomplishments in political office, most notably his lobbying for the establishment of Yellowstone National Park, and impressively narrates how Roosevelt was able to pursue his passions during a contentious political career." 
—Publishers Weekly

"More useful still is Lunde's portrait of Roosevelt as a kind of working amateur scientist in communication with professionals and other amateurs to build scientific institutions and, indeed, field science itself... this book offers well-considered interpretations of the brainy naturalist and muscular adventurer." 
—Kirkus Reviews

"Accessible to the lay reader and authenticated for the historian." 
—Frederick J. Augustyn Jr., Lib. of Congress, Library Journal

"Scores of books already have written about Theodore Roosevelt's life and legacy as the 26th U.S. president, but until now none have been written focusing on his role as a respected museum naturalist... Both natural history and Roosevelt buffs will welcome this absorbing addition to Teddy Roosevelt lore."
—Booklist

"Theodore Roosevelt, arguably our greatest peacetime president, left a lasting legacy of protecting America's natural beauty and awakening a nation of urban dwellers to the wonders of the outdoors. Darrin Lunde has captured Teddy's restless voice and explored the depths of his curiosity, from Yellowstone to the trails of Africa. This well-documented book reminds us of Roosevelt's great gift in making us aware of the splendors of natural history." 
—Thomas Maier, author of When Lions Roar: The Churchills and the Kennedys

"Theodore Roosevelt comes alive in this vivid, textured portrait by Darrin Lunde, himself one of our premier museum naturalists. I can think of no one more qualified than Lunde to write about Roosevelt's love for trekking into nature, observing animal behavior, and collecting specimens for scientific study."
—Dr. Bill Schutt, zoologist and author of Hell's Gate

"The Naturalist follows TR's lifelong love of the outdoors and of all wild things, illustrating how his dedication to the scientific study of animals large and small both stimulated and made sense of his love of hunting.  In so doing, the book also tells the important history of the country's first naturalists, how they came to understand the country's wildlife and built our great natural history museums.  Understanding TR and American naturalism in this way gives us new insight and, perhaps most importantly, explains why all of these elements remain so vital to the continued success of American conservation today."
—Simon Roosevelt, founder of the Conservation Roundtable, member of the Boone and Crockett Club

"A vivid portrait of the Do-Something President, embracing the outdoors in giant strides.  Though primarily a hunter, Roosevelt ultimately found his place as a Naturalist​—a seeming contradiction that is at the core of Lunde's narrative.  A wonderfully readable one-volume account, showing TR at his worst and best amid the irreplaceable wildlife of two continents."
—Julie Fenster, author of Jefferson's America and The Case of Abraham Lincoln

"In this veritable page turner, Lunde introduces us to a Teddy Roosevelt few people know, recounting Roosevelt's early years as an aspiring naturalist and their profound influence on his worldview. An astute observer (and ardent recorder) of nature, Roosevelt came of age during the renaissance of North American natural history and crossed paths—and, occasionally, swords—with the movement's most prominent leaders. Many today may question the compatibility of hunting and a sound conservation ethic, but in The Naturalist, Lunde deftly and delightfully reminds us of their common origin."
—Link Olson, Curator of Mammals, University of Alaska Museum and Professor of Biology, University of Alaska Fairbanks
 
"Professional mammalogist Darrin Lunde has dissected Theodore Roosevelt's life through a lens only a scientist and naturalist can masterfully present.  We see our 26th President in a refreshingly new light as a man haunted by a life-long desire to be recognized and accepted as a faunal naturalist.  His grand exercise to finally achieve this objective was his 10-month African safari.  It was a true scientific and field collecting trip for both the Smithsonian and the American Museum of Natural History that marked Roosevelt as a true scientist.  The timeless maelstrom and dichotomy of TR being an acclaimed naturalist, museum collector and a conservationist, and yet a hunter, is addressed head on by the author.  TR was both out of necessity.  This book is a tour de force presenting Theodore Roosevelt as a man we've not fully understood until now."
—Lowell E. Baier, President Emeritus of the Boone and Crocket Club, author of Inside the Equal Access to Justice Act

"Historians may define Theodore Roosevelt as a hard-charging politician, military hero, or rugged individualist, but Darrin Lunde does a masterful job of revealing our 26th president's true passion as a naturalist. Equally adept at ornithology, taxidermy, and big game hunting, Roosevelt sought to bring the splendors of nature to the cloistered city dweller by setting aside pristine wilderness for national parks and inevitably establishing extensive collections in the Smithsonian and American Museum of Natural History for science and education. Truly, he was 'The Naturalist.'"
—Christopher Kinsey, James Smithson Society

"In this engaging narrative, Lunde explores Theodore Roosevelt's complex persona as a natural history museum aficionado, scientific expedition leader, big-game hunter, and ardent conservationist. This is a fresh and informed look at how all these aspects of Theodore Roosevelt's life came together to shape him as an individual, and ultimately, to define the scientific and conservation ethos of a nation." 
—Nicole Edmison, Smithsonian Institution