American Warlord: A True Story (Paperback)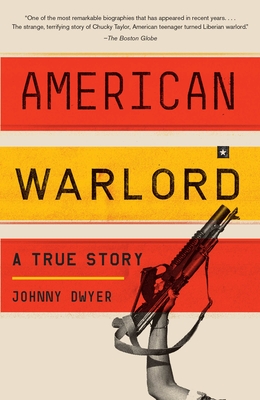 $17.00

Special Order - Subject to Availability
Staff Reviews
---
Only in the shadow of the terrorist attacks of September 11th and the resulting War on Terror could a story this bizarre fall through the cracks of our public consciousness. Chucky Taylor's ascension from a misfit youth in Orlando, to African warlord in Liberia, to exiled gangster rapper in Trinidad was only possible due to the influence of his powerful father, Liberian dictator Charles Taylor. Born during his father's stay in America as a student, knowledge of Chucky's nationality remained elusive for much of his tenure as leader of his father's security forces. Today Chucky stands as the only American convicted of torture in the wake of this nation's debate over the subject. This book is a brilliant report of the rise and fall of both Chucky and his father's regime.
—
Jeremy
Description
---
The incredible true story of Chucky Taylor, the only American ever convicted of torture.  

Chucky Taylor was an average American teenager, until he got a call from his father, a man who would become the infamous dictator of Liberia. Arriving in West Africa and reunited with his father, Chucky soon found himself leading a murderous militia group tasked with carrying out the president's vendettas. Young and drunk on power, and with no real training beyond watching action films, Chucky spiraled into a binge of drugs, violence, and women, committing crimes that stunned even his father. A work of astonishing journalism, American Warlord is the true story of those dark years in Liberia, cutting right to the bone of humanity's terrifying and unknowable capacity for cruelty to show just how easily a soul can be lost amid the chaos of war. 
About the Author
---
Johnny Dwyer is a reporter living in New York City. He has written for Esquire, The Guardian, Rolling Stone, Time, Foreign Policy, VICE, and The New York Times. American Warlord is his first book.
Praise For…
---
"One of the most remarkable biographies that has appeared in recent years." —The Boston Globe

"[A] brutal but well-told tale. . . . Dwyer skillfully meshes interviews, documents and court testimony to reconstruct in painful detail the full panoply of . . . ghastly crimes."—The New York Times Book Review

"Excellent." —The Washington Post
 
"A first-hand glimpse at the effects of both the meddling and the indifference of foreign powers in Western Africa. . . . The next time chaos breaks out overseas, one can only hope that the decision-makers will be remembering the story told in American Warlord." —The Christian Science Monitor

"Dwyer charts Taylor's evolution from an average American thug into a notorious loose cannon in a war-torn region. . . . American Warlord hits its stride in explaining how U.S. authorities discovered how much misery Taylor personally inflicted in Liberia." —The Miami Herald
 
"A major achievement. . . . A bumper crop of journalistic ethics and corroborative testimony. . . . Dwyer's subtitle for American Warlord . . . is A True Story, and not for nothing, as even the basic proven facts of the case might otherwise strain credulity." —The Daily Beast
 
"A twisted bildungsroman about a juvenile delinquent running with a bad crowd, and whose tough facade hides a vulnerable soul. . . . [A] complicated tale, moving backward and forward with narrative deftness, without losing sight of its moral and legal underpinnings." —The Nation
 
"American Warlord is required reading for human rights advocate. . . . A story this unbelievable is legitimized by every detail." —Macleans
 
"A dark triumph—a meticulous geopolitical narrative and gripping tale of an American son lost to evil."—Kirkus (starred)
 
"A powerful tale about the dark side of power." —Paste magazine
 
"Humanize[s] the inhumane story. . . . Important for readers interested in conflicts in West Africa." —Library Journal