Crime and Guilt: Stories (Paperback)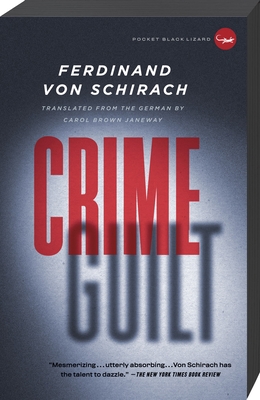 $15.00
Special Order - Subject to Availability
Staff Reviews
---
Ferdinand von Schirach's fiction debut will amaze and astonish you. In Crime, this German defense lawyer presents eleven compulsively readable short stories, each based on a case he was actually involved in. Von Schirach deftly conveys the psychology, desperation and randomness of criminals and their crimes—describing horrific intimate details while creating portraits of the criminals that maintain their humanity. As a bonus, Crime offers the opportunity to learn about the German justice system, how it differs from our own, and how it has been shaped by German history.
—
Sarah B.
Description
---
From Ferdinand von Schirach, one of Germany's most prominent defense attorneys, comes a jolting debut collection of short stories that daringly brings to light the motivations stirring within the criminal mind. By turns witty and sorrowful, unflinchingly brutal and heartbreaking, the deeply affecting, quietly unnerving cases presented in Crime urge a closer examination of guilt and innocence.

In "Fähner," a small-town physician and avid gardener betrays little emotion when he takes an ax to his wife's head, an act that shocks the locals but provides a
long-awaited reprieve for the good doctor. Abbas, a Palestinian refugee who is cornered into a life of crime, finds true love and seemingly a saving grace with a beautiful student named Stefanie in "Summertime." But when she is viciously murdered in a hotel room after having been paid to sleep with one of the country's wealthiest men, is Abbas to blame or is it the man who seems to have it all? And in the startling story "Love," a young man's infatuation with his girlfriend takes a grisly turn as he comes to grips with his unconventional—and uncontrollable—impulses to truly know a woman.

"Guilt," writes von Schirach, "always presents a bit of a problem." In this beautifully nuanced and telling collection, guilt is indeed never as clear-cut as the crime, and justice is more nebulous still.
About the Author
---
Ferdinand von Schirach was born in Munich in 1964. Since 1994, he has worked as a criminal defense lawyer in Berlin. Among his clients have been the former member of the Politburo Günter Schabowski, the former East German spy Norbert Juretzko, and members of the underworld.
Praise For…
---
"Crime would command the attention due a carnival freak-show if von Schirach's crisp, swift prose did not lend it such laconic authority. Save in the sparest of hints, he shuns forensic psychology. Each tale whips along, a shock at every turn, like some beast with eyes of red-hot coal panting down a forest track at night. For, courtroom procedure aside, the spirit of the German-language Märchen really drives this book: eerie tales of the uncanny, as practiced by Hoffmann, Kleist, the Grimms, and even Kafka." —Independent (UK)


"Mesmerizing. . .a slim, utterly absorbing collection of 11 stories. . .told in a cool, patient voice that draws the reader in. Von Schirach guides us through the unpredictable sequences of events that can maneuver regular, flawed people into unbearable positions, leading them to abhorrent acts. . .[He] has the talent to dazzle." --New York Times Book Review 

"An extraordinary book about ordinary crime, written with suspense, insight, and beautiful precision by an experienced defense attorney. An authentic thriller." --Bernhard Schlink, author of The Reader