The Woman Who Would Be King: Hatshepsut's Rise to Power in Ancient Egypt (Paperback)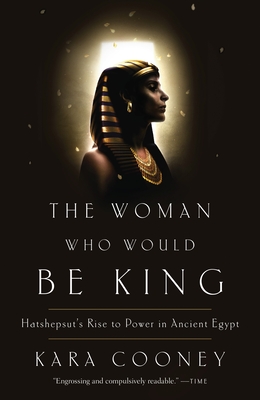 Staff Reviews
---
I love both Ancient Egypt and Hatshepsut, so I knew I was either going to love or hate this book. Fortunately I loved it, and learned Hatshepsut was even more amazing that I'd initially thought. Her political acumen and ability to get herself - a woman - legally crowned pharaoh are astonishing enough. Compound this with her bringing to Egypt one of its most stable and wealthy periods of rule and I really want to nominate her for female role model of the year. Despite her clear qualifications for the job, Hatshepsut's rise to power was anything but easy, and Cooney does an excellent job of pointing out the obstacles in Hatshepsut's way, and how the female king likely overcame them. Even if you think Ancient Egypt isn't your thing, I can't recommend a better book to prove that women could rule, and rule well, in a time period still dominated by male rulers.
—
Em
Description
---
An engrossing biography of the longest-reigning female pharaoh in Ancient Egypt and the story of her audacious rise to power.
 
Hatshepsut—the daughter of a general who usurped Egypt's throne—was expected to bear the sons who would legitimize the reign of her father's family. Her failure to produce a male heir, however, paved the way for her improbable rule as a cross-dressing king. At just over twenty, Hatshepsut out-maneuvered the mother of Thutmose III, the infant king, for a seat on the throne, and ascended to the rank of pharaoh.
Shrewdly operating the levers of power to emerge as Egypt's second female pharaoh, Hatshepsut was a master strategist, cloaking her political power plays in the veil of piety and sexual reinvention. She successfully negotiated a path from the royal nursery to the very pinnacle of authority, and her reign saw one of Ancient Egypt's most prolific building periods.
Constructing a rich narrative history using the artifacts that remain, noted Egyptologist Kara Cooney offers a remarkable interpretation of how Hatshepsut rapidly but methodically consolidated power—and why she fell from public favor just as quickly. The Woman Who Would Be King traces the unconventional life of an almost-forgotten pharaoh and explores our complicated reactions to women in power.
About the Author
---
KARA COONEY is an associate professor of Egyptian art and architecture at UCLA in the Department of Near Eastern Languages and Cultures. In 2005, she was co-curator of Tutankhamun and the Golden Age of the Pharaohs at the Los Angeles County Museum of Art. Cooney produced a comparative archaeology series entitled Out of Egypt, which aired on the Discovery Channel and is streaming on Netflix.
Praise For…
---
"Engrossing and compulsively readable." –TIME

"The life of Hatshepsut, Egypt's second female pharaoh, was replete with opulent living, complex royal bloodlines, and sexual energy; in short, the kind of drama that fuels Ancient Egypt's enduring appeal…From Hatshepsut's self-perception, political prowess, and lifestyle emerge an image of the 'ultimate working mother' and a compelling insight into ancient gender roles." –Publishers Weekly

"Cooney does a fantastic job of breathing new life into her subject and showing the woman who dared to keep herself and her nephew Thutmose III on the throne, as well as what led Hatshepsut's name to be tarnished and nearly erased from history. The book will be of great interest to those fascinated by ancient Egypt, history, and women's history."–Library Journal

"This biography could only be based on conjecture and guesswork, but the addition of expertise makes it well worth reading. The author's Egyptology background provides the nitty-gritty of daily life and animates this king (at the time, there was no word for 'queen')… Cooney's detective work finally brings out the story of a great woman's reign."—Kirkus Reviews

"Egyptologist Cooney peels back the layers of the life of Hatshepsut, Egypt's second female pharaoh, providing a multidimensional portrait of a woman of strength, intelligence, and substance."—Booklist

"Highly engrossing... [an] informed-by-expertise, compellingly written conjecture that will draw curious readers in with its vivid depiction of life in Ancient Egypt and a truly remarkable woman."—BookPage

"The Woman Who Would Be King is a fascinating look at one of the most formidable and successful women in all of ancient history. Before Cleopatra there was Hatshepsut. Now, thanks to Kara Cooney, the real Hatshepsut stands before us in all her glory. For the first time we have a full-length biography of her that is not only a great scholarly work but also a marvelous read." –Amanda Foreman, author of Georgiana: Duchess of Devonshire and A World on Fire: Britain's Crucial Role in the American Civil War

"The compelling biography of a fascinating woman: the daughter, wife and stepmother of kings, who defied tradition to rule the most powerful nation in the Mediterranean world as pharaoh. Cooney tells her tale with authority, sensitivity and imagination. It is a tale that deserves to be told." –Joyce Tyldesley, author of Cleopatra: Last Queen of Egypt and Hatchepsut: The Female Pharaoh

"What Stacy Schiff did for Cleopatra, Kara Cooney has done for Hatshepsut. An absolutely fantastic read about one of the most powerful Pharaoh-Queens in ancient Egypt. Completely unputdownable!" –Michelle Moran, bestselling author of Nefertiti

"The story of Hatshepsut, the woman who ruled Egypt as Pharaoh, is an amazing tale and Dr. Cooney tells it in a very personal way. Readers are going to love this version!"—Bob Brier, author of The Murder of Tutankhamen

"This biography of Hatshepsut is an ideal blend of historical analysis and an imaginative story.  With her unique ability to address both the general public and scholars alike, Cooney's narrative flows as if it were a novel, but at the same time illuminates the historical, economic, social, and religious context of Hatshepsut's world, and that of the people surrounding her.  The reader is given a glimpse into a vibrant ancient world—one that we oftentimes forget about in the midst of all the granite and mudbrick that remains today. Writing a biography of a woman about whom there is little archival information is difficult, to say the least.  Nevertheless, Cooney presents a seamless picture of Hatshepsut's life and her rise to power in ancient Egypt." —Professor Kathleen Sheppard, author of The Life of Margaret Alice Murray: A Woman's Work in Archaeology

"Kara Cooney has written a lively, engaging, historically accurate account of one of the most controversial of Egypt's female pharaohs, Hatshepsut. Weaving together evidence from historical texts, the queen's monuments, and archaeological finds, Cooney presents an accessible story of Hatshepsut's rise to power until her demise, bringing ancient Egypt, its people, and its rulers to life. A fun and interesting read!" –Salima Ikram, Professor of Egyptology, American University in Cairo