Life Lessons from Galatians: Free in Christ (Paperback)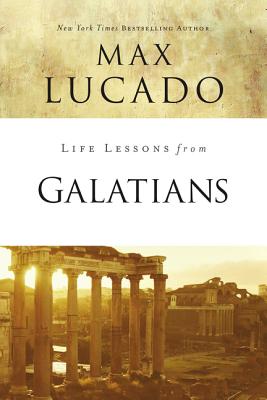 $12.99

Not Available In-Store - Usually Ships from Warehouse in 1-5 Days
Description
---
Whose approval do you hope to win? Friends? Coworkers? Someone in your family? What about God? Do you sometimes wonder if you need to do more to earn his approval?
Religious teachers in the early church were insisting that faith was not enough, that being right with God required something more. Early Christians were almost ready to accept and follow these extra requirements. This disturbed the apostle Paul. So he reminded the believers that salvation isn't based on following a religious code. Nor is it based on what we do (or don't do) or what we know or feel. Nothing is required on our part, except to believe. In showing us the profound difference between living by law and living by grace, he reminds us that we are indeed free in Christ.
As you read, study, journal, and discuss the book of Galatians, watch for these key themes that Max will unpack throughout the book:
Salvation comes by grace, not works.
We should bear the fruit of the Holy Spirit in our lives.
We will reap in life what we have sown in life.
The Life Lessons with Max Lucado series brings the Bible to life in twelve lessons filled with intriguing questions, inspirational stories, and poignant reflections to take you deeper into God's Word. Each lesson includes:
An opening reflection on the Bible book you're studying.
Background information to deepen your understanding of the cultural and historical setting.
An excerpt of the text (from the NIV and the NKJV).
Exploration questions with plenty of room to write your own thoughts and notes.
Inspirational thoughts from Max as well as a closing takeaway for further reflection.
The Life Lessons series is ideal for use in both a small-group setting or for individual study.
About the Author
---
Since entering the ministry in 1978, Max Lucado has served churches in Miami, Florida; Rio de Janeiro, Brazil; and San Antonio, Texas. He currently serves as Senior Minister of Oak Hills Church in San Antonio. He is America's bestselling inspirational author with more than 130 million books in print. Follow his website at MaxLucado.com Facebook.com/MaxLucado Instagram.com/MaxLucado Twitter.com/MaxLucado