The Prodigal God Discussion Guide: Finding Your Place at the Table (Paperback)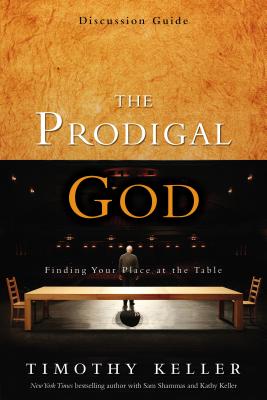 $12.99

Not Available In-Store - Usually Ships from Warehouse in 1-5 Days
Description
---
In this six-session small group Bible study, pastor and bestselling author Timothy Keller uses one of Jesus' best-loved parables - the Prodigal Son - to illustrate the depth of God's love and how his grace extends into some very unexpected places.
Taking you beyond the traditional focus on the wayward younger son, Keller helps you glean insights from each of the characters in Jesus' parable: the irreligious younger son, the moralistic elder son, and the Father who lavishes his love on both. Inside this guide, you'll explore questions for group discussion and personal reflection, and exercises that will help you experience the truths of Jesus' parable in your own life. The gospel is neither religion nor irreligion, but something else entirely. Whether you're a devout believer or a skeptic, The Prodigal God will challenge you to see Christianity in a whole new way.
This Prodigal God Discussion Guide will help you uncover, personalize, and apply life-changing insights from The Prodigal God DVD and book. In six captivating sessions, pastor and New York Times bestselling author Timothy Keller opens your eyes to the powerful message of Jesus' best known--and least understood--parable. The Prodigal God is a revelation of the very heart of the gospel: God's radical love for sinners of every kind.
This Discussion Guide is designed for use together with The Prodigal God DVD and book (both sold separately). Includes discussion questions for groups and individuals, suggested resources for further reading, Scripture references, helpful notes for leaders, and much more. When used together with the DVD this study provides users with practical tools that transform their faith.
Session include:
1. The Parable The People Around Jesus
2. The Two Lost Sons
3. The Elder Brother
4. The True Elder Brother
5. The Feast of the Father