All Along You Were Blooming: Thoughts for Boundless Living (Hardcover)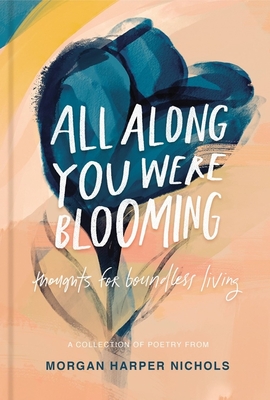 Description
---
A celebration of hope. An encounter with grace. A restoration of the heart. A healing of wounds. An anthem of freedom. This illustrated collection of poetry and prose invites you to stumble into the sunlight and delight in the wild and boundless grace you've been given.
Popular Instagram poet and bestselling author Morgan Harper Nichols gives you the ultimate love letter to your mind, heart, soul, and body, reminding you:
There is a purpose in every season
No matter how you want to race through this day or run away from this place, you are invited to live fully--right here, right now
Light will always find you, even when the sun sets and you sit awaiting the dawn
You are always blooming in the way you were meant to
All Along You Were Blooming is perfect for self-gifting for your own affirmation or giving to others on Valentine's Day, Mother's Day, birthdays, and other holidays and milestone days. In each small moment, whether in the light or the dark, you can make room for becoming, for breathing, for stumbling, and for simply being--for there is grace, today and every day.
Follow Morgan on Instagram @morganharpernicols (along with her millions of followers), and look for more beautiful, thought-provoking poetry in her other collections:
How Far You Have Come
You Are Only Just Beginning