Let. It. Go. Bible Study Guide: How to Stop Running the Show and Start Walking in Faith (Paperback)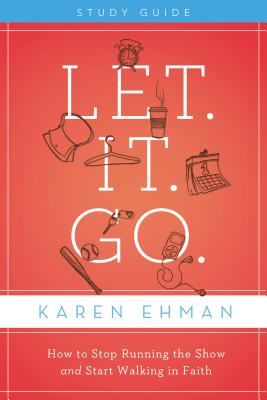 $10.99

Not Available In-Store - Usually Ships from Warehouse in 1-5 Days
Description
---
In this six-session women's small group Bible study (DVD/digital video sold separately), Karen Ehman provides practical, biblically based steps for letting go of the need to control.
Let's face it: many women are wired to control. We make sure that the house is clean, the meals are prepared on time, the beds are made, the children are dressed, and everyone gets to work, school, and other activities on time. And trying to control it all is not only exhausting, but can also cause us to lose friends and sometimes, the affection of our families. It can earn wives and mothers the label of control freak and send those within our sphere of influence packing.
In this humorous, yet thought-provoking small group Bible study you'll find the freedom and reward of living "out of control" - putting God in the rightful place he deserves in your life. Armed with relevant biblical and current examples (both to emulate and to avoid), doable ideas, new thought patterns, and practical tools to implement, this study will gently lead you out of the land of over-control and into a place of quiet trust.
Sessions include:
God Called and He'd Like His Job Back
Combating the "Me First" Mentality
Pursuing the Appearance of Perfection
Practicing the Art of Soul Control
When Comparisons Lead to Over-Control
Fixing Your Eyes on the Attitude Indicator
Designed for use with the Let. It. Go. Video Study (sold separately).

About the Author
---
Karen is a Proverbs 31 Ministries author and speaker, as well as a writer for their Encouragement For Today online devotions that reach over one million women daily. She has written seven books including the popular LET. IT. GO: How to Stop Running the Show & Start Walking in Faith. Married to her college sweetheart Todd, together they raise their three sometimes quarrelsome but mostly charming children in the boondocks of central Michigan. There she enjoys antique hunting, cheering for the Detroit Tigers, and feeding the many teens who gather around her kitchen island for a taste of Mama Karen's cooking.