Psychiatric Power: Lectures at the Collège de France, 1973--1974 (Michel Foucault Lectures at the Collège de France #3) (Paperback)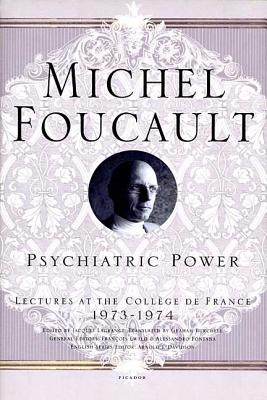 $23.00

Not Available In-Store - Usually Ships from Warehouse in 1-5 Days
Description
---
In Psychiatric Power, the fourth volume in the collection of his groundbreaking lectures at the Collège de France, Michel Foucault addresses and expands upon the ideas in his seminal Madness and Civilization, sketching the genealogy of psychiatry and of its characteristic form of power/knowledge. Madness and Civilization undertook the archeology of the division according to which, in Western Society, the madman found himself separated from the sane. That book ends with the medicalization of madness at the beginning of the nineteenth century. Psychiatric Power continues this discourse up to the end of the nineteenth century, and the double "depsychiatrization" of madness, now dispersed between the neurologist and the psychoanalyst. Presented in a conversational tone, Psychiatric Power brings fresh access and light to the work of one of the past century's preeminent thinkers.
About the Author
---
Michel Foucault (1926-1984) was acknowledged as the preeminent philosopher of France in the 1970s and 1980s, and continues to have enormous impact throughout the world in many disciplines.

His books include The Government of Self and Others, The Courage of Truth, The Birth of Biopolitics, and The Punitive Society.
Jacques Lagrange contributed to Psychiatric Power from Picador.
Graham Burchell (Translator) is the translator, and has written essays on Michel Foucault. He is an Editor of The Foucault Effect.
Arnold I. Davidson (Editor) is the Robert O. Anderson Distinguished Service Professor at the University of Chicago, and Professor of the History of Political Philosophy at the University of Pisa. He is co-editor of the volume Michel Foucault: Philosophie. He lives in Chicago.
Praise For…
---
"[Foucault] must be reckoned with by humanists, social scientists, and political activists." —The New York Times Book Review

"[Foucault] has an alert and sensitive mind that can ignore the familiar surfaces of established intellectual codes and ask new questions.... [He] gives dramatic quality to the movement of culture." —The New York Review of Books

"Foucault is quite central to our sense of where we are. . . . [He carries] out, in the noblest way, the promiscuous aim of true culture." —The Nation