Speak You Also: A Survivor's Reckoning (Paperback)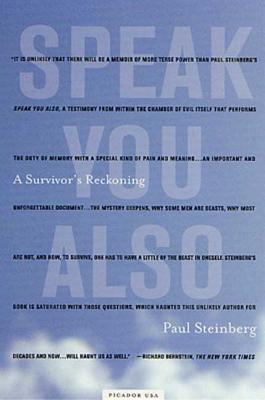 $19.00

Not Available In-Store - Usually Ships from Warehouse in 1-5 Days
Staff Reviews
---
Forgoing the graphic litany of atrocities that characterizes so much Holocaust literature, Auschwitz survivor Paul Steinberg instead focuses on the lingering effects of having survived—the fifty-plus years of sleeplessness, strained relationships and brutal self-recriminations that haunted him until his death in 1999. An unapologetic rejoinder to fellow prisoner Primo Levi—who recast Steinberg as "Henri," the ultimate survivor, in If This Is a Man—Speak You Also asks the terrifying question, At what price survival? The answers tormented Steinberg all his life, but there is peace amid the turbulence of this astonishing little book. "A delivery," Steinberg writes, "no matter how long overdue, is still a deliverance." - Brandon
— From
Memoirs (page 1)
Description
---
A concentration camp survivor confronts one of the most heated and vexed questions of the Holocaust: what price survival? In 1943, sixteen-year-old Paul Steinberg was arrested in Paris and deported to Auschwitz. A chemistry student, Steinberg was assigned to work in the camp's laboratory alongside Primo Levi, who would later immortalize his fellow inmate as "Henri," the ultimate survivor, the paradigm of the prisoner who clung to life at the cost of his own humanity. "One seems to glimpse a human soul," Levi wrote in If This Is a Man, "but then Henri's sad smile freezes in a cold grimace, and here he is again, intent on his hunt and his struggle; hard and distant, enclosed in armor, the enemy of all."

Now, after fifty years, Steinberg speaks for himself. In an unsparing act of self-scrutiny, he traces his passage from artless adolescent to ruthless creature determined to do anything to live. He describes his strategies of survival: the boxing matches he staged for the camp commanders, the English POWs he exploited, the maneuvers and tactics he applied with cold competence. Ultimately, he confirms Levi's judgment: "No doubt he saw straight. I probably was that creature, prepared to use whatever means I had available." But, he asks, "Is it so wrong to survive?"

Brave and rare, Speak You Also is a profound and necessary addition to the body of Holocaust writing: a survivor's reckoning with culpability and survival.
About the Author
---
Paul Steinberg was born in Berlin in 1926 and immigrated to France at the age of seven. Deported to Auschwitz in l943, he was the only member of his family to survive the war. After liberation, Steinberg returned to Paris, where he lived until his death in 1999.
Praise For…
---
"The most powerful and important Holocaust account to be published in recent years." —Murray Schwartz, Professor of Writing, Literature and Publishing, Emerson College

"It is unlikely that there will be a memoir of more terse power than Paul Steinberg's Speak You Also, a testimony from within the chamber of evil itself that performs the duty of memory with a special kind of pain and meaning . . . An important and unforgettable document . . . The mystery deepens, why some men are beasts, why most are not, and how, to survive, one has to have a little of the beast in oneself. Steinberg's book is saturated with those questions, which haunted this unlikely author for decades and now, thanks to his remarkable little volume [will] haunt us as well." —Richard Bernstein, The New York Times

"A searing philosophical memoir . . . In Speak You Also, which is eloquently translated from the French by Linda Coverdale with Bill Ford, Steinberg cryptically ravels and unravels his past . . . 'Perhaps I survived so that I might give an account, one of the very last, that is both passionate and serene,' he writes. 'A delivery, however long overdue, is still deliverance.'" —Susan Shapiro, The New York Times Book Review

"A riveting analysis of the effect of barbaric acts on the human mind . . . His account is disturbing, powerful reading. We cannot be as hard on him as Levi was or as hard as he is on himself. His transgressions were small, compared to his punishment." —Linda Matchan, The Boston Globe

"A work of permanent significance. I find it hard to imagine reading Levi's classic work except in tandem with Steinberg's brief for the defense." —Lawrence N. Powell, The Nation

"This is an exceptional work of witness, cold, precise, drained of pathos and often unbearable because of its dryness. In his pitiless self-searching, Paul Steinberg has given us a kind of response to those dreadful events that we have not had before . . . an indispensable book." —Jorge Semprun, author of Literature of Life

"Steinberg shows not the slightest trace of self-pity . . . Instead, there's detachment and a refusal to shrink from even the harshest of confessions that separates this text from many others on the same subject. More than a reconstitution of his experience, Steinberg is engaged in a poignant dialogue with Primo Levi's indictment, bringing us face to face with the most difficult questions about survival and humanity." —Claude Lantzmann, producer, director, and author of Shoah

"With an alert detachment devoid of self-pity and anger alike, Paul Steinberg speaks from the heart of his experience . . . He is an essential witness." —John Felstiner, author of Paul Celan: Poet, Survivor, Jew

"What is striking in Paul Steinberg's way of telling the story, what makes his testimony so very different, is his detached, glacial, pitiless tone. Tinged with black humor, Steinberg's voice restores the madness of the camps in all its cruelty and violence and barbarism." —Myriam Anissimov, author of Primo Levi: Tragedy of an Optimist

"With brutal honesty and frightening self-examination, Steinberg dissects himself and forces readers to reexamine what mortality means in the face of unremitting horror." —Publishers Weekly (starred review)