The Devil Amongst the Lawyers: A Ballad Novel (Hardcover)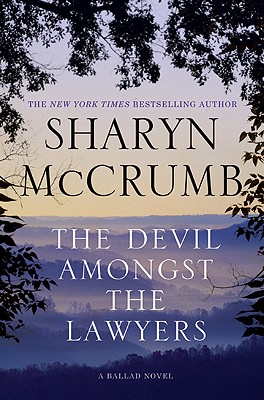 $24.99

Special Order - Subject to Availability
July 2010 Indie Next List
---
"Erma Morton, a beautiful, educated woman from the mountains of Virginia is accused of murdering her father in 1935. Journalists from big city newspapers flock to remote Wise County to report their version of life and death in 'them thar hills.' McCrumb has utilized a true murder case to set the facts straight about her beloved Appalachian way of life. This is a novel of passion, mystery and magic, as well as a wake-up call to the power and influence of the media."
— Karen Briggs, Great Northern Books and Hobbies, Oscoda, MI
Description
---
In 1935, when Erma Morton, a beautiful young woman with a teaching degree, is charged with the murder of her father in a remote Virginia mountain community, the case becomes a cause célèbre for the national press.
 Eager for a case to replace the Lindbergh trial in the public's imagination, the journalists descend on the mountain county intent on infusing their stories with quaint local color: horse-drawn buggies, rundown shacks, children in threadbare clothes. They need tales of rural poverty to give their Depression-era readers people whom they can feel superior to. The untruth of these cultural stereotypes did not deter the big-city reporters, but a local journalist, Carl Jennings, fresh out of college and covering his first major story, reports what he sees: an ordinary town and a defendant who is probably guilty.
This journey to a distant time and place summons up ghosts from the reporters' pasts:  Henry Jernigan's sojourn in Japan that ended in tragedy, Shade Baker's hardscrabble childhood on the Iowa prairie, and Rose Hanelon's brittle sophistication, a shield for her hopeless love affair. While they spin their manufactured tales of squalor, Carl tries to discover the truth in the Morton trial with the help of his young cousin Nora, who has the Sight. But who will believe a local cub reporter whose stories contradict the nation's star journalists? For the reader, the novel resonates with the present: an economic depression, a deadly flu epidemic, a world contending with the rise of political fanatics, and a media culture determined to turn news stories into soap operas for the diversion of the masses.
A stunning return to the lands, ballads, and characters upon which she made her name, The Devil Amongst the Lawyers is a testament to Sharyn McCrumb's lyrical and evocative writing.
About the Author
---
Sharyn McCrumb is the author of "The Ballad of Frankie Silver"," She Walks These Hills, " and many other award-winning novels. Her books have been named Notable Books of the Year by "The""New York Times" and the "Los Angeles Times." She was named a "Virginia Woman of History" for achievement in literature in 2008. She lives and writes in the Virginia Blue Ridge, less than a hundred miles from where her family settled in 1790 in the Smoky Mountains that divide North Carolina and Tennessee.
Praise For…
---
Praise for The Devil Amongst the Lawyers:
"The story begins with a train ride, a magic carpet that carries us back to the year 1935 and into the heart of a famous murder trial. As we head for the Blue Ridge Mountains of Virginia, we get to know the characters, those journalists and photographers and sensation-seekers who always turn up for a good spectacle. 
"Sharyn McCrumb re-creates this time and place with such precision, the reader forgets that seventy-five years have passed since that faraway event in that isolated place where the outer world clashes with superstition and folklore. This is storytelling as those Celtic bards meant it to be: lyrical, haunting, and truly unforgettable." --Cathie Pelletier, author of The Funeral Makers and Running the Bulls
"Wow! Sharyn McCrumb is not just a writer---in fact, she's a conjurer, a genius, a wordsmith, an entertainer, a wit, a scholar, a wise woman, and a storyteller of the first rank. The Devil Amongst the Lawyers is flat-out brilliant and transcendent, a book that gets everything exactly right. Simply put, novels don't come any better than this." --Martin Clark, author of The Legal Limit and The Many Aspects of Mobile Home Living 
"The Devil Amongst the Lawyers is a superb novel that, once started, is so well written and so expertly researched that readers will find it impossible to put down. It is also a scathing indictment of how Appalachia has been, and continues to be, stereotyped by a supposedly objective media. Bravo!" --Ron Rash, author of Serena

More Praise for Sharyn McCrumb:
"There are few writers today who are able to blend past and present, tradition and law, legends and headlines in a wholly credible fashion-- Tony Hillerman springs  inevitably to mind.  Sharyn McCrumb is another; her widely acclaimed Ballad Series is one of the finest being written today." --Bookpage
"McCrumb provides fresh evidence that there is no one quite like her among present-day writers. No one better, either." --San Diego Union-Tribune
"Ms. McCrumb writes with quiet fire and maybe a little mountain magic…She plucks the mysteries from people's lives and works these dark narrative threads into Appalachian legends older than the hills. Like every true storyteller, she has the Sight." --The New York Times Book Review