Newes from the Dead (Paperback)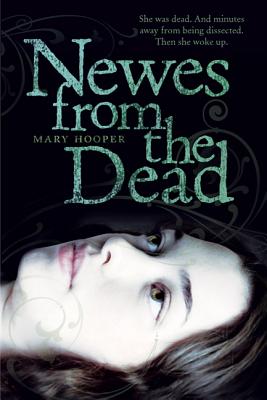 $17.99
Not Available In-Store - Usually Ships from Warehouse in 1-5 Days
Staff Reviews
---
Based on a true story about a house-maid, Anne Green, who was wrongly tried and hanged for murder in 1650, only to survive and awaken on a dissection table among a group of physicians and medical students. Newes from the Dead is told in two voices: Anne Greene's as she lay trapped within her own body, not knowing if she is alive or dead, and Robert Matthews, a shy medical student attending his first dissection when he notices that Anne's eyes seem to "flutter". Through a pronounced stutter, Robert finds a away to alert the physicians and finally convinces them to wait before they take their first cut. Suddenly Anne finds herself among strangers and a new fear that she may be dragged back to the scaffold. This compelling novel concludes with an excerpt of the original 1651 "Newes from the Dead" article.
—
Brandi
Description
---
"Intriguing and captivating."—Celia Rees, author of Witch Child
WRONGED. HANGED. ALIVE? (AND TRUE!)
Anne can't move a muscle, can't open her eyes, can't scream. She lies immobile in the darkness, unsure if she'd dead, terrified she's buried alive, haunted by her final memory—of being hanged. A maidservant falsely accused of infanticide in 1650 England and sent to the scaffold, Anne Green is trapped with her racing thoughts, her burning need to revisit the events—and the man—that led her to the gallows.
Meanwhile, a shy 18-year-old medical student attends his first dissection and notices something strange as the doctors prepare their tools . . . Did her eyelids just flutter? Could this corpse be alive?
Beautifully written, impossible to put down, and meticulously researched, Newes from the Dead is based on the true story of the real Anne Green, a servant who survived a hanging to awaken on the dissection table. Newes from the Dead concludes with scans of the original 1651 document that recounts this chilling medical phenomenon.
Newes from the Dead is a 2009 Bank Street - Best Children's Book of the Year.
About the Author
---
Mary Hooper is a very popular writer for children and young adults. Her brilliant historical novels have a huge fan base, as do her contemporary novels for teenagers. At The Sign of the Sugared Plum was selected as part of the 2010 Booked Up scheme and Fallen Grace has been nominated for the Carnegie Medal 2011. Mary lives in Henley-on-Thames.
Praise For…
---
"Intriguing and captivating." —Celia Rees
"A chilling, mesmerizing read." —Kirkus Reviews
"A grabber of a premise." —School Library Journal
"A historical mystery that is creepy in the best Edgar Allen Poe tradition, as well as thought-provoking." —Booklist
"First-rate . . . Anne's story, handled with skill and passion, will be hard for anyone to put down." —The Times (UK)
"A well researched, riveting read." —The Horn Book