American Health Care in Transition: A Guide to the Literature (Bibliographies and Indexes in Medical Studies #14) (Hardcover)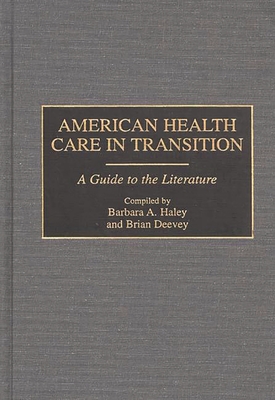 Description
---
Although American medicine has had truly impressive clinical achievements, America's health care system fails to provide equal access to reasonable care or to use its resources effectively at a high human cost. Yet health care reform faces major obstacles. One is a lack of easy-to-find reliable information about key dynamic forces that influence outcomes and performance of various types of health care systems. This book fills that need and provides a guide to the extensive academic and practice journal literature and to the health reports from the U.S. Accounting Office and the Agency for Health Care Policy and Research. This book is for those who want to go beyond glib soundbites and understand the complexities that make health care reform a difficult issue.
The volume is arranged in five chapters: current challenges to the health care system; health insurance; health care providers; chronic illness and AIDS: future challenges for the American health care system; and health policy and thoughts on reform. The first and last chapters contain articles that provide broad overviews of the health care system and reform of American health care. Chapters 2-4 acquaint the reader with the literature dealing with the nuts and bolts of how the system works. This book provides a guide to the sources of background information necessary to understand the need for reform, to sources on the complexities and issues that must be dealt with for effective reform, and to discussions of reform itself. This is also a guide to major databases and prominent authorities.
About the Author
---
BARBARA A. HALEY is an Environmental Policy Specialist in the Office of Lead Hazard Control, U.S. Department of Housing and Urban Development. She is an applied sociologist with interests in policy analysis, program evaluation, health, and housing. Her major commitments are the evaluation of HUD's grant program for lead hazard reduction and analysis of lead hazard awareness in the U.S. BRIAN DEEVEY is a Field Data Capture Specialist at Etak Digital Maps, Inc. He has worked with public health in the Peace Corps, and with cultural anthropology in several areas.