Back to Blood: A Novel (Hardcover)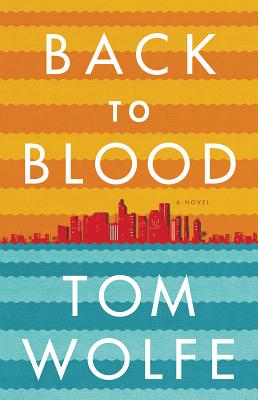 $30.00
Email or call for price.
Description
---
A big, panoramic story of the new America, as told by our master chronicler of the way we live now.

As a police launch speeds across Miami's Biscayne Bay -- with officer Nestor Camacho on board -- Tom Wolfe is off and running. Into the feverous landscape of the city, he introduces the Cuban mayor, the black police chief, a wanna-go-muckraking young journalist and his Yale-marinated editor; an Anglo sex-addiction psychiatrist and his Latina nurse by day, loin lock by night-until lately, the love of Nestor's life; a refined, and oh-so-light-skinned young woman from Haiti and her Creole-spouting, black-gang-banger-stylin' little brother; a billionaire porn addict, crack dealers in the 'hoods, "de-skilled" conceptual artists at the Miami Art Basel Fair, "spectators" at the annual Biscayne Bay regatta looking only for that night's orgy, yenta-heavy ex-New Yorkers at an "Active Adult" condo, and a nest of shady Russians.

Based on the same sort of detailed, on-scene, high-energy reporting that powered Tom Wolfe's previous bestselling novels, Back to Blood is another brilliant, spot-on, scrupulous, and often hilarious reckoning with our times.
About the Author
---
Tom Wolfe is the author of more than a dozen books, among them The Electric Kool-Aid Acid Test, The Right Stuff, The Bonfire of the Vanities, A Man in Full, I Am Charlotte Simmons, and Back to Blood. A native of Richmond, Virginia, he earned his B.A. at Washington and Lee University and a Ph.D. in American Studies at Yale. He received the National Book Foundation's 2010 Medal for Distinguished Contribution to American Letters. He lives in New York City.
Praise For…
---
"As if the 45 years from Electric Kool-Aid Acid Test to here hadn't passed, Wolfe is back to some old tricks, including an ever-shifting, sometimes untrustworthy point of view, dizzying pans from one actor to another and rat-a-tat prose....A welcome pleasure from an old master."—Kirkus (starred review)

"Wolfe, the impish, white-suited satirist, eviscerates a city-in-flux as he did with New York in The Bonfire of the Vanities (1987) and Atlanta in A Man in Full (1988). This is a shrewd, riling, and exciting tale of a volatile, diverse, sun-seared city where 'everybody hates everybody.'"—Donna Seaman, Booklist (starred review)

"Wolfe is a sorcerer who can stir up a storm of swirling characters, all of them trapped in their own dilemmas and delusions....you'll enjoy everyone's panicked thoughts. For a nation of immigrants, we're still comically sensitive around one another, and Miami is a perfect place to watch the melting pot boil."—Ron Charles, Washington Post

"The novel's pointed observations are dangerously close to reality: Wolfe, Master of the New Journalism Universe, has done his homework and done it well. There is nothing in the novel that couldn't happen tomorrow right outside your window."—Connie Ogle, Miami Herald

"Tom Wolfe's achievement...remains buoyant and considerable, and American novelists, still so often caught up in the most trivial of private dramas, continue to need him at the top of their lineup."—Thomas Mallon, New York Times Book Review

"Immensely entertaining and insightful. Nobody does hedonism and excess like Miami, and Wolfe has managed to wrangle all of his observations into an expansive book that despite its huge cast avoids becoming unruly."—William McKeen, Boston Sunday Globe

"The premier 19th-century novelist of the 21st century, the thin white duke of American neon prose, Tom Wolfe may be the last of the literary showmen in the era of mopers and trauma specialists. Wolfe shows no signs of slackening energy or ambition in his latest novel, Back to Blood."—James Wolcott, Vanity Fair

"Preposterous, overwrought, contrived, wildly ambitious, and outrageously entertaining. It is, in other words, classic Wolfian fare."—Husna Huq, Christian Science Monitor

"With the sweep, particularity, and deliciously flamboyant language that have become Wolfe trademarks, Back to Blood tackles Miami and environs. Wolfeian description is seldom just pretty writing--almost always, the physical environment tells the person, tells the society."—John Timpane, Philadelphia Enquirer

"A rollicking good story. Akin to The Bonfire of the Vanities, the book has memorable characters and big themes."—Ken Armstrong, Seattle Times

"A typically overstuffed, overstated, delectably over-the-top portrait of modern Miami."—Dale Singer, St. Louis Post-Dispatch

"Back to Blood is a bracing vision of America's shifting demography and the immutability of ethnic conflict and class aspirations....Wolfe demonstrates that his skills as a novelist and a chronicler of America's class anxieties are undiminished."—Michael Moynihan, The Daily Beast

"Another big, sprawling, engrossing, hilarious, character-packed and action-driven novel by the master chronicler of modern America."—Bob Hoover, Minneapolis Star-Tribune

"Gripping....[Wolfe] limns a dog-eat-dog world in which people behave like animals, scratching and clawing their way up the greasy social pole."—Michiko Kakutani, New York Times

"A breezy, funny read...and an examination of just what it means to be a man."—Sarah Fenske, LA Weekly

"The novel roars and zips along like a cigarette boat, and even at 81 the Man in White proves to be a marvelous reporter. Call this bawdy humdinger the Bonfire of the Miamians."—Kyle Smith, People

"Wolfe is writing with as much brio as he brought to his debut novel, The Bonfire of the Vanities, 25 years ago. Back to Blood demonstrates the author's persistent vitality."—Adam Langer, San Francisco Chronicle