The Goldfinch: A Novel (Pulitzer Prize for Fiction) (Paperback)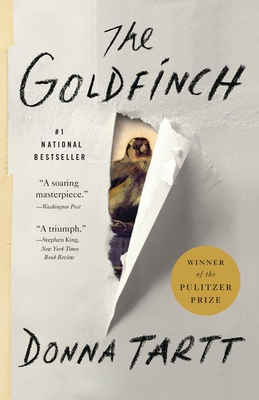 Staff Reviews
---
This is a finely-wrought Dickensian bildungsroman that follows the life of Theodore Decker and his tangled link to a seventeenth-century painting. Humor, peculiarity, terror, aching existential dread-- Tartt elicits it all in winding, imagistic prose. (Her writing almost tangibly glows-- the first time I read this, I thought, for the first several pages, that it must be a fantasy novel because of the pure magic with which she world-builds.) Tartt has a striking way of combining action-laced plot with subtle and poignant meditations on art, family, and loss. The one & only book that has my whole heart and will have it always.
—
Caroline
Description
---
A young New Yorker grieving his mother's death is pulled into a gritty underworld of art and wealth in this "extraordinary" and beloved Pulitzer Prize winner that "connects with the heart as well as the mind" (Stephen King, New York Times Book Review).
Theo Decker, a 13-year-old New Yorker, miraculously survives an accident that kills his mother. Abandoned by his father, Theo is taken in by the family of a wealthy friend. Bewildered by his strange new home on Park Avenue, disturbed by schoolmates who don't know how to talk to him, and tormented above all by a longing for his mother, he clings to the one thing that reminds him of her: a small, mysteriously captivating painting that ultimately draws Theo into a wealthy and insular art community.
As an adult, Theo moves silkily between the drawing rooms of the rich and the dusty labyrinth of an antiques store where he works. He is alienated and in love -- and at the center of a narrowing, ever more dangerous circle.
The Goldfinch is a mesmerizing, stay-up-all-night and tell-all-your-friends triumph, an old-fashioned story of loss and obsession, survival and self-invention. From the streets of New York to the dark corners of the art underworld, this "soaring masterpiece" examines the devastating impact of grief and the ruthless machinations of fate (Ron Charles, Washington Post).
About the Author
---
Donna Tartt is the author of The Goldfinch, which was awarded the 2014 Pulitzer Prize for Fiction, as well as the Andrew Carnegie Medal for Excellence in Fiction. Her novels The Secret History and The Little Friend have been translated into 30 languages. She was born in Greenwood, Mississippi and is a graduate of Bennington College.
Praise For…
---
"A soaring masterpiece."
Ron Charles, Washington Post
"Dazzling....A glorious, Dickensian novel, a novel that pulls together all Ms. Tartt's remarkable storytelling talents into a rapturous, symphonic whole and reminds the reader of the immersive, stay-up-all-night pleasures of reading."
Michiko Kakutani, New York Times
"
The Goldfinch
is a rarity that comes along perhaps half a dozen times per decade, a smartly written literary novel that connects with the heart as well as the mind....Donna Tartt has delivered an extraordinary work of fiction."
Stephen King, New York Times Book Review
"
The Goldfinch
is a book about art in all its forms, and right from the start we remember why we enjoy Donna Tartt so much: the humming plot and elegant prose; the living, breathing characters; the perfectly captured settings....Joy and sorrow exist in the same breath, and by the end
The Goldfinch
hangs in our stolen heart."
Vanity Fair
"Drenched in sensory detail, infused with Theo's churning thoughts and feelings, sparked by nimble dialogue, and propelled by escalating cosmic angst and thriller action, Tartt's trenchant, defiant, engrossing, and rocketing novel conducts a grand inquiry into the mystery and sorrow of survival, beauty and obsession, and the promise of art."
Booklist (starred review)
"There's a bewitching urgency to the narration that's impossible to resist. Theo is magnetic...
The Goldfinch
is a pleasure to read."
Publishers Weekly
"A long-awaited, elegant meditation on love, memory, and the haunting power of art....Eloquent and assured, with memorable characters....A standout--and well-worth the wait."
Kirkus Reviews (starred review)
"It's a classic...If you haven't read it, read it. If you have, read it again."
Andy Cohen, Today Show
"Where to begin? Simply put, I'm indescribably jealous of any reader picking up this masterpiece for the first time. And once they do, they will long remember the heartrending character of Theo Decker and his unthinkable journey."
Sarah Jessica Parker for Goop