Now Is the Time for Running (Paperback)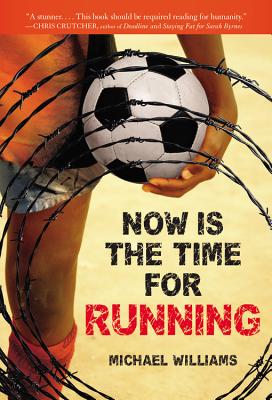 $11.99

Not Available In-Store - Usually Ships from Warehouse in 1-5 Days
Description
---
When tragedy strikes, Deo's love of soccer is all he has left. Can he use that gift to find hope once more?

Just down the road from their families, Deo and his friends play soccer in the dusty fields of Zimbabwe, cheered on by Deo's older brother, Innocent. It is a day like any other ..until the soldiers arrive and Deo and Innocent are forced to run for their lives, fleeing the wreckage of their village for the distant promise of safe haven. Along the way, they face the prejudice and poverty that await refugees everywhere, and must rely on the kindness of people they meet to make it through.

Relevant, timely, and accessibly written, Now Is the Time For Running is a staggering story of survival that follows Deo and his mentally handicapped older brother on a transformative journey that will stick with readers long after the last page.

About the Author
---
Michael Williams is a writer of plays, musicals, operas, and novels, and is the Managing Director of Cape Town Opera in South Africa. He is the author of several books, including the highly praised young adult novels Crocodile Burning and Now Is the Time for Running. He has written operas for young people based on African mythology as well as the libretti for symphonic operas that have premiered around the world. He finds writing fiction to be the perfect antidote to the drama of keeping an opera company alive in Africa.
Praise For…
---
A Kirkus Reviews Best Book of the Year (2011)An ALA Best Fiction Book for Young Adults (2012) Winner of the UKLA Award for ages 12-16 (2014)

"A harrowing tale of modern Zimbabwe... gripping, suspenseful and deeply compassionate."—Kirkus (starred review)

"There is plenty of material to captivate readers: fast-paced soccer matches every bit as tough as the players; the determination of Deo and his fellow refugees to survive unthinkably harsh conditions; and raw depictions of violence... But it's the tender relationship between Deo and Innocent, along with some heartbreaking twists of fate, that will endure in readers' minds."—PW (starred review)

"Williams tells his story simply and unflinchingly with depictions of tremendous violence, hard-fought soccer matches, and the loving bond between the brothers. Deo's narration provides an immediacy that is only compounded by the tale's fast pacing and suspense. The author gives readers complicated and compelling characters for whom they will cheer, cry with, and love."
—SLJ (starred review)

"Williams skillfully draws the plight of these refugee brothers with both suspense and sympathy, and readers cannot help but root for them in their quest to rebuild their broken lives... Williams joins Beverly Naidoo and Allan Stratton with this incisive portrait of sub-Saharan Africa, a compelling mix of suspense, sports, and social injustice."—Horn Book

"The story is fast-paced, gripping, heartbreaking, and hopeful."
—LMC

"A stunner... This book should be required reading for humanity."—Chris Crutcher, author of Deadline, Whale Talk, and Staying Fat for Sarah Byrnes

"Now Is the Time For Running is as riveting as it is important, as heartbreaking as it is uplifting, and as sobering as it is thrilling. Michael Williams astounds us with the moral dilemmas facing southern Africa; he also buoys us with a realistic sense of hope and triumph. A must read." —Matthew Quick, author of Sorta Like a Rock Star and The Silver Linings Playbook

"We run with [Deo], our hearts in our mouths, to the very end... How lucky we are to get such a read!"—Donna Jo Napoli, author of The Wager and The Magic Circle

"A gripping page-turning, a tribute to the unifying power of sport, and a heart-stirring window into the life of a teen refugee in South Africa."—Mitali Perkins, author of Bamboo People and Secret Keeper

"A thrilling, beautifully told tale of survival, brotherly love, and the redemptive power of sport. Deo is a hero for the real world."—Jewell Parker Rhodes, author of Ninth Ward

"Michael Williams has crafted a gripping novel that celebrates the lure of soccer, the power of brotherhood, and the human spirit's ability to overcome incredible odds."—Andrea Davis Pinkney, author of Bird in a Box

"Gut-wrenching and moving... an eye-opening book that cries out to be read."—Carl Deuker, author of Heart of a Champion and On the Devil's Court