Feed (Newsflesh #1) (Mass Market)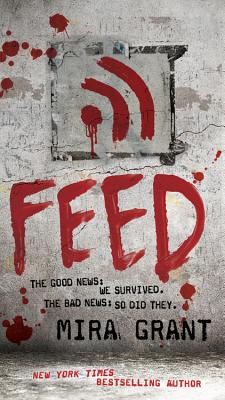 $10.00

Not Available In-Store - Usually Ships from Warehouse in 1-5 Days
Other Books in Series
This is book number 1 in the Newsflesh series.
Staff Reviews
---
Bloggers. Zombies. If either of those words catch your interest, you'll like Feed. Siblings Shaun and Georgia write and run one of the leading news sites in 2040. We've cured cancer and the common cold, but are left with the side effects of a zombie apocalypse. The zombies are controlled relatively well though, and they are just a part of dealing with daily life and hoping there isn't an outbreak near you. There's a presidential election coming up and Shaun and Georgia, along with their techy friend Buffy, have been picked to cover the entire campaign. The narrative is sharp and intelligent, and you'll warm up quickly to these siblings who are closer than twins. Georgia and Shaun are willing to sacrifice anything to keep the signal going, and let the truth rise up. Things get more interesting than I anticipated, and I was glued to every one of these 600 pages like it was the last book in the world. Feed is filled with conspiracy, corrupt politicians, and more detailed world building and technological inventions than I've seen in ages.
—
LEAH'S STAFF PICKS
Description
---
Feed is an electrifying and critically acclaimed novel of a world a half-step from our own that the New York Times calls "Astonishing" — a novel of zombies, geeks, politics, social media, and the virus that runs through them all — from New York Times bestseller Mira Grant.
 
The year was 2014. We had cured cancer. We had beat the common cold. But in doing so we created something new, something terrible that no one could stop. The infection spread, virus blocks taking over bodies and minds with one, unstoppable command: FEED.
 
Now, twenty years after the Rising, Georgia and Shaun Mason are on the trail of the biggest story of their lives—the dark conspiracy behind the infected. The truth will out, even if it kills them.
 

More from Mira Grant:
 
Newsflesh
Feed
Deadline
Blackout
Feedback
 
Rise
 
 
Praise for Feed:
"I can't wait for the next book."―N.K. Jemisin
 
"It's a novel with as much brains as heart, and both are filling and delicious."―The A. V. Club
 
"Gripping, thrilling, and brutal... McGuire has crafted a masterpiece of suspense with engaging, appealing characters who conduct a soul-shredding examination of what's true and what's reported."―Publishers Weekly (Starred Review)
 
"Feed is a proper thriller with zombies." —SFX
About the Author
---
Mira Grant lives in California, sleeps with a machete under her bed, and highly suggests you do the same. Mira Grant is the pseudonym of Seanan McGuire — winner of the 2010 John W. Campbell Award for best new writer. Find out more about the author at www.miragrant.com or follow her on twitter @seananmcguire.
Praise For…
---
"Astonishing ... a fascinating exploration of the future."—New York Times

"While there's plenty of zombie mayhem, political snark, and pointedly funny observations here, the heart of this book is about human relationships, which are still the most important thing in the world...even in a world where you might have to shoot the person you love most in the head, just to stop them from biting off your face."—Locus on Feed

"Feed is a proper thriller with zombies. Grant doesn't get carried away with describing her world or the virus. She's clearly thought both out brilliantly, but she doesn't let it get in the way of a taut, well-written story."—SFX on Feed

"The story starts with a bang as corruption, mystery, danger and excitement abound."—RT Book Reviews (4.5 stars) on Feed

"Gripping, thrilling, and brutal... Shunning misogynistic horror tropes in favor of genuine drama and pure creepiness, McGuire has crafted a masterpiece of suspense with engaging, appealing characters who conduct a soul-shredding examination of what's true and what's reported."—Publishers Weekly (Starred Review) on Feed

"Intelligent and intense, a thinking-person's post-apocalyptic zombie thriller set in a fully-realized future that is both fascinating and horrifying to behold."—John Joseph Adams on Feed

"I can't wait for the next book."—N.K. Jemisin on Feed

"It's a novel with as much brains as heart, and both are filling and delicious."—The A. V. Club on Feed

"OK, all of you readers who want something weighty and yet light, campy and yet smart, horror with heart, a summer beach read that will stay in your head and whisper to you "what if," Deadline is just what you are looking for."—RT Book Reviews on Deadline

"Deft cultural touches, intriguing science, and amped-up action will delight Grant's numerous fans."—Publishers Weekly (starred review) on Deadline

"Intelligent and exciting...raises the bar for the genre."—Telegraph on Deadline

"Wry and entertaining."—NPR Books on Blackout