Rapture Practice: A True Story About Growing Up Gay in an Evangelical Family (Paperback)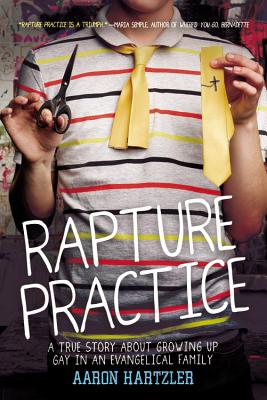 $11.99

Not Available In-Store - Usually Ships from Warehouse in 1-5 Days
Staff Reviews
---
I absolutely loved this debut! Like Aaron, I grew up in a conservative Christian home and my Dad was a pastor. Even though his family is much more conservative than mine, there was a lot in this book that I identified with: the desire for a concessions stand at church, the struggle to reconcile my faith with the world I live in, the fear of disappointing my parents when I wasn't as good as they wanted me to be. But Aaron's story is his own, and I loved reading about his sometimes flawed, but always loving family. I would recommend Rapture Practice to Christians and non-Christians alike; not only is it a fun, conversational read, it's an important one, and I think it will prompt interesting discussions!
—
LAUREN'S STAFF PICKS
Description
---
Sometimes salvation is found in the strangest places: a true story.
Aaron Hartzler grew up in a home where he was taught that at any moment the Rapture could happen. That Jesus might come down in the twinkling of an eye and scoop Aaron and his family up to heaven. As a kid, Aaron was thrilled by the idea that every moment of every day might be his last one on planet Earth.

But as Aaron turns sixteen, he finds himself more attached to his earthly life and curious about all the things his family forsakes for the Lord. He begins to realize he doesn't want the Rapture to happen just yet--not before he sees his first movie, stars in the school play, or has his first kiss. Eventually Aaron makes the plunge from conflicted do-gooder to full-fledged teen rebel.

Whether he's sneaking out, making out, or playing hymns with a hangover, Aaron learns a few lessons that can't be found in the Bible. He discovers that the best friends aren't always the ones your mom and dad approve of, and the tricky part about believing is that no one can do it for you.

In this funny and heartfelt coming-of-age memoir, debut author Aaron Hartzler recalls his teenage journey to find the person he is without losing the family that loves him. It's a story about losing your faith and finding your place and your own truth--which is always stranger than fiction.
About the Author
---
Aaron Hartzler has written books, screenplays, and a great number of tweets. His first book, Rapture Practice is a true story about his own life, a memoir about getting kicked out of his Christian high school in Kansas City two weeks before graduation. The New York Times called Rapture Practice "effervescent and moving, evocative and tender." It was also one of Amazon's Best Books of 2013, and a finalist for the Lambda Literary Award. He invites you to visit him online at www.aaronhartzler.com.
Praise For…
---
Praise for Rapture Practice:A 2014 Rainbow List SelectionA Lambda Literary Awards FinalistNamed one of Amazon's Best Books of 2013A Kirkus Reviews Best Young Adult Book of 2013An ALA 2015 Popular Paperbacks Pick
"...Effervescent and moving, evocative and tender..."—New York Times Book Review

* His story emphasizes discovery more than rebellion, and the narrative is carefully constructed to show and not judge the beliefs of his family and their community... Hartzler's laugh-out-loud stylings range from the subtle to the ridiculous...A hilarious first-of-its-kind story that will surely inspire more."—Kirkus Reviews (starred review)

"Aaron Hartzler's memoir will captivate teens looking for a solid coming-of-age story grounded in strange truths about growing up in a religious family...Hartzler's ear for teenage dialogue is spot-on..."—Shelf Awareness

"[Aaron Hatzler's] memoir is appealing because of his honesty, and forthrightness... clear and lively."—School Library Journal

"What rings very true... is the author's thoughtful search for answers to his heart's biggest questions, and his pragmatism and sense of humor on the journey."—Publishers Weekly

"Hartzler writes with a keen eye for detail... he is equally sure-footed describing his inner turmoil... One of the best things, however, is how lovingly Hartzler portrays his parents, even as they anger him... Readers will hope for a sequel."—Booklist

"This heartfelt memoir [and] compelling story...will speak volumes to adolescents."—The Bulletin of the Center for Children's Books

"Humorous and entertaining..."—VOYA

"Rapture Practice opened my eyes--and my mind--to a segment of society I've never quite understood. Wherever you weigh in on the religion scale, this book will speak to you."
—Ellen Hopkins, New York Times bestselling author of Crank and Tilt

"This book is a miracle...Aaron Harztler sees that asking others to love you for what you are means loving them for what they are and that, furthermore, they may be as powerless as you are to change...An achingly innocent and sweetly funny book about guilt, rebellion, love, and acceptance."—Laura McNeal, National Book Honor author of Dark Water

"I think the best stories are the ones about the absurdity and beauty of growing up--and Aaron Hartzler's Rapture Practice is one whose humor, honesty, and heart make universal even the most unique situations. This is a story about faith that gives you just that--faith in humanity, in family, and in yourself."—John Corey Whaley, author of the Michael L. Printz Winner for Where Things Come Back

"With a sure hand and fearless gaze, Aaron Hartzler takes aim at life's biggies--God, sex, family, and rock 'n' roll. Whether you're laughing, gasping, or crying (and at times I was doing all three), you'll always be in awe of Hartzler's openhearted and clearheaded treatment of his extraordinary life. Rapture Practice is a triumph."—Maria Semple, author of Where'd You Go, Bernadette