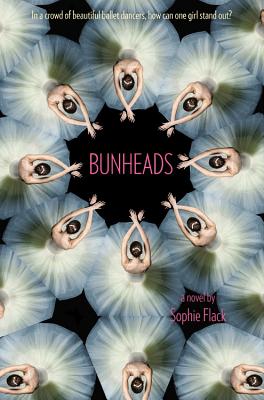 Description
---
A vibrant and absorbing novel about the competitive world of professional ballet, written by a former New York City Ballet dancer.

As a dancer with the ultra-prestigious Manhattan Ballet company, nineteen-year-old Hannah Ward juggles intense rehearsals, dazzling performances, and complicated backstage relationships. But when she meets a spontaneous and irresistibly cute musician named Jacob, her universe begins to change.

Until now, Hannah has happily followed the company's unofficial mantra, "Don't think, just dance." But as Jacob opens her eyes to the world beyond the theater, Hannah must decide whether to compete against the other "bunheads" for a star soloist spot or to strike out on her own.

Don't miss this behind-the-scenes look at the life of a young professional ballet dancer, written by an insider who lived it all.
About the Author
---
Sophie Flack danced with the New York City Ballet from 2000 to 2009. She lives and writes in New York City, and has contributed to theBoston Globe, theWall Street Journal, theWeekly Standard, O Magazine, and Ballet Review.Bunheads is her first novel.
Praise For…
---
Praise for Bunheads:
"She [Flack] brilliantly captures the arc from soaring ballerina to exhausted dancer collapsing in a pool of sweat...details have been changed, but fans of ballet will nonetheless relish the inside scoop. A multi-layered and absorbing good read by a promising debut novelist."
—
Kirkus (starred review)
"A measured, vibrant, un-melodramatic account... with a lively cast of literary soloists and corps de novel who present possible ways to survive, or not, as a dancer. Even the ballet-neutral will understand the conflict between career and personal life explored here, but this book will be absolutely irresistible to those who've always felt just one pirouette and years of ferocious training away from Margot Fonteyn."
—
BCCB (starred review)
"Readers, both dancers and "pedestrians" (the corps' term for nondancers), will find Hannah's struggle a gripping read."

—
Publishers Weekly
"Flack has written Hannah's story with an insider's knowledge and expertise. The result is an entertaining read, shedding light on a world most readers know nothing about."
—
SLJ
"From the eyecatching cover-a kaleidoscopic overhead shot of tutu-clad ballet dancers-this first-person account of the difficult life a ballerina faces will enthrall readers."—
Booklist
"At turns riveting, hilarious and bittersweet,
Bunheads
provides a backstage pass into the world of elite New York City ballet dancers. I got swept up in their routines and habits, their triumphs and disappointments, and their deep friendships, which thrive even in the face of fierce competition. This is at once a romantic page-turner and a thoughtful exploration of just how much true artists are willing to give up for their art."—
J. Courtney Sullivan, New York Times bestselling author ofMaine and Commencement