The Art of Fielding (Paperback)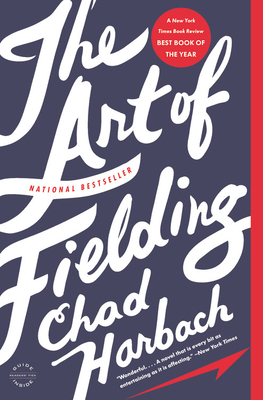 Staff Reviews
---
The Art of Fielding—an amazing debut novel that took ten years to write—is one of the best books of the year. I could not put it down, and missed it when I wasn't reading it. The Art of Fielding is the story of a baseball team at a small college near Lake Michigan, but this not a book about baseball. This is a story about people, and how psychological barriers and self-doubt can spin interconnected lives out of control. Harbach's characters are so realistically rendered that you begin to love them for their flaws. This is a book about communities and commitments to oneself and to others—and good enough to consider reading it a second time!
—
Cindy
This novel is beyond beautiful. Though expansive, I never felt as if a word was out of place or that any part should be cut from Chad Harbach's prose. If you read the summary on the back of the book, you may be led to believe this novel is dominated solely by baseball. That is far from true. While baseball is prevalent, ultimately this novel is about the bonds that humans form and break with each other, and how life can often throw you that proverbial curveball when you're least expecting it. This novel struck a chord with me, and perhaps it will with you as well.
—
Heather H.
Description
---
At Westish College, baseball star Henry Skrimshander seems destined for big league until a routine throw goes disastrously off course. In the aftermath of his error, the fates of five people are upended. Henry's fight against self-doubt threatens to ruin his future. College president Guert Affenlight has fallen unexpectedly and helplessly in love. Owen Dunne becomes caught up in a dangerous affair. Mike Schwartz realizes he has guided Henry's career at the expense of his own. And Pella Affenlight returns to Westish after escaping an ill-fated marriage, determined to start a new life. As the season counts down to its climactic final game, these five are forced to confront their deepest hopes, anxieties, and secrets. Written with boundless intelligence and filled with the tenderness of youth, "The Art of Fielding is mere baseball fiction the way Moby Dick is just a fish story" (Nicholas Dawidoff). It is an expansive, warmhearted novel about ambition and its limits, about family and friendship and love, and about commitment--to oneself and to others.
About the Author
---
Chad Harbach grew up in Wisconsin and was educated at Harvard and the University of Virginia. He is a cofounder and coeditor of n+1.
Praise For…
---
"Chad Harbach has hit a game-ender with The Art of Fielding. It's pure fun, easy to read, as if the other Fielding had a hand in it--as if Tom Jones were about baseball and college life."
-John Irving

"An intricate, poised, tingling debut. Harbach's muscular prose breathes new life into the American past-time, recasts the personal worlds that orbit around it, and leaves you longing, lingering, and a baseball convert long after the last page."
-Téa Obreht, author of The Tiger's Wife

"The Novel of the Month Season Year.... Riveting...[The Art of Fielding] emerges fully formed, a world unto itself. Harbach writes with a tender, egoless virtuosity...There's just something so easy and riveting about the way this book's layers unfold; not since Lonesome Dove have I been so sorry to let a group of characters go."
-Andres Corsello, GQ

"One of those rare novels - like Michael Chabon's Mysteries of Pittsburgh or John Irving's The World According to Garp - that seems to appear out of nowhere, and then dazzles and bewitches and inspires, until you nearly lose your breath from the enjoyment and satisfaction, as well as the unexpected news-blast that the novel is very much alive and well."
-James Patterson

"Spectacular! The Art of Fielding is a wise, warm-hearted, self-assured, and fiercely readable debut, which heralds the coming of a young American writer to watch....You won't want this book to end."
-Jonathan Evison

"When the best shortstop alive sounds believably like a Tibetan lama, and when a thrown ball striking a shovel head at dawn leaves your own head ringing with certainty that truth and friendship have triumphed, you know you're in the hands of a writer you can trust."
-David James Duncan

"Not being a huge fan of the national pastime, I found it easy to resist the urge to pick up this novel, but once I did I gave myself over completely and scarcely paused for meals. Like all successful works of literature The Art of Fielding is an autonomous universe, much like the one we inhabit although somehow more vivid."
-Jay McInerney, author of Bright Lights, Big City and How It Ended

"Beautifully made, surpassingly human, and quietly subversive, The Art of Fielding restores one's faith in the national pastime--i.e., reading and writing novels."
-Benjamin Kunkel, author of Indecision