Life After Life: A Novel (Paperback)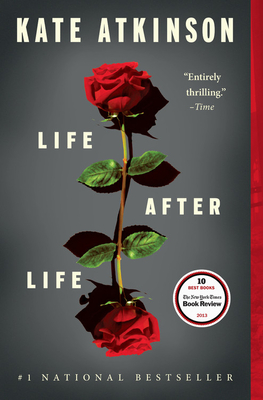 Staff Reviews
---
I've read Kate Atkinson's books before and been impressed, but Life After Life absolutely blew me away. A completely brilliant story of a woman who gets do-overs, starting life over again and again to correct her mistakes, every time making new ones. This is the kind of book that will keep readers up all night, racing to the finish, the kind of book that gets talked about endlessly, the kind of book that stands on its own. My words can't do it justice!
—
Lauren's Staff Picks
Description
---
"One of the best novels I've read this century. Kate Atkinson is a marvel. There aren't enough breathless adjectives to describe LIFE AFTER LIFE: Dazzling, witty, moving, joyful, mournful, profound."--Gillian Flynn, author of Gone Girl
What if you could live again and again, until you got it right?

On a cold and snowy night in 1910, Ursula Todd is born, the third child of a wealthy English banker and his wife. She dies before she can draw her first breath. On that same cold and snowy night, Ursula Todd is born, lets out a lusty wail, and embarks upon a life that will be, to say the least, unusual. For as she grows, she also dies, repeatedly, in any number of ways. Ursula's world is in turmoil, facing the unspeakable evil of the two greatest wars in history. What power and force can one woman exert over the fate of civilization -- if only she has the chance?

Wildly inventive, darkly comic, startlingly poignant -- this is Kate Atkinson at her absolute best.
About the Author
---
Kate Atkinson's first novel, Behind the Scenes at the Museum, was named England's Whitbread Book of the Year in 1996. Since then, she has written seven more ground-breaking, bestselling books, most recently Started Early, Took My Dog. She lives in Edinburgh, Scotland.
Praise For…
---
"Kate Atkinson is a marvel. There aren't enough breathless adjectives to describe Life After Life: Dazzling, witty, moving, joyful, mournful, profound. Wildly inventive, deeply felt. Hilarious. Humane. Simply put: It's one of the best novels I've read this century."—Gillian Flynn, author of the #1 New York Times bestseller Gone Girl

"Life After Life is a masterpiece about how even the smallest choices can sometimes change the course of history. It's wise, bittersweet, funny, and unlike anything else you've ever read. Kate Atkinson is one of my all-time favorite novelists, and I believe this is her best book yet."—J. Courtney Sullivan, bestselling author of Maine and Commencement

"Kate Atkinson's new novel is a box of delights. Ingenious in construction, indefatigably entertaining, it grips the reader's imagination on the first page and never lets go. If you wish to be moved and astonished, read it. And if you want to give a dazzling present, buy it for your friends."—Hilary Mantel, author of Wolf Hall and Bring Up the Bodies

"An audacious, ambitious book that challenges notions of time, fate and free will, not to mention narrative plausibility...[Atkinson's] writing is funny and quirky and sharp and sad - calamity laced with humor - and full of quietly heroic characters who offer knowing Lorrie Moore-esque parenthetical asides...Atkinson's true genius is structure...Each version is entirely and equally credible."—Sarah Lyall, New York Times

"An exercise in narrative gutsiness; a meditation on history, contingency, and free will; and the best new novel I've read this year."—Kathryn Schulz, New York Magazine

"[Atkinson's] latest novel, Life After Life, is her very best... A big book that defies logic, chronology and even history in ways that underscore its author's fully untethered imagination... Even without the sleight of hand, Life After Life would be an exceptionally captivating book with an engaging cast of characters... [Atkinson's] own writerly cradle was rocked by a very sure hand indeed."—Janet Maslin, New York Times

"Audacious, the kind of sweeping virtuoso epic that actually earns overheated book-jacket phrases like 'tour de force!'...Atkinson is a fantastic storyteller... It's all so richly imagined and ingeniously executed that the mystery feels right. Her domestic vignettes and wide-screen portraits of wartime resonate with startling physical and emotional clarity, and even her repetitions find fresh revelations... What Atkinson has mastered: shining a light on how full life is of choices and chance, and how lucky we are to live it."—Leah Greenblatt, Entertainment Weekly

"The Blitz segments vibrate with life, as vivid and horrifying as a series of glimpses into a charnel house...The natural exuberance of Atkinson's prose is brought into sharp, precise control. Buried inside Life After Life is the best Blitz novel since Sarah Waters's The Night Watch."—Steve Donoghue, The Washington Post

"Fascinating... A tour de force that ponders memory and déjà vu-and puts history on a very human scale."—Parade

"[Atkinson] is nothing if not clever...A fine writer...filling the pages with a liveliness and intelligence...Ursula's quest to 'get it right' gradually becomes less important than Atkinson's talent to create such an entertaining and suspenseful story that tells many versions of the history of the 20th century."—Bob Hoover, The Minneapolis Star Tribune

"Ambitious...[Atkinson] can be playful and profound, an enjoyable storyteller as well as an artful writer...She gives us a complete picture of an upper-class British family as it moves into the modern era, and in such a way that we are left sifting through the many turns a life can take and contemplating the consequences thereof."—Sherryl Connelly, New York Daily News

"Audacious and darkly mysterious...Atkinson is a master of structure...A sense of dread but also one of hope infuse the novel...Even the canniest reader can't predict what will happen next, so the long novel remains absorbing until its end. It lightly raises questions about the meaning of life and death and identify, fate and chance, and leaves them unanswered to echo in the reader's mind after the final page."—Margaret Quamme, Columbus Dispatch

"Life After Life is a hypnotic dance of causality and chance, in which Ursula makes genuine progress...[Life After Life] displays...trapeze-artist panache, releasing plotlines into the oblivion of one past life only to retrieve them, to the reader's appreciative gasps, in a later one...It's rich in the gravity and texture of reality... Marvelously vibrant...Atkinson makes every one of Ursula's lives, as well as the lives of those she touches, feel inestimably precious."—Laura Miller, Salon

"A densely layered, century-sprawling work that is a formidable bid for the brass ring of the U.K.'s prestigious Man Booker Prize. Life After Life is a drama of failures and providential rebirths...High-concept premise...A deft and convincing portrayal of an English family's evolution across two world wars...Marvelous...Not only does she bring characters to life with enviable ease, she has an almost offhand knack for vivid scene-setting ...Her storytelling prowess is on fullest display in a gorgeous and nerve-racking novella-length chapter set during the Blitz ... It's spellbindingly done."—Sam Sacks, The Wall Street Journal

"Delightfully precocious and darkly moody... Revealing and straightforward... Originality is the jumping-off point for this especially unique novel, and readers looking for something fresh should take a chance. Readers already in love with Atkinson's novels, and equally besotted with Jackson Brodie, will be just as pleased with the life - the lives - of Ursula Todd."—Carol Memmott, USA Today

"Masterful...Atkinson not only invites readers in, she also asks them to give up their preconceptions of what a novel should be, and instead accept what a novel can be... What impresses me about this flip book of nonstop scenarios - in wartime and peacetime - is not only how absorbing they are, but how brave Atkinson is to have written them. After all, there really isn't much recent precedent for a major, serious yet playfully experimental novel with a female character at its center. Good for her to have given us one; we needed it...She opened her novel outward, letting it breathe unrestricted, all the while creating a strong, inviting draft of something that feels remarkably like life."—Meg Wolitzer, NPR.org

"Gripping and sophisticated...Enthralling...[Atkinson] deftly captures the cruel frailty of life with judicious compassion...No writer alive makes for better company on the page-knowing, funny, and prodigally inventive: Ursula is a magnificent creation, but dozens of finely drawn secondary characters (her bohemian Aunt Izzie alone would make this book worth reading) force her to fight for the spotlight on every page...Unflaggingly curious and unfailingly open-minded, Atkinson is like some great snoop, prowling among life's mysteries, turning the commonplace inside out...Literary and entertaining all at once, Atkinson is a sophisticated artist who also can keep you up well past bedtime, and that double-barreled talent is on display as never before in Life After Life. My first reaction upon finishing it was to imitate the unsinkable Ursula and begin all over again."—Malcolm Jones, The Daily Beast

"Atkinson has turned a high-concept conceit into an intricately crafted, totally engaging new novel...Atkinson combines the cleverness of metafiction with the warmth and detail of period fiction for an end result that is satisfyingly original."—Yvonne Zipp, Christian Science Monitor

"Atkinson has a knack for puzzle-making...creating a series of narrative fragments that cohere into a breathtaking whole...By the final chapters, it's clear that Ursula is gaining on something much bigger than any of her lives: a true calling. Watching that pursuit is frequently heartbreaking and entirely thrilling."—Katie Arnold-Ratliff, Time

"Inventive...This ingenious narrative conceit not only illustrates how seemingly small decisions can affect our lives, it also allows us as readers to inhabit a novelist's creative process...Atkinson has crafted a narrative that pushes us to think about our own choices... Some of Ursula's narratives are so compelling, so convincing, that it is hard to imagine her ending up any other way."—Carolyn Kellogg, Los Angeles Times

"Life After Life is dark and funny and suspenseful and sad all at the same time."—Emily Ecton, NPR (Great Reads of 2013)

"It is in the depiction of Ursula's loving yet contentious family that Life After Life truly shines...a dazzling, intricate and entertaining novel."—Michael Berry, San Francisco Chronicle

"A thoroughly entertaining, periodically moving read, and a wholly unique addition ... Atkinson never so much as flirts with pathos; her ethos and heroine are as unsentimental as the times require."—Eugenia Williamson, Boston Globe

"Sure to be one of the most talked-about books of the year. Life After Life is a dazzling juggling act...(by all means, read this book)."—Mary Ann Gwinn, Seattle Times

"You can't put down Life After Life until you finish it, and then I suggest you read it a second time."—Bob Hoover, Dallas Morning News

"Dazzling...the fantasy behind that reality turns out to be rivetingly complex."—Karen Holt, O, the Oprah Magazine

"I cannot recommend this book enough. It's nothing short of a genre-bending masterpiece - thoughtful and compelling, convoluted in plot but clear in resolve. If I had many lifetimes, I would make sure to read Life After Life in each."—Kevin Nguyen, Grantland
Coverage from NPR