The Land of Stories: The Wishing Spell (Paperback)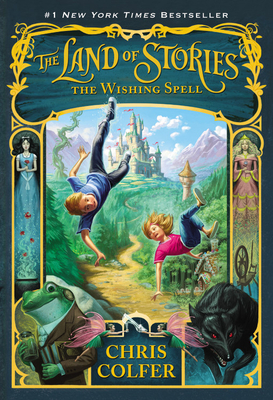 Other Books in Series
This is book number 1 in the The Land of Stories series.
Staff Reviews
---
If you look at the author headshot, you might recognize Chris Colfer as "that one kid from Glee." Don't let that stop you from picking up this book, however. I'm usually one of those people that is hesitant to read books written by famous actors, but since I have been following Colfer throughout his career, I decided to overlook my usual reluctance. I am so glad I did. In this first installment of Colfer's series, we meet Alex and Conner Bailey, twins who have been transported into The Land of Stories, thanks to a magical storybook of fairy tales given to them by their grandmother. While Colfer uses the bones of well known fairy tales, he manages to give these stories a completely new and creative spin. Goldilocks is an outlaw on the run, Little Red Riding Hood has become completely self-absorbed while her grandmother runs her kingdom, and Jack (of beanstalk fame) is a recluse in love with a woman he may not ever be able to be with. In addition to the many fairy tales that Colfer has highlighted and reimagined, The Wishing Spell is laced with humor that will have both kids and adults laughing out loud, making it a book that everyone can enjoy!
—
STAFF PICKS BY HEATHER H.
Fall '12 Kids List
---
"If you've ever wondered what happened after 'happily ever after,' this is the book for you. A fun romp through well-known fairy tales, a wonderful adventure with just enough cliff hangers to keep the reader coming back for more, with a few surprises thrown in. A thoroughly enjoyable book!"
— Janice Hunsche, Kaleidosaurus Books, Fishers, IN
Description
---
The first book in Chris Colfer's #1 New York Times bestselling series The Land of Stories about two siblings who fall into a fairy-tale world!

Alex and Conner Bailey's world is about to change, in this fast-paced adventure that uniquely combines our modern day world with the enchanting realm of classic fairy tales.

The Land of Stories tells the tale of twins Alex and Conner. Through the mysterious powers of a cherished book of stories, they leave their world behind and find themselves in a foreign land full of wonder and magic where they come face-to-face with fairy tale characters they grew up reading about.

But after a series of encounters with witches, wolves, goblins, and trolls alike, getting back home is going to be harder than they thought.
About the Author
---
Chris Colfer is a #1 New York Times bestselling author and Golden Globe-winning actor. He was honored as a member of the TIME 100, Time magazine's annual list of the one hundred most influential people in the world, and his books include Struck By Lightning: The Carson Phillips Journal, Stranger Than Fanfiction, and the books in The Land of Stories series: The Wishing Spell, The Enchantress Returns, A Grimm Warning, Beyond the Kingdoms, An Author's Odyssey, and Worlds Collide, and the companion books A Treasury of Classic Fairy Tales, The Mother Goose Diaries, Queen Red Riding Hood's Guide to Royalty, The Curvy Tree, and Trollbella Throws a Party.
Praise For…
---
#1 New York Times Bestseller

"There's more in Colfer's magic kingdoms than Disney has dreamt of."—USA Today

"It will hit big with its combination of earnestness and playful poise."—The New York Times Book Review

"In The Land of Stories, Colfer showcases his talent for crafting fancifully imaginative plots and multidimensional characters."—Los Angeles Times

"Captivating."—Teen Vogue

"A magical debut."—Family Circle

"It's hard not to love a book dedicated to the Glee star's grandmother...Colfer gets off many good lines [and] the nifty ending ties the plot's multiple strands up while leaving room for further fairy tale adventures."—Publishers Weekly