The Silkworm (A Cormoran Strike Novel #2) (Hardcover)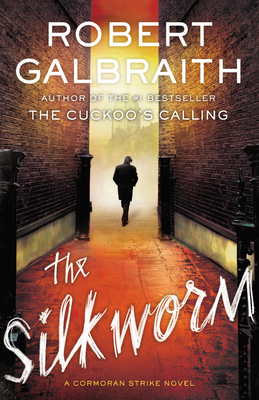 Other Books in Series
This is book number 2 in the A Cormoran Strike Novel series.
Staff Reviews
---
You know by now that Galbraith is really J.K. Rowling. If you've read the first in her mystery series, The Cuckoo's Calling, you also know that her gifts of creating brilliant characters and unexpected plot twists are undiminished from the Harry Potter days. If you haven't met the struggling but lovable detective and his shy but determined "temporary" office assistant, be forewarned that these books are an addictively delicious stew of humor, love, and suspense peppered with expletives throughout.
—
BOB'S STAFF PICKS
Description
---
Private investigator Cormoran Strike must track down a missing writer -- and a sinister killer bent on destruction -- in this "wonderfully entertaining" mystery (Harlan Coben, New York Times Book Review) that inspired the acclaimed HBO Max series C.B. Strike.
  When novelist Owen Quine goes missing, his wife calls in private detective Cormoran Strike. At first, Mrs. Quine just thinks her husband has gone off by himself for a few days -- as he has done before -- and she wants Strike to find him and bring him home. But as Strike investigates, he discovers that Quine's disappearance is no coincidence. The novelist has just completed a manuscript featuring poisonous pen-portraits of almost everyone he knows. If the novel were published, it would ruin lives -- meaning that almost everyone in his life would have motives to silence him. When Quine is found brutally murdered under bizarre circumstances, Strike must race against time to understand the motivation of a ruthless killer, a killer unlike any he has encountered before . . . A compulsively readable crime novel with twists at every turn, The Silkworm is the second in J. K. Rowling's highly acclaimed series featuring Cormoran Strike and his determined young assistant, Robin Ellacott.
About the Author
---
Robert Galbraith is a pseudonym for J.K. Rowling, author of the Harry Potterseries and The Casual Vacancy.
Praise For…
---
"Strike shares a trait with many great fictional detectives: He is darn good company...The Silkworm is a very well-written, wonderfully entertaining take on the traditional British crime novel...Robert Galbraith may proudly join the ranks of English, Scottish and Irish crime writers such as Tana French, Ian Rankin, Val McDermid, John Connolly, Kate Atkinson and Peter Robinson."—Harlan Coben, The New York Times Book Review

"Cormoran Strike is back, and so is his resourceful sidekick, Robin
Ellacott, a gumshoe team that's on its way to becoming as celebrated for
its mystery-solving skills as Nick and Nora Charles of "Thin Man" fame,
and Mikael Blomkvist and Lisbeth Salander (a.k.a. the girl with the
dragon tattoo)."—Michiko Kakutani, The New York Times

"The plot zings along...Swift and satisfying"—Carolyn Kellogg, The Los Angeles Times

"'The last line of The Silkworm, which will lift the hearts of readers who have come to love its deeply sympathetic characters, offers the prospect of more of that joy both for her and for us."—Charles Finch, USA Today (3.5/4 stars)

"A compulsively entertaining yarn."—Thom Geier, Entertainment Weekly

"Robert Galbraith... has written a second absorbing whodunit starring detective Corcmoran Strike to follow last year's stealth hit, The Cuckoo's Calling.... Astutely observed, well-paced... The Silkworm thoroughly engages as a crime novel."—Sue Corbett, People

The Silkworm is fast-paced and entertaining... Strike is heroic without intending to be and has a great back story. He's the illegitimate son of a rock star whose half-siblings grew up in privilege... And he's brooding, but not annoyingly so. Strike has all kinds of potential. It'd be a crime not to keep up with him."—Sherryl Connelly, Daily News

"Why is "likable" the first word that comes to mind upon finishing The Silkworm? Surely, that has something to do with Rowling's palpable pleasure in her newly chosen genre (the jig may be up with her Robert Galbraith pseudonym, but the bloom is still on her homicidal rose) and even more to do with her detective hero, who, at the risk of offending, is the second husband of every author's dreams."—Louis Bayard, The Washington Post

"The story is enthralling, not only for its twists and turns, but for the fun of the teamwork.... [It's] a cast of characters who you'll want to meet again and again."—Ashley Ross, Time

"[The Silkworm is a] swift-paced, suspenseful mystery....Robert Galbraith has announced himself a fresh voice in mystery fiction: part hard-boiled, part satiric, part poignant, and part romantic."—Tom Nolan, The Wall Street Journal

"Bring on the next one, please....Galbraith writes with wit and affection for detective-novel tradition (it's impossible not to see her central duo as a modern-day Nick and Nora, minus the marriage), and races us through a twisty plot so smoothly that you won't notice as the hours tick by."—Moira MacDonald, The Seattle Times

"Having just the better part of a day and a night making my way through the 455 pages of The Silkworm ... I must say, I don't mind at all... The murder mystery at the heart of The Silkworm is a genuine mystery with an altogether satisfying resolution." —Malcolm Jones, The Daily Beast

"[Galbraith] weaves a pleasurably wicked literary murder mystery with all its attendant aspects of publishing politics, from the peevish to the pompous, into Strike's personal and professional lives....Only two books in, and Galbraith's characters already feel like familiar-and welcome-friends."—Daneet Steffens, The Boston Globe