The Late Show (Hardcover)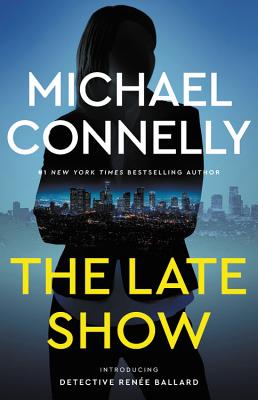 $28.00
Email or call for price.
Staff Reviews
---
This is one of his best. As a crime reporter for the LA Times, Connolly has extensive knowledge of LAPD procedures and of the tensions cops experience. The hero, Renee Ballard, stays true to her values, jeopardizing her career by refusing to be sidelined, believing only she can bring a certain pair of violent perpetrators to justice. Her love for her Hawaiian grandmother and her faithful dog, humanize this delightfully flawed heroine. Couldn't put it down and I'm hoping he writes more Ballard mysteries.
I listened to this as an audiobook from Libro.fm, the indie bookstore's alternative to Amazon's Audible. Ask any staff member or visit our website to learn about listening to digital audio from Libro.fm.
— From
Bob's Picks (page 2)
Description
---
In this first installment of the Renée Ballard series, #1 bestselling author Michael Connelly introduces a "complicated and driven" young detective fighting to prove herself on the LAPD's toughest beat (The New York Times).
Renee Ballard works the midnight shift in Hollywood, beginning many investigations but finishing few, as each morning she turns everything over to the daytime units. It's a frustrating job for a once up-and-coming detective, but it's no accident. She's been given this beat as punishment after filing a sexual harassment complaint against a supervisor.
But one night Ballard catches two assignments she doesn't want to part with. First, a prostitute is brutally beaten and left for dead in a parking lot. All signs point to a crime of premeditation, not passion, by someone with big evil on his mind. Then she sees a young waitress breathe her last after being caught up in a nightclub shooting. Though dubbed a peripheral victim, the waitress buys Ballard a way in, and this time she is determined not to give up at dawn. Against orders and her partner's wishes, she works both cases by day while maintaining her shift by night.
As the investigations intertwine, Ballard is forced to face her own demons and confront a danger she could never have imagined. To find justice for these victims who can't speak for themselves, she must put not only her career but her life on the line.
Propulsive as a jolt of adrenaline and featuring a bold and defiant new heroine, The Late Show is yet more proof that Michael Connelly is "a master of the genre" (Washington Post).
About the Author
---
Michael Connelly is the author of twenty-nine previous novels, including the #1 New York Times bestsellers The Wrong Side of Goodbye and The Crossing. His books, which include the Harry Bosch and Lincoln Lawyer series, have sold more than sixty million copies worldwide. Connelly is a former newspaper reporter who has won numerous awards for his journalism and his novels and is the executive producer of Bosch, starring Titus Welliver. He spends his time in California and Florida.
Praise For…
---
PRAISE FOR THE LATE SHOW
"The Late Show introduces a terrific female character: Detective Renée Ballard. . . The pacing of Ballard's debut story is breathless. . . Ballard is complicated and driven enough to sustain the series Connelly doubtless has in mind for her." —Janet Maslin, The New York Times

"The most intriguing mystery in The Late Show, though, is Ballard herself. Connelly is too skillful to hand us her resume in one document dump; instead, he fills out her portrait with a subtle hand over the course of the novel, a little background here, a glimpse of her temperament there, the revelation of her unusual living conditions sketched in between."—Colette Bancroft, Tampa Bay Times

"Det. Renée Ballard is a formidable character, an insightful and tenacious investigator with an unusual background and a sturdy personality to carry a series... Connelly has achieved success as one of the top mystery writers by continuing to keep his storytelling fresh. In The Late Show, he delivers an exciting police procedural with a unique character."—Oline Cogdill, South Florida Sun-Sentinel

"Few
writers can capture the gritty streets of L.A.-and the inner workings of the
LAPD-like Connelly."—Entertainment Weekly

"It's
a sharp move that allows him to shift his perspective in fresh and meaningful
ways. Writing about the instantly appealing police Detective Renee Ballard also
recharges Connelly, who has never been in better form."—Lloyd Sachs, Chicago Tribune

"Ballard is a force that with just one novel will easily be as beloved. There's no doubt Connelly is a master of crime fiction, and The Late Show cements that reputation."—Jeff Ayers, Associated Press

PRAISE FOR MICHAEL CONNELLY:

"Michael Connelly is an undisputed master."—Chuck Leddy

"Any new book by Michael Connelly is a cause for celebration."—Jackie Cooper, Huffington Post

"A masterpiece."—Steve Forbes, FORBES

"Welcome
Renée Ballard to the City of Angels' crime fighting pantheon. . . Connelly
excels at writing principled outsiders, and Renée Ballard hews to this
archetype."—Paula L. Woods, Los Angeles Times

"More perhaps than any of Connelly's much-honored other titles, this one reveals why his procedurals are the most soulful in the business: because he finds the soul in the smallest details, faithfully executed."—Kirkus Reviews (Starred Review)