So We Read On: How The Great Gatsby Came to Be and Why It Endures (Paperback)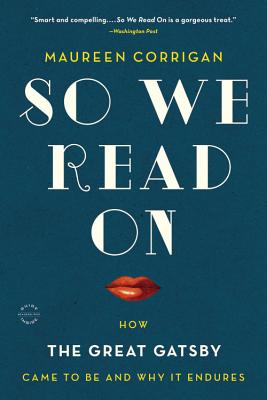 $18.99

Not Available In-Store - Usually Ships from Warehouse in 1-5 Days
Description
---
The "Fresh Air" book critic investigates the enduring power of The Great Gatsby -- "The Great American Novel we all think we've read, but really haven't."

Conceived nearly a century ago by a man who died believing himself a failure, it's now a revered classic and a rite of passage in the reading lives of millions. But how well do we really know The Great Gatsby? As Maureen Corrigan, Gatsby lover extraordinaire, points out, while Fitzgerald's masterpiece may be one of the most popular novels in America, many of us first read it when we were too young to fully comprehend its power.

Offering a fresh perspective on what makes Gatsby great -- and utterly unusual -- So We Read On takes us into archives, high school classrooms, and even out onto the Long Island Sound to explore the novel's hidden depths, a journey whose revelations include Gatsby 's surprising debt to hard-boiled crime fiction, its rocky path to recognition as a "classic," and its profound commentaries on the national themes of race, class, and gender.

With rigor, wit, and infectious enthusiasm, Corrigan inspires us to re-experience the greatness of Gatsby and cuts to the heart of why we are, as a culture, "borne back ceaselessly" into its thrall. Along the way, she spins a new and fascinating story of her own.
About the Author
---
Maureen Corrigan is the book critic for NPR's Fresh Air, the Critic-in-Residence at Georgetown University, and winner of the Edgar Award for Criticism. She is the author of Leave Me Alone, I'm Reading (Random House, 2005).
Praise For…
---
"Maureen Corrigan has produced a minor miracle: a book about The Great Gatsby that stands up to Gatsby itself."—Michael Cunningham

"No one is better at bringing a book to life than Maureen Corrigan. Her vividly personal evocation of Fitzgerald and The Great Gatsby is at once a labor of love, the story of a quest, and a mother lode of information and insight. As a biography of a novel, it reads like a novel."— Morris Dickstein, author of Gates of Eden and Dancing in the Dark

"Second only to the pleasure of re-reading Gatsby is the pleasure of talking to someone about it, and Maureen Corrigan is the ultimate someone: boundlessly erudite, blazingly funny, and infectiously passionate. . . . As with the book that inspired it, my only complaint about So We Read On is that it comes to an end."—Susan Choi, author of My Education

"An intoxicating cocktail of talent, celebrity, gangster noir, and the vicissitudes of reputation that create a classic."— Ron Rosenbaum, author of The Shakespeare Wars

"As pleasurable to read as Fitzgerald's. ... It's
smart and compelling, persuasive without demeaning other interpretations...a
gorgeous treat."—The Washington Post

"We have to be thankful to Maureen Corrigan for letting us in on her intriguing love affairs with great books, as in this wonderful account of her grand passion for The GreatGatsby. She reminds us that perhaps one true promise of that elusive green light at the end of the dock resides in our creative imagination, and the intimate relationship between a book and its reader."—Azar Nafisi, author of Reading Lolita in Tehran and The Republic of Imagination

"Corrigan's research was as intrepid as her analysis is ardent and expert, and she brings fact, thought, feelings, and personal experiences together in a buoyant, illuminating, and affecting narrative about one depthless novel, the transforming art of reading, and the endless tides that tumble together life and literature."— Booklist (Starred Review)

"A literary love
letter... [Corrigan's] tone is lively and bright and her enthusiasm for the novel
is infectious. You'll feel as if you're attending a lecture by your favorite
prof or chatting with a brainy, bookish friend. Bursting with intellectual
energy and fun facts, this paean to the 'great American novel will appeal to
fans of Corrigan's book critiques and Jazz Age scholars, and will, one hopes,
impel readers to pick up the brief work for the first (or fourth, or 14th)
time."— Library Journal (Starred Review)

"So We Read On is a fine book on many levels, almost too many to list. This book is a love story about a book. It's an expression of love for one of the most lyrical and engaging and prescient novels in the English language. Maureen Corrigan writes not only with passion about her subject, she writes with an understanding of America and the elusive goal represented by the green light on Daisy's dock."—James Lee Burke

"Coaxing us aboard her narrative Tilt-A-Whirl, Corrigan spins us from topic to topic and back again, each revolution both reminding and enriching."
—Cleveland Plain Dealer

"So We Read On is a marvelous mix of the high and the low: solid literary criticism delivered in a user-friendly manner, coupled with the back story of the book's creation, replete with the sordid details of Scott (and Zelda) Fitzgerald's sad, unfulfilled promise."—BookPage

"Too genuine and moving to be resisted...[a] generous spirit warms every page of So We Read On."—The Boston Globe

"NPR's resident Fitzgerald aficionado delivers the college seminar we all wish we'd taken."
—O, The Oprah Magazine