The Vegetarian Flavor Bible: The Essential Guide to Culinary Creativity with Vegetables, Fruits, Grains, Legumes, Nuts, Seeds, and More, Based on the Wisdom of Leading American Chefs (Hardcover)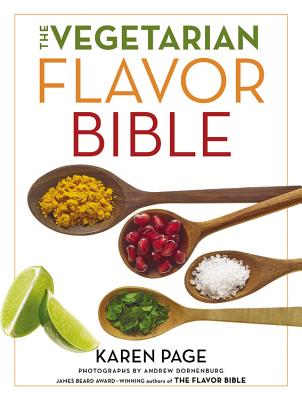 $42.00

Not Available In-Store - Usually Ships from Warehouse in 1-5 Days
Description
---
Throughout time, people have chosen to adopt a vegetarian or vegan diet for a variety of reasons, from ethics to economy to personal and planetary well-being. Experts now suggest a new reason for doing so: maximizing flavor -- which is too often masked by meat-based stocks or butter and cream. The Vegetarian Flavor Bible is an essential guide to culinary creativity, based on insights from dozens of leading American chefs, representing such acclaimed restaurants as Crossroads and M.A.K.E. in Los Angeles; Candle 79, Dirt Candy, and Kajitsu in New York City, Green Zebra in Chicago, Greens and Millennium in San Francisco, Natural Selection and Portobello in Portland, Plum Bistro in Seattle, and Vedge in Philadelphia.

Emphasizing plant-based whole foods including vegetables, fruits, grains, legumes, nuts, and seeds, the book provides an A-to-Z listing of hundreds of ingredients, from avßav? to zucchini blossoms, cross-referenced with the herbs, spices, and other seasonings that best enhance their flavor, resulting in thousands of recommended pairings. The Vegetarian Flavor Bible is the ideal reference for the way millions of people cook and eat today -- vegetarians, vegans, and omnivores alike. This groundbreaking book will empower both home cooks and professional chefs to create more compassionate, healthful, and flavorful cuisine.
About the Author
---
Karen Page is a two-time James Beard Award-winning author whose books include The Flavor Bible, which was named one of the year's best cookbooks on both Today and Good Morning America, one of the 100 best cookbooks of the last twenty-five years by Cooking Light, and one of the ten best cookbooks in the world of the past century by Forbes. The former Washington Post wine columnist is also the author of What to Drink with What You Eat, which was named the IACP Cookbook of the Year and Georges Duboeuf Wine Book of the Year. She lives with her husband, author and photographer Andrew Dornenburg, in New York City.

Andrew Dornenburg studied with the legendary Madeleine Kamman at the School for American Chefs and has cooked professionally in top restaurants in New York City. Their website is www.becomingachef.com.
Praise For…
---
One of The Washington Post's "Best Cookbooks of 2014"One of Bloomberg's "The Season's Cookbook Hits" One of the Chicago Tribune's "10 Favorite Cookbooks of The Season" One of Chow.com's "10 New Fall Cookbooks We Love" One of the Detroit Free Press's "10 Favorite Cookbooks of the Season" One of Food & Wine Magazine's "Exceptional Cookbooks" of the Season One of The Globe & Mail's "20 Best Cookbooks of 2014"One of "Good Food" on KCRW/NPR's "Best Cookbooks of 2014" One of the Houston Chronicle's "10 Best Cookbooks" of the Season One of the Miami Herald's "10 Cookbook Treats Filled With Delectable Eats" One of the Pittsburgh Examiner's "Best Cookbooks to Give for 2014" Honorable Mention for Philadelphia Daily News' "Top 10 Vegan Cookbooks of 2014" Recommended in Foodista's 2014 Holiday Gift Guide Recommended in ManhattanUsersGuide.com's 2014 Holiday Gift Books Guide

"Expansive, immersive, [and] innovative."—Leonard Lopate, host of "The Leonard Lopate Show" on WNYC, NYC's flagship NPR affiliate.

"A new landmark cookbook"—Grant Butler, The Oregonian

"Impressive."—Emily Dwass, LA Weekly

"Brilliant."—Gael Greene, Insatiable Critic

"Unbelievable.... A fabulous book."—Marilu Henner, host of "The Marilu Henner Show"

"I'm beyond impressed--I'm blown away by this book."—Evan Klelman, host of "Good Food" on KCRW, Souther California's flagship NPR affiliate

"The most useful book I've encountered in years."—Chris Nuttall-Smith, The Globe and Mail

"Epic."—Molly Woodstock, Portland Monthly

"Encyclopedic...It's all in here...A lovely gift."—Pete Mulvihill, Green Apple Books (PW's "2014 Bookseller of the Year")

"Amazing...Really well-researched...A must."—Patrick Knight, Meatfree Everyday

"If you thought eating vegetarian or vegan meant sacrificing flavor, think again."—Kristen Bell, award-winning actress

"Although I am not entirely vegetarian (allowing for lapses and dinner parties) I am inspired by this book. What a helpful guide to anyone who is at a loss when approaching an unfamiliar plant, be it vegetable, fruit, legume, or or grain."—Deborah Madison, author of The New Vegetarian Cooking for Everyone

"Open this book to just about any page and you will find yourself in an orchard of inspiration and useful information organized from every angle: seasons, flavors, ethnic tradition, ingredient affinities. The logic of delicious plant food cookery is ripe for the picking- accessible, instructional, and even playful. Karen Page's thorough, generous message is an intuition booster for every level of experience, and Andrew Dornenburg's beautiful images will make it all feel magical and pull you in, guaranteed."—Mollie Katzen , author of The Heart of the Plate and The Moosewood Cookbook

"Karen Page and Andrew Dornenburg are experienced professionals who offer an excellent guide to common questions about using a whole-food, plant-based diet for all those who care about their health and the health of their family, their friends, and everyone else who will listen. This is an excellent resource."

—T. Colin Campbell, PhD, coauthor of The China Study and Whole, and Jacob Gould Schurman Professor Emeritus of Nutritional Biochemistry at Cornell University

"Essential"—Shauna James Ahern, Gluten-Free Girl

"As a chef-restaurateur, I've used The Flavor Bible for years as an idea starter when coming up with new dishes. I know our mixologists find it just as helpful when they're creating new cocktails. The Vegetarian Flavor Bible is going to be invaluable at the restaurant, and I plan to keep a copy at home, too. Bravo!"—Tal Ronnen, author of The Conscious Cook, chef and founder at Crossroads (Los Angeles)

"The Vegetarian Flavor Bibleis that beautiful best friend who knows absolutely everything. From nutrition to food history to flavor pairing, this book will answer all your questions about a plant-based diet. But what's even more important is that it does so deliciously and joyfully."—Isa Chandra Moskowitz, author of Isa Does It, Veganomicon, and Vegan with a Vengeance, and contributor to Forks Over Knives: The Cookbook

"The Vegetarian Flavor Bible underscores the fact that not only is a plant-based diet better for your health, for the animals, and for the planet, it's an extraordinarily flavorful and satisfying way to eat, too."—Neal D. Barnard, MD, founder and president of the Physicians Committee for Responsible Medicine and author of Power Foods for the Brain and Dr. Neal Barnard's Program for Reversing Diabetes