Watching You (Joseph O'Loughlin #7) (Paperback)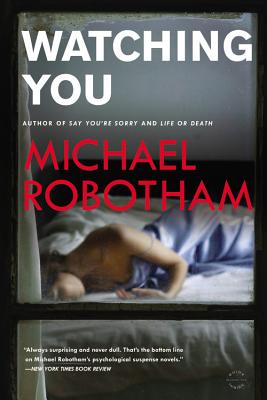 $19.99

Not Available In-Store - Usually Ships from Warehouse in 1-5 Days
Staff Reviews
---
Joseph O'Loughlin, the psychologist at the heart of Robotham's absorbing mysteries, is the perfect character to carry a series. He's smart, observant, nuanced, and puts me in mind of Sherlock Holmes. I love reading about the way he gets into people's heads, the conclusions he draws from watching them, and the personal and health issues he struggles with. Watching You, the latest in the series is just as dark and full of twists and turns as all the previous! I'd recommend him to fans of Sophie Hannah and Mo Hayder.
—
Lauren's Staff Picks
Description
---
New York Times bestselling author Michael Robotham brings us face-to-face with a manipulative psychopath who has destroyed countless lives and is about to claim one final victim.

Marnie Logan often feels like she's being watched: a warm breath on the back of her neck, or a shadow in the corner of her eye that vanishes when she turns her head.

She has reason to be frightened. Her husband Daniel has inexplicably vanished, and the police have no leads in the case. Without proof of death or evidence of foul play, she can't access his bank accounts or his life insurance. Depressed and increasingly desperate, she seeks the help of clinical psychologist Joe O'Loughlin.

O'Loughlin is concerned by Marnie's reluctance to talk about the past and anxious to uncover what Marnie is withholding that could help with her treatment. The breakthrough in Marnie's therapy and Daniel's disappearance arrives when Marnie shares with O'Loughlin her discovery of the Big Red Book, a collage of pictures, interviews, and anecdotes from Marnie's friends and relatives that Daniel had been compiling as part of a surprise birthday gift.

Daniel's explorations into Marnie's past led him to a shocking revelation on the eve of his disappearance: Anyone who has ever gotten close to Marnie has paid an exacting price. A cold-blooded killer is eliminating the people in Marnie's life, and now that O'Laughlin is a part of it, he is next in line.
About the Author
---
Michael Robotham has been an investigative journalist in Britain, Australia and the US. One of world's most acclaimed authors of thriller fiction, he lives in Sydney with his wife and three daughters.
Praise For…
---
"Robotham slowly, expertly begins tightening the screws...Revelations increase rather than release tension until the last page...It will be a long time before memories of this one retreat back into the shadows."—--Booklist (starred review)

"Full of surprises. Well written and slightly creepy, it will keep readers intrigued to the final page."—Library Journal (starred review)

"[A] commanding book with an ending that's sure to give even the most jaded reader a shock"—Publishers Weekly

PRAISE FOR MICHAEL ROBOTHAM:
"Robotham not only builds suspense masterfully but tops it off with a stunning twist."—People

"Michael Robotham is the real deal."—David Baldacci

"Robotham is a first-class storyteller."—Associated Press