We're Speaking: The Life Lessons of Kamala Harris: How to Use Your Voice, Be Assertive, and Own Your Story (Hardcover)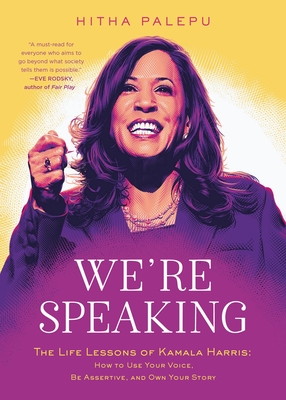 $22.00

Not Available In-Store - Usually Ships from Warehouse in 1-5 Days
Description
---
"A must-read" (Eve Rodsky​), We're Speaking provides inspirational lessons about life, work, and overcoming adversity—drawn from Kamala Harris's norm-shattering ascent to Vice President of the United States.​
Kamala Harris is one of our country's most awe-inspiring political figures, dawning on a new age as the first—but not last—Black and Asian-American female Vice President. Having spent her entire career smashing glass ceilings and influencing the next generation of young women, Harris has completely redefined what it means to be a woman in politics.
In We're Speaking, Palepu connects illuminating stories from Harris' unique biography with tactical advice that will teach you to :
Own the power of your multitudes
Act on and embrace your ambition
Develop your unique voice and style
Find your North Star to guide your decisions
Best of all, We're Speaking will leave you feeling empowered to follow in Harris's footsteps — shattering glass ceilings of your own as you live the life of your dreams!
About the Author
---
Hitha Palepu is a woman of multitudes—a feminist, a lifelong politics enthusiast, a daughter of immigrants, and a mother raising feminist sons. These multitudes spill into her multi-hypenatted career as an entrepreneur, investor, writer, and speaker.
Hitha's passion for the news and politics is captured in #5SmartReads, a Webby-honored social series that shares 5 must-read articles every day to keep her community informed without being overwhelmed. Hitha's longtime blog, Hitha On The Go, established her as an authority on lifestyle topics and gave way to her book and collaborations with leading brands such as Headspace, Google, and Northwestern Mutual. Her book, How To Pack, was published by Clarkson Potter in 2017.
As CEO of Rhoshan Pharmaceuticals, Hitha oversees financing, partnerships, and strategy for the company. Hithan also puts her money where her values are through early stage investing. A partner in Adama Ventures (her family office), she has invested in innovative companies primarily founded by women and focused on women (MM.LaFleur, Girls' Night In, Brightland, and Heymama among them). She is a sought-after speaker on politics & the news, investing, entrepreneurship, work-life juggle, and motherhood.
Hitha has spoken at The Riveter Summit, Fohr, Global Brands Group and was selected to speak at SXSW 2020. She is represented by AllRaise's Visionary Voices speakers bureau.
Praise For…
---
"Authoritative and authentic, We're Speaking is equal parts biography and self-help guide, a compilation of the valuable lessons we can learn from Kamala Harris's history-making rise. But what makes it sing are Palepu's own insights gleaned from her impressive and unique trajectory, shared candidly with humor and heart. This is the book you want as you find your voice."—Elizabeth Holmes, author of HRH: So Many Thoughts on Royal Style

"We're Speaking contextualizes Kamala Harris' life as a road map for women's careers, ambitions and identity. It is a must read for everyone who aims to go beyond what society tells them is possible. Palepu lays the groundwork for future leaders like no one else can."—Eve Rodsky, author of Fair Play

"Through the lens of Kamala Harris's extraordinary rise to Vice President of the United States in a country where power is still held by a traditional white patriarchy,  author and entrepreneur Hitha Palepu, provides readers with an extraordinary roadmap filled with brilliant insight on not only how to articulate their professional goals but showcases all the tools necessary to both achieve them as well as find their individual power and voice. An absolute and inspiring read for anyone from a college graduate to a company founder"—Susan McPherson, author of The Lost Art of Connecting