The Blighted Stars (The Devoured Worlds #1) (Paperback)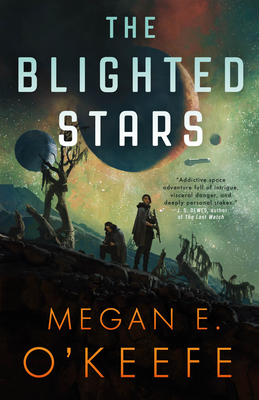 Other Books in Series
This is book number 1 in the The Devoured Worlds series.
Description
---
Stranded on a dead planet with her mortal enemy, a spy must survive and uncover a conspiracy in the first book of an epic space opera trilogy by an award‑winning author.

She's a revolutionary. Humanity is running out of options. Habitable planets are being destroyed as quickly as they're found and Naira Sharp thinks she knows the reason why. The all-powerful Mercator family has been controlling the exploration of the universe for decades, and exploiting any materials they find along the way under the guise of helping humanity's expansion. But Naira knows the truth, and she plans to bring the whole family down from the inside.

He's the heir to the dynasty. Tarquin Mercator never wanted to run a galaxy-spanning business empire. He just wanted to study rocks and read books. But Tarquin's father has tasked him with monitoring the settlement of a new planet, and he doesn't really have a choice in the matter. 

Disguised as Tarquin's new bodyguard, Naira plans to destroy the settlement ship before they make land. But neither of them expects to end up stranded on a dead planet. To survive and keep her secret, Naira will have to join forces with the man she's sworn to hate. And together they will uncover a plot that's bigger than both of them.

For more from Megan E. O'Keefe, check out:

The Protectorate 
Velocity Weapon
Chaos Vector
Catalyst Gate 
About the Author
---
Megan E. O'Keefe was raised amongst journalists, and as soon as she was able, joined them by crafting a newsletter which chronicled the daily adventures of the local cat population. She has worked in both arts management and graphic design, and has won Writers of the Future and the Gemmell Morningstar Award.

Megan lives in the Bay Area of California.
Praise For…
---
"O'Keefe delivers a captivating exploration of identity in this smart, addictive space adventure full of intrigue, visceral danger, and deeply personal stakes. Come for the epic sci-fi action, stay for the charmingly broken characters just doing their best."—
J. S. Dewes, author of The Last Watch
"Full of deftly-plotted twists and turns, 
The Blighted Stars
 is a body-hopping, zombie-popping, rock-licking thrill ride."—
Emily Skrutskie, author of Bonds of Brass
"The story's environmental themes are handled very well (O'Keefe gives the reader much to think about without sounding didactic); the characters are lively; and the writing is full of energy. A very promising series launch."—
Booklist
"
The Blighted Stars
 is everything I want in a book: lots of action, lots of character, and lots of heart. Megan E. O'Keefe delights with every page, from her stunning action sequences set on alien planets to her exploration of the twisted pathways taken by the human heart. This is space opera for the ages, wrapped in complicated and delicious layers of family and loyalty and science and love and duty. I couldn't put it down!"—
Karen Osborne, author of Architects of Memory
"Thrilling, yearning, and paranoid. This book kept me up way too late!"
—
Max Gladstone, Hugo and Nebula Award-winning author
"
The Blighted Stars
is a delightfully twisty space opera filled with unique worldbuilding and deft explorations of humanity, family, and power. Add in a dash of rebellion and a hint of romance, and I'm hooked—I can't wait for the next book!" —
Jessie Mihalik, author of Hunt the Stars
"Emotional arcs and action sequences, vivid worldbuilding, and interesting explorations of body printing and corporate servitude provide an immersive story...O'Keefe's latest has the intrigue, surprises, and high stakes of her previous novels."—
Library Journal
"
The Blighted Stars
delivers a first-in-series that's smart, incisive, and utterly gripping. Megan E. O'Keefe's masterful storytelling will draw you into a complex, brutal, yet hope-charged world, break your heart, and leave you begging for more."—
Rowenna Miller, author of Torn
"Brimming with unconventional gender dynamics and shifting identities,
The Blighted Stars
is character-driven science fiction at its best—a taut novel with human questions at its heart."—
E. J. Beaton, author of The Councillor
"O'Keefe is a master world builder, and 
The Blighted Stars
 has one of the most fascinating sci-fi concepts of the year...a terrific starting point for anyone interested in dipping a toe into the space opera subgenre...If future entries in O'Keefe's Devoured Worlds saga are as exciting as this book, sci-fi fans will be thanking their lucky stars for years to come."—
BookPage