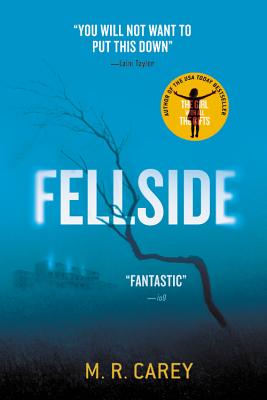 $16.99

Special Order - Subject to Availability
Staff Reviews
---
Jess Moulson has just been convicted of a murder she may or may not have committed. One thing is certain: a young boy is dead and Jess was so high the night he died, she's not convinced of her own innocence. Fellside is a ghost story on the surface, but beneath that is a story of loyalty, guilt, and forgiveness with a bit of an unexpected love story on the side. Reading this book often left me tense with fear and at the same time breathless with wonder at some of the most beautiful bits of prose I've encountered in literature, let alone in any ghost story. M.R. Carey is a master storyteller and if you enjoyed his first, The Girl With All the Gifts, you'll love Fellside.
—
Heather
April 2016 Indie Next List
---
"Let's say you've been convicted of murder and sent to a maximum security prison for the remainder of your life, which should be a while since you are not that old. Then let's say that not only can you not remember killing anyone, but you can't remember who you are. Could things get any worse? How about if the ghost of the little boy you supposedly killed visits you in prison to ask for your help. What do you do? From the author of The Girl With All the Gifts comes another gripping and unforgettable story."
— Linda Bond, Auntie's Bookstore, Spokane, WA
Description
---
In the aftermath of a devastating fire, a prisoner is offered one chance at redemption in this haunting supernatural suspense from the author of USA Today bestseller, The Girl With All the Gifts.

Fellside is a maximum security prison on the edge of the Yorkshire Moors. It's not the kind of place you'd want to end up. But it's where Jess Moulson could be spending the rest of her life.

It's a place where even the walls whisper.

And one voice belongs to a little boy with a message for Jess.

Will she listen?

Lose yourself in Fellside, M. R. Carey's chillingly atmospheric tale of addiction, revenge, and redemption.
About the Author
---
M. R. Carey has been making up stories for most of his life. His novel The Girl With All the Gifts was a USA Today bestseller and is a major motion picture based on his BAFTA-nominated screenplay. Under the name Mike Carey he has written for both DC and Marvel, including critically acclaimed runs on X-Men and Fantastic Four, Marvel's flagship superhero titles. His creator-owned books regularly appear in the New York Times bestseller list. He also has several previous novels, two radio plays, and a number of TV and movie screenplays to his credit.
Praise For…
---
"Fellside is as brilliant as it is dark and devious. M.R. Carey is either deranged or brilliant--or both. Hopefully, both."
—Jonathan Maberry, New York Times bestselling author of Rot &Ruin and Kill Switch on Fellside

"An intense, haunting thriller with heart. You will not want to put this down."—Laini Taylor, New York Times bestselling author of Daughter of Smoke & Bone on Fellside

"A dark, intriguing read."—Martina Cole, author of Get Even on Fellside

"This eerie tale is sure to hook crime fiction and horror lovers."—Library Journal on Fellside

"A twisty crime thriller as well as an exotic ghost story, Carey's second novel is as hard to categorize as it is to put down."—Barnes and Noble on Fellside

"A fantastic, twist-upon-twist, shape-shifting novel. Gripping, deeply affecting and arrestingly beautiful, it is a haunting tale of raw horror and extraordinary redemption. I adored every page."—Miranda Dickinson, Sunday Times bestselling author on Fellside

"The author of The Girl With All The Gifts delivers another gripping story."
—The Columbus Dispatch on Fellside

"Dark [and] suspenseful."—Booklist on Fellside

"[A] grand piece of storytelling."—Sunday Express on Fellside

"I read Fellside in a couple of days . . . I was absolutely nuts about it."—Book Riot on Fellside

"The next fantastic novel from M. R. Carey."—io9.com on Fellside

"Fellside is much more than 'just' a ghost story. It has elements of The Green Mile, The Shawshank Redemption, and Orange Is the New Black, wrapped up in a supernatural mystery that will keep you turning pages late into the night."—Readings on Fellside

"Fellside builds to a climax that's both satisfyingly worked out and shockingly emotionally intense."—RT Book Reviews on Fellside

"This is a sometimes uncomfortable book in the best ways, and its climax is satisfyingly brutal, ghostly and surprising."—This is Horror on Fellside

"Combines a fast-paced plot with a supernatural storyline that's very believable. Gripping stuff."—Good Housekeeping on Fellside

"Taut, tense, and unusual."—Publishers Weekly on Fellside

"A great read that takes hold of you and doesn't let go."—John Ajvide Lindqvist, author of LET THE RIGHT ONE IN on Girl With All the Gifts

"Heartfelt, remorseless and painfully human...as fresh as it is terrifying. A jewel."—Joss Whedon on Girl With All the Gifts

"If you only read one novel this year, make sure it's this one, it's amazing."—Martina Cole on Girl With All the Gifts

"One of the more imaginative and ingenious additions to the dystopian canon."—Kirkus on The Girl With All the Gifts

"...a brilliant work of science fiction, but even people who never read science fiction should absolutely read this one."—io9.com on The Girl With All the Gifts

"Original, thrilling and powerful."—The Guardian on The Girl With All the Gifts

"Unique and terrifying."—Booklist on The Girl With All the Gifts

"An instant favorite."—Boing Boing on The Girl With All the Gifts