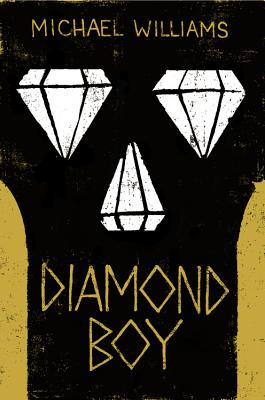 $18.00

Special Order - Subject to Availability
Description
---
My father says that a journey should always change your life in some way. Well, when you have nothing, I suppose a journey promises everything.

"Diamonds for everyone." That's what fifteen-year-old Patson Moyo hears when his family arrives in the Marange diamond fields. Soon Patson is working in the mines along with four friends, pooling their profits for a chance at a better life. Each of them hopes to find a girazi, a priceless stone that could change their circumstances forever. But when the government's soldiers come to Marange, Patson's world is shattered.

Set against the backdrop of Zimbabwe's brutal recent history, Diamond Boy is the story of a young man who succumbs to greed but finds his way out through a transformative journey to South Africa in search of his missing sister, in search of freedom, and in search of himself.

A high-stakes, harrowing adventure in the blood-diamond fields of southern Africa, from the critically acclaimed author of Now Is the Time for Running.
About the Author
---
Michael Williams is a writer of plays, musicals, operas, and novels, and is the Managing Director of Cape Town Opera in South Africa. He is the author of several books, including the highly praised young adult novels Crocodile Burning and Now Is the Time for Running. He has written operas for young people based on African mythology as well as the libretti for symphonic operas that have premiered around the world. He finds writing fiction to be the perfect antidote to the drama of keeping an opera company alive in Africa.
Praise For…
---
Praise for Diamond Boy:
An Amelia Elizabeth Walden Award FinalistAn Amazon.ca Best Books of December 2014 for Children and Teens Selection
* "A compelling novel that brings home the desperate lives of exploited poor, and Diamond Boy will give every civilized reader pause...More than simply a good read, Diamond Boy is a multilayered, teachable novel with a variety of approaches and is highly recommended for middle and high school collections."—VOYA (starred review)

* "[A] riveting tale...Williams draws from real events to bring this harrowing story to life, infusing Patson's narrative with terrifying accuracy. Along the way, the story crosses over with Williams's 2011 novel, Now Is the Time for Running, though readers need not be familiar with that book to be gripped and horrified by the troubles facing Patson and his nation."—Publishers Weekly VOYA (starred review)

"[A] compelling epic...operatic in scope and intensity...A haunting, harrowing tale guaranteed to give "bling" a whole new meaning."—Kirkus Reviews

"Deft, unflinching prose. Teens will be left haunted by Patson's harsh yet essentially hopeful journey, where greed, despair, luck, and wonder intertwine on the diamond fields of Marage."—SLJ

"Williams' fast-paced, tension-packed story is filled with cliff-hangers, [and] perils...a satisfying and eminently readable novel."—Booklist

"Williams's portrayal of middle-class, cell phone-carrying African youth will give readers a different perspective on the modern continent, even as some of its people still cling to the belief in shavi, or luck granted by the ancestors. Patson's shavi is strong, but the diamonds' ability to either transform or destroy a life is something he continues to wrestle with through the very last page."—Horn Book

"This is a harrowing read, no doubt, ... but Williams ably weaves in moments of kindness and small successes that keep things from feeling completely hopeless. Extensive end material offers historical context for the diamond industry in Africa, land mines, and the connections to the author's earlier work."—The Bulletin

"Diamond Boy is an important and eye-opening book, told with heart."—Patricia McCormick, author of the National Book Award Finalist Sold

Praise for Now Is the Time for Running:"A harrowing tale of modern Zimbabwe...gripping suspenseful and deeply compassionate."—Kirkus Reviews (starred review) on Now Is the Time for Running

"There is plenty of material to captivate readers... But it's the tender relationship between Deo and Innocent, along with some heartbreaking twists of fate, that will endure in readers' minds."—PW (starred review) on Now Is the Time for Running

"Williams tells his story simply and unflinchingly with depictions of tremendous violence, hard-fought soccer matches, and the loving bond between the brothers. Deo's narration provides an immediacy that is only compounded by the tale's fast pacing and suspense. The author gives readers complicated and compelling characters for whom they will cheer, cry with, and love."
—SLJ (starred review) on Now Is the Time for Running

"A stunner... This book should be required reading for humanity."—Chris Crutcher, author of Deadline, Whale Talk, and Staying Fat for Sarah Byrnes on Now Is the Time for Running

"Now Is the Time For Running is as riveting as it is important, as heartbreaking as it is uplifting, and as sobering as it is thrilling. Michael Williams astounds us with the moral dilemmas facing southern Africa; he also buoys us with a realistic sense of hope and triumph. A must read." —Matthew Quick, author of Sorta Like a Rock Star and The Silver Linings Playbook on Now Is the Time for Running