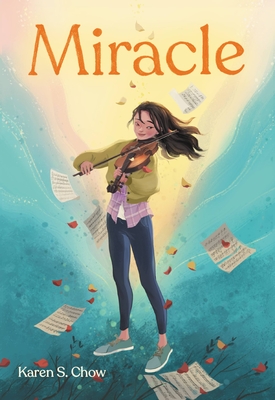 Description
---
When her father dies, Amie's ability to play music dies, too. Nothing short of a miracle can bring back what she has lost. 

Amie has spent her life perfectly in tune with Ba-ba, her father—she plays the violin, his favorite instrument; she loves all his favorite foods, even if he can't eat them during his cancer treatments; and they talk about books, including Amie's favorite series, Harry Potter. But after Ba-ba dies, Amie feels distanced from everyone close to her, like her mother and her best friends, Rio and Bella. More devastating still, she loses her ability to play the violin—the notes that used to flow freely are now stilted and sharp. Will Amie ever find her way back to the music she once loved? 

With hope and harmony lighting the way—and with help from the people who care about her most—Amie must find the strength to carry on. In the end, she'll learn that healing, while painful, can be its own miraculous song. 
About the Author
---
Karen S. Chow is an engineer and lives with her family in Gilbert, Arizona. Miracle marks her writing debut. She invites you to visit her at kchowrites.com. 
Praise For…
---
Praise for Miracle:
"A moving, musical interlude on grief, Chow's debut novel wraps readers in the moments Amie shares with her ba-ba, who has cancer.... Well-paced and serious without being overly heavy, Chow's debut is a great pick for anyone with a love of music or with a cloud of grief lingering over them. Hand to fans of Lynne Kelly, Christine Day, and Paul Acampora."—
Booklist
"Bolstered by an undercurrent of hope, Chow's unflinchingly raw debut explores the fraught relationship between a grieving daughter and mother during a father's decline and death from cancer.... Portraying variations on grief experiences amid a community slowly adjusting after a shared loss, Chow honors the tween protagonist's complexities and priorities as explored via Amie's candid voice. Auditory imagery, Harry Potter references, and nods to the Chinese American family's cultural expression ground the narrative, while chapter epigraphs define music theory metaphors."—
Publishers Weekly
"This lyrical narrative weaves in musical elements to effectively describe the complexity of Amie's grief and its effects on her love for music...fans of When You Trap a Tiger will find this poignant middle grade novel valuable." 
—
BCCB