Truevine: Two Brothers, a Kidnapping, and a Mother's Quest: A True Story of the Jim Crow South (Hardcover)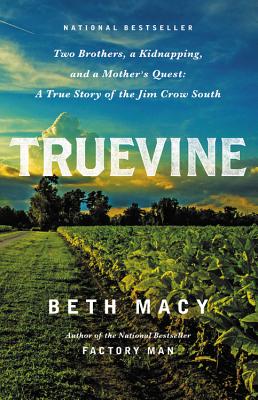 $28.00
Email or call for price.
Staff Reviews
---
Thank you to NPR for introducing me to this book. When I read the interview with the author I found the story of George and Willie Muse fascinating. The Muse brothers were albino African American sons of a poor sharecropper named Harriet Muse who were kidnapped and placed in the circus freak show. I found the most amazing part of their story was their mother Harriet Muse. She never gave up searching for her sons and she did find them. She also took on Ringling Brothers circus for the boys back pay and won! The story of the Muse family takes many twists and turns but while I was reading this book my heart went out to George, Willie and Harriet. I couldn't help but want them to be reunited and to succeed. I wanted them to not feel the pain of living in Jim Crow south since they had already been through so much in their life. I feel this is a book you have to read to truly understand the scope of their lives and it is worth the read.
—
Heather G.
October 2016 Indie Next List
---
"Award-winning journalist Macy is an unrelenting researcher who combed through a wide variety of primary sources to tell a fascinating and heartbreaking story. In the early 20th century, Albino African American brothers are kidnapped by unscrupulous and racist circus managers who not only steal their earnings from their work as freak show performers, but also tell their mother that they are dead. This occurs during the height of the Jim Crow South, when black lives didn't matter and lynching was at its peak. The mother's persistent and heroic fight through legal channels to recoup her sons' wages and achieve a better standard of living is at the heart of this true story, an inside look at the historical depths of American racism."
— Joan Grenier (E), Odyssey Bookshop, South Hadley, MA
Description
---
The true story of two African-American brothers who were kidnapped and displayed as circus freaks, and whose mother endured a 28-year struggle to get them back.

The year was 1899 and the place a sweltering tobacco farm in the Jim Crow South town of Truevine, Virginia. George and Willie Muse were two little boys born to a sharecropper family. One day a white man offered them a piece of candy, setting off events that would take them around the world and change their lives forever.

Captured into the circus, the Muse brothers performed for royalty at Buckingham Palace and headlined over a dozen sold-out shows at New York's Madison Square Garden. They were global superstars in a pre-broadcast era. But the very root of their success was in the color of their skin and in the outrageous caricatures they were forced to assume: supposed cannibals, sheep-headed freaks, even "Ambassadors from Mars." Back home, their mother never accepted that they were "gone" and spent 28 years trying to get them back.

Through hundreds of interviews and decades of research, Beth Macy expertly explores a central and difficult question: Where were the brothers better off? On the world stage as stars or in poverty at home? Truevine is a compelling narrative rich in historical detail and rife with implications to race relations today.
About the Author
---
Beth Macy is the author of the widely acclaimed and bestselling books Dopesick, Raising Lazarus, and Factory Man. Based in Roanoke, Virginia, for three decades, she has won more than a dozen national awards for her reporting, including a Nieman Fellowship for Journalism at Harvard. She is a winner of the 2021 George Mason Award. Beth is the creator of the Audible Original documentary Dopesick: Finding Tess.Dopesick is being adapted into an original drama by Hulu and will star Michael Keaton. 
Praise For…
---
A New York Times Notable Book of 2016

One of Janet Maslin's Top 10 Books of 2016 in the New York Times

One of The San Francisco Chronicle's Top Ten Books of 2016

One of the Best Books of 2016 - Amazon, Kirkus, The Tampa Bay Times, The Houston Chronicle, BookPage, St. Louis Post-Dispatch

A Kirkus Prize Finalist

Longlisted for the Carnegie Medal for Excellence

A New York Times Book Review Editors' Choice

Named one of fall's most anticipated titles by Vulture, Entertainment Weekly, Kirkus, The Millions, Literary Hub and others!




"'It's the best story in town,' a colleague told Beth Macy decades ago, 'but no one has been able to get it.' She now has, with tenacity and sensitivity. She gives a singular sideshow its due, offering these 'Ambassadors from Mars' a remarkable, deeply affecting afterlife."—Stacy Schiff, author of The Witches

"This compelling account of one family's tragic exploitation provides an important lens through which America's tortured racial history and the cruel legacy of Jim Crow can be seen anew."—Bryan Stevenson, author of Just Mercy and founder and director of the Equal Justice Initiative

"Taking us into the dark corners of American history that are discussed only in whispers, Beth Macy shines a bright light on the racial profiteering of circus freak shows and the Jim Crow South. In the remarkable Truevine, Macy manages to do what all the exploitative showmen wouldn't dare; she humanizes the Muse brothers, and in doing so, she has written an unforgettable story of both heartbreak and enduring love."—Gilbert King, author of Devil in the Grove

"A consummate chronicler of the American South spotlights the extraordinary history of two kidnapped African-American brothers enslaved as a circus sideshow act... Macy vividly illustrates circus life during the 1920s, and she movingly depicts how the brothers' protective, determined mother, Harriett, eventually discovered and rescued them almost a decade and a half later... A sturdy, passionate, and penetrating narrative. This first-rate journey into human trafficking, slavery, and familial bonding is an engrossing example of spirited, determined reportage."—Kirkus (starred)

"Macy's exploration of the long-hidden fate of two young African Americans and how that fate illuminates the atrocities of the Jim Crow South is as compelling as Rebecca Skloot's The Immortal Life of Henrietta Lacks...both are absolutely stunning examples of narrative nonfiction at its best...Certain to be among the most memorable books of the year."—Connie Fletcher, Booklist (starred review)

"Beth Macy has a way of getting under the skin of American life, burrowing into the seemingly ordinary to find the weird and wonderful taproots of our society. This true tale from rural Virginia will enrage you, inspire you, make you shake your head and rear your fist. And as the pages keep turning, you'll feel yourself slipping into a gothic world of freaks and geeks, and surreal racial thinking, that seems both deeply strange and yet, sadly, all too familiar."—Hampton Sides, author of In the Kingdom of Ice, Blood and Thunder, and Americana

"If over a hundred years ago there had been Black Lives Matter, the mother of George and Willie Muse would have joined and marched for the safe return of her sons. Back then, almost a century ago, she could only keep learning and finding folk who agreed she had a right to her family...a right to the love and protection of her sons. Beth Macy in Truevine has given us a stirring story of the persistence of faith...the strength of love...in this tale of a mother's journey to reclaim not only her sons but her right to them."—Nikki Giovanni, poet and one of Oprah Winfrey's "Twenty-five Living Legends"

"Love and kinship impelled Harriet's family to try for a century to protect George and Willie...from a world that saw them as objects for exploitation. Macy, for her part, works hard to illuminate the brothers' story...Macy is a gifted storyteller and a dogged researcher, and readers will be riveted by her account of Harriet Muse's struggle to find her sons."—Edward E. Baptist, New York Times Book Review

"Expert...[Macy's] reportorial methods are inspiringly persistent (and [her] books certainly bear that out)...you can feel Ms. Macy's admiration wafting off the page."—Janet Maslin, New York Times

"Extraordinary... 'Truevine' is at once poignant and rigorous, a compassionate dual biography and a forthright examination of codified racism. Macy is a resourceful reporter and a strong but never showy writer... This book, her second after 'Factory Man,' is the work of a journalist whose persistence, empathy and commitment to accuracy can't be doubted.... 'Truevine may focus on events that began a century ago, but its guiding spirit couldn't be more urgent."—Kevin Canfield, The San Francisco Chronicle

"Expert...[Macy] has done [Willie Muse's] life justice in a riveting story that zigzags in unexpected directions...her enthusiasm never lags...even in the worst circumstances, Ms. Macy makes clear, the Muse brothers maintained their humanity."—Jeff Baker, The Wall Street Journal

"Macy's conscientious reporting (affirming the story's accuracy) and her vigorous storytelling make the saga of George and Willie Muse even more enthralling than fiction...Macy is as tender and solicitous in telling their stories as she is in recovering, in print, the dignity of a family broken apart by avarice and injustice."—Gene Seymour, USA Today

"Truevine serves as a primer about racial inequality that all Americans should read."—Marilyn Smith of Kepler's, Literary Hub

"Deeply reported and told with the kind of nuance and grace that define Macy's storytelling. I have been a fan for a long time...It's also just a remarkable story...Of a proud legacy, one that should be told, and thankfully, by a gifted writer."—Maria Carillo, The Houston Chronicle

"Macy earns a seat at the table of today's most accomplished nonfiction storytellers... The tale of Willie and George Muse makes for a spellbinding read."—Jeff Debell, Roanoke Times

"Laying out her decades of journalistic persistence, [Macy covers] the uncomfortable aftermath that followed the boys' heroic rescue by their mother."—Boris Kachka, Vulture

"You may find yourself wanting the tale of the Muse brothers to emerge as a simple tale of inhumanity and injustice. There's a certain satisfaction in that. But the story is too thorny and complicated for that approach, and Macy, whose last book was the New York Times bestseller 'Factory Man,' does us the favor of respecting that complexity."—Chris Vognar, The Dallas Morning News

"A fascinating history.... Macy puts their story into its larger historical context, giving the reader an understanding of the virulent, often violent racism of the Jim Crow era, which affected the Muse family deeply."—Colette Bancroft, Tampa Bay Times

"'Truevine' is dominated by delight and triumph. Macy is a fine Blue Ridge wit...She paints vivid portraits of wily, creative minds...In a timely way, "Truevine" explodes the presumption that moderns are less gullible than in an earlier era."—Jeff Calder, The Atlanta Journal-Constitution

"Truevine...not only puts the real faces and lives of George and Willie to the legend, but also speaks to the ongoing struggle for racial justice in the United States."—Allison McNearney, Time

"A deeply moving and endlessly compelling book."—Alice Cary, BookPage

"An entertaining, provocative, often moving search for the truth about the brothers...Like "Factory Man," "Truevine" is rigorously researched and skillfully written...she provides rich detail about their lives...With empathetic storytelling, Macy raises questions about the brothers and their world, questions that persist. As we inch toward a forthright discussion of race in America brought on by police violence, Black Lives Matter, immigration and a mixed-race president, "Truevine" elicits self-examination."—Rob Walker, Richmond Times-Dispatch

"Deep in circus history, beneath racist lies and family secrets, [Macy] found a gripping tale of the cravenness of human nature--and the power of family."—People

An "impeccably reported tale"—Tina Jordan & Isabella Biedenharn, Entertainment Weekly

"A story about family, race, and reclamation, Truevine is a stunning example of why freedom and love is worth fighting for."—Diana Potts, Signature, 8 Books That Honor History's Unsung Female Heroes

"[Macy] spent more than a decade following these trails in search of facts.... what finally emerged is not only riveting, but multi-layered."—Darrell Laurant, News & Advance

"Truevine is a moving attempt to reconstruct this David and Goliath story...If even "Eko and Iko" can be given back their stories, there might be hope for us all."—Julian Lucas, The New Republic

"A vivid and moving history that uncovers much more than exploitation and racism."—Randy Dotinga, Christian Science Monitor

"While it was clearly no picnic, Macy portrays life in a circus sideshow as a community experience that could provide emotional support, protection - and a living - to those who might otherwise have been ostracized or locked away."—Susan Linnee, StarTribune

"Macy's digging, and how she chronicles her effort to find the truth... make 'Truevine' a true mystery that provides insight into a long-gone world that still has echoes today."—Dale Singer, St. Louis Post-Dispatch

"Intriguing, enlightening and multi-layered... In so diligently and thoughtfully researching and writing this book, Macy has paid tribute to George, Willie and Harriet, and ensured their life stories have finally been accurately and fairly told."—Sharon Chisvin, Winnipeg Free Press

"An inarguable page-turner, Truevine is a fascinating and shocking account of Jim Crow's legacy and America's strange (and often brutal) past."—Dianca London, Lenny Letter

"An intimate, strange and compelling story with big characters and legal intrigue... Macy shares infinite details in smooth, brilliant storytelling."—Jennie Lay, Steamboat Today

"One of my favorite works of nonfiction of 2016...Macy nails it."—Vick Mickunas, WYSO "Book Nook"

"One of my favorite nonfiction books of the season...fascinating."—Joan Grenier, WAMC's "The Roundtable"

"A testament to the strength and determination of those whose lives were shaped by segregationist laws and the resulting deep poverty."—Bob Kustra, The Idaho Statesman

Praise for Factory Man

A New York Times Notable Book of 2014

One of Janet Maslin's Top 10 Books of 2014 in the New York Times

One of The Christian Science Monitor's Top 10 Nonfiction Books of 2014

One of Publishers Weekly Best Books of 2014: Nonfiction

"In a class with other runaway debuts like Laura Hillenbrand's "Seabiscuit" and Katherine Boo's "Behind the Beautiful Forevers": These nonfiction narratives are more stirring and dramatic than most novels. And Ms. Macy writes so vigorously that she hooks you instantly. You won't be putting this book down."—Janet Maslin, New York Times

"Nonfiction storytelling at its finest.... It does what the best business books should: It delivers a heavily researched, highly entertaining story, at the end of which you realize you've learned something.... This is a great American story, the kind that we don't read often enough."—Bryan Burrough, New York Times

"A truly remarkable work of researched narrative nonfiction, one the probes every corner of its topic and values every subject who has something to say.... Factory Man does justice to every hidden corner of the story. It's a book that leaves you feeling better for having read it."—Lucas Mann, San Francisco Chronicle

"A well-crafted and epic tale.... Artfully told."—Marc Levinson, The Wall Street Journal

"The author's brightly written, richly detailed narrative not only illuminates globalization and the issue of offshoring, but succeeds brilliantly in conveying the human costs borne by low-income people displaced from a way of life.... A masterly feat of reporting."—Kirkus (starred review)
Coverage from NPR