Into the Drowning Deep (Hardcover)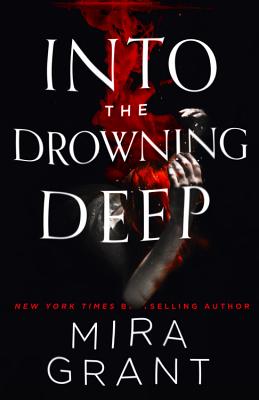 $32.00
Not Available In-Store - Usually Ships from Warehouse in 1-5 Days
Staff Reviews
---
As someone who has fully bought into the fad of ghost hunting TV shows, the idea of a book about a crew lost at sea while filming a mockumentary felt right up my alley. I had no idea what I was in for with this book. It is so smart and prioritizes scientific study as a way to find and understand the creatures they seek. It is beautifully written as well as a pulse pounding thrill ride with a varied cast of characters and a story that never fails to surprise. If we are at the start of a new trend in the genre I'm not sure any book can top this one. If you like audio books, this one is stellar.
—
Kaitlyn
December 2017 Indie Next List
---
"In Into the Drowning Deep, Mira Grant has conjured up scary mermaids living in the depths of the Pacific Ocean. An expedition sets out to learn if mermaids truly exist and to uncover the fate of a previous expedition. The new crew is being recorded for a documentary, with the hope it will prove mermaids are real and clear the network of wrongdoing. Both Tory, whose sister was killed on the first expedition, and Jillian, who has been teaching about mermaids for years, are going out on the state-of-the-art ship; however, that ship has one major flaw. You will not look at The Little Mermaid the same way again!"
— Jason Kennedy, Boswell Book Company, Milwaukee, WI
Description
---
New York Times bestselling author Mira Grant, author of the renowned Newsflesh series, returns with a novel that takes us to a new world of ancient mysteries and mythological dangers come to life.

The ocean is home to many myths,

But some are deadly. . .

Seven years ago the Atargatis set off on a voyage to the Mariana Trench to film a mockumentary bringing to life ancient sea creatures of legend. It was lost at sea with all hands. Some have called it a hoax; others have called it a tragedy.

Now a new crew has been assembled. But this time they're not out to entertain. Some seek to validate their life's work. Some seek the greatest hunt of all. Some seek the truth. But for the ambitious young scientist Victoria Stewart this is a voyage to uncover the fate of the sister she lost.

Whatever the truth may be, it will only be found below the waves.

But the secrets of the deep come with a price.
About the Author
---
Mira Grant lives in California, sleeps with a machete under her bed, and highly suggests you do the same. Mira Grant is the pseudonym of Seanan McGuire -- winner of the 2010 John W. Campbell Award for best new writer. Find out more about the author at www.miragrant.com or follow her on twitter @seananmcguire.
Praise For…
---
"Grant's heady brew of visceral horror, fascinating science, and, of course, the hubris of mankind in the face of the awesome unknown is irresistible. A claustrophobic, deep-sea terror tale that will leave readers glad to be safely on dry land."—Kirkus

"Absolutely delivers on beastly terror.... Best-selling author Mira Grant is one of today's best horror authors, and Into the Drowning Deep takes its place among her best work."—Vulture

"Will unnerve and enthrall even seasoned horror fans. . . Mira Grant masterfully ratchets the tension up and down, holding readers firmly in her grip."—BookPage

"Grant's skillfully crafted story combines science, horror, and mystery into a gripping novel of terror on the sea."—Library Journal (starred review)

"Utterly terrifying."—RT Book Reviews

"Entertained and enraptured from the first page to the last."—Bookriot

"Engrossing and adrenaline-fueled"—Shelf Awareness

"A U.S. presidential campaign set in a zombie-infested future bears an eerie resemblance to the way we live now. Simply jump in and enjoy ... a whip-smart thriller overflowing with sharp ideas and social commentary."—Kirkus (starred review) on Feedback

"Astonishing ... a fascinating exploration of the future."—New York Times on Newsflesh series

"While there's plenty of zombie mayhem, political snark, and pointedly funny observations here, the heart of this book is about human relationships, which are still the most important thing in the world...even in a world where you might have to shoot the person you love most in the head, just to stop them from biting off your face."—Locus on Feed

"Feed is a proper thriller with zombies. Grant doesn't get carried away with describing her world or the virus. She's clearly thought both out brilliantly, but she doesn't let it get in the way of a taut, well written story."—SFX on Feed

"The story starts with a bang as corruption, mystery, danger and excitement abound."—RT Book Reviews (4.5 stars) on Feed

"Gripping, thrilling, and brutal... Shunning misogynistic horror tropes in favor of genuine drama and pure creepiness, McGuire has crafted a masterpiece of suspense with engaging, appealing characters who conduct a soul-shredding examination of what's true and what's reported."—Publishers Weekly (Starred Review) on Feed

"Intelligent and intense, a thinking-person's post-apocalyptic zombie thriller set in a fully-realized future that is both fascinating and horrifying to behold."—John Joseph Adams on Feed

"I can't wait for the next book."—N.K. Jemisin on Feed

"It's a novel with as much brains as heart, and both are filling and delicious."—The A. V. Club on Feed

"OK, all of you readers who want something weighty and yet light, campy and yet smart, horror with heart, a summer beach read that will stay in your head and whisper to you "what if," Deadline is just what you are looking for."—RT Book Reviews on Deadline

"Deft cultural touches, intriguing science, and amped-up action will delight Grant's numerous fans."—Publishers Weekly (Starred Review) on Deadline

"Intelligent and exciting...raises the bar for the genre."—Telegraph on Deadline

"Wry and entertaining."—NPR Books on Blackout