Why Fathers Cry at Night: A Memoir in Love Poems, Letters, Recipes, and Remembrances (Hardcover)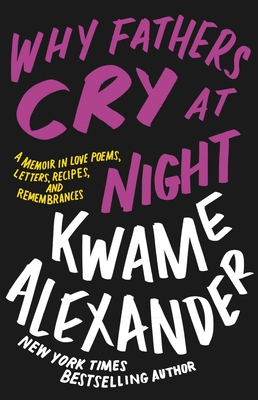 Staff Reviews
---
This was a complete joy to read. I would find myself rushing to the book and then slowing down in order to savor it. Kwame Alexander (KM) gifts us with a memoir written in prose, poetry and recipe. Each word leaves a mark. KM gives his whole self - his loves, his heart breaks. He is honest and vulnerable. His words and experiences inspired me to love more, to accept and acknowledge heartbreak, and to fill my life with poetry, cooking and music. It is beautiful.
— From
Cindy's Picks (page 1)
Description
---
This powerful memoir from a #1 New York Times bestselling author and Newbery Medalist features poetry, letters, recipes, and other personal artifacts that provide an intimate look into his life and the loved ones he shares it with.
In an intimate and non-traditional (or "new-fashioned") memoir, Kwame Alexander shares snapshots of a man learning how to love. He takes us through stories of his parents: from being awkward newlyweds in the sticky Chicago summer of 1967, to the sometimes-confusing ways they showed their love to each other, and for him. He explores his own relationships—his difficulties as a newly wedded, 22-year-old father, and the precariousness of his early marriage working in a jazz club with his second wife. Alexander attempts to deal with the unravelling of his marriage and the grief of his mother's recent passing while sharing the solace he found in learning how to perfect her famous fried chicken dish. With an open heart, Alexander weaves together memories of his past to try and understand his greatest love: his daughters.
Full of heartfelt reminisces, family recipes, love poems, and personal letters, 
Why Fathers Cry at Night 
inspires bravery and vulnerability in every reader who has experienced the reckless passion, heartbreak, failure, and joy that define the whirlwind woes and wonders of love.
About the Author
---
Kwame Alexander is a poet, educator, publisher, and #1 New York Times Bestselling author of 38 books, including THE DOOR OF NO RETURN, LIGHT FOR THE WORLD TO SEE: A THOUSAND WORDS ON RACE AND HOPE, AN AMERICAN STORY, BECOMING MUHAMMAD ALI, co-authored with James Patterson, REBOUND, which was shortlisted for prestigious UK Carnegie Medal, The Caldecott Medal and Newbery Honor-winning picture book, THE UNDEFEATED, illustrated by Kadir Nelson, and his NEWBERY medal-winning middle grade novel, THE CROSSOVER. A regular contributor to NPR's Morning Edition, Kwame is the recipient of numerous awards, including The Lee Bennett Hopkins Poetry Award, The Coretta Scott King Author Honor, Three NAACP Image Award Nominations, and the 2017 Inaugural Pat Conroy Legacy Award. In 2018, he founded the publishing imprint, Versify, and opened the Barbara E. Alexander Memorial Library and Health Clinic in Ghana, as a part of LEAP for Ghana, an international literacy program he co-founded. He is the writer and executive producer of The Crossover TV series on Disney Plus. You can listen to his new podcast, Why Fathers Cry, and find him online at KwameAlexander.com. 
Praise For…
---
"Written with candor, warmth, and heart-wrenching grace, Why Fathers Cry at Night is nothing short of a marvel, animating humanity's most important questions: What does it mean to grieve, to have the courage to surrender, to find a home in this tumultuous world, and to learn to love again? With radiance and poetic precision, Kwame Alexander's words will remind you of art's infinite sustenance. As soon as I turned the last page, I started again."
—
Adrienne Brodeur, author of the best-selling memoir Wild Game: My Mother, Her Lover and Me (2019)