Gay Bar: Why We Went Out (Hardcover)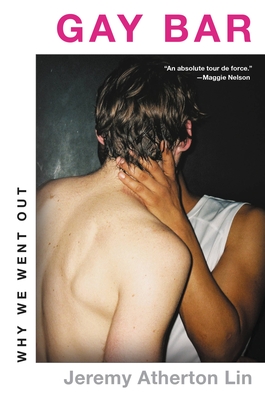 $28.00

Not Available In-Store - Usually Ships from Warehouse in 1-5 Days
Description
---
National Book Critics Circle Award Winner

NAMED ONE OF THE BEST BOOKS OF THE YEAR BY: The New York Times * NPR * Vogue * Gay Times * Artforum *

"Gay Bar is an absolute tour de force." –Maggie Nelson

"Atherton Lin has a five-octave, Mariah Carey-esque range for discussing gay sex." –New York Times Book Review

As gay bars continue to close at an alarming rate, a writer looks back to find out what's being lost in this indispensable, intimate, and stylish celebration of queer history.

Strobing lights and dark rooms; throbbing house and drag queens on counters; first kisses, last call: the gay bar has long been a place of solidarity and sexual expression—whatever your scene, whoever you're seeking. But in urban centers around the world, they are closing, a cultural demolition that has Jeremy Atherton Lin wondering: What was the gay bar? How have they shaped him? And could this spell the end of gay identity as we know it?

In Gay Bar, the author embarks upon a transatlantic tour of the hangouts that marked his life, with each club, pub, and dive revealing itself to be a palimpsest of queer history. In prose as exuberant as a hit of poppers and dazzling as a disco ball, he time-travels from Hollywood nights in the 1970s to a warren of cruising tunnels built beneath London in the 1770s; from chichi bars in the aftermath of AIDS to today's fluid queer spaces; through glory holes, into Crisco-slicked dungeons and down San Francisco alleys. He charts police raids and riots, posing and passing out—and a chance encounter one restless night that would change his life forever. 

The journey that emerges is a stylish and nuanced inquiry into the connection between place and identity—a tale of liberation, but one that invites us to go beyond the simplified Stonewall mythology and enter lesser-known battlefields in the struggle to carve out a territory. Elegiac, randy, and sparkling with wry wit, Gay Bar is at once a serious critical inquiry, a love story and an epic night out to remember.
About the Author
---
Jeremy Atherton Lin is an Asian-American essayist based in Los Angeles and East Sussex, England. His work has appeared inthe Times Literary Supplement, the Guardian, GQ, Artforum and The Yale Review, for which he was shortlisted for a National Magazine Award. Jeremy's debut book Gay Bar was listed in the New York Times Critics' Top Books of 2021 and received the National Book Critics Circle Award for Autobiography. His next cultural memoir, Deep House, will bepublished in 2024.  
Praise For…
---
One of the New York Times Critics' Top Books of 2021
New York Times
Editors' Choice 
NPR's Best Books of 2021
Artforum's Best Books of 2021
Vogue
's Best Books of 2021
Wall Street Journal
's10 Best LGBTQ+ Books for Pride Month
LitHub's Most Anticipated Books of 2021
Cosmopolitan
's Best LGBTQI+ Books of 2021
Debutiful's Best Books of February
Queerty's Best Holiday Reads
"A beautiful, lyrical memoir…Atherton Lin has a five-octave, Mariah Carey-esque range for discussing gay sex."
 —
NEW YORK TIMES BOOK REVIEW
"A remarkable debut. . . it's a difficult book to pin down, but that's what makes it so readable and so endlessly fascinating. . . Each observation is sharp and phrased beautifully; Atherton Lin wastes no words, and the ones he chooses are carefully considered.
Gay Bar
is a book that's beyond impressive, and Atherton Lin's writing is both extremely intelligent and refreshingly unpretentious."
 —
NPR
"The treatment of time in the book — the way the present is peeled back to reveal the past — is beautiful, and original. Throughout there is a feeling of simultaneity, of queer lives and histories moving in parallel, of nightlife as a site of pleasure, play and resistance…How movingly he replicates it here, with his wide, strobing intellect, enlivening skepticism, rascally allure."
 —
Parul Sehgal, NEW YORK TIMES
"A beautiful amble through the world of gay bars . . . a rich tapestry of history, theory, and criticism."
 —
VANITY FAIR
"Brilliantly written . . . Atherton Lin writes as though he himself is a sign of the times. With gusto and a sense of abandon he describes his own hunger for excitement, with scenes that are gloriously locked in the present moment."
 —
Colm Tóibín, THE GUARDIAN
"This deservedly award-winning, multifaceted book examines the role of the gay bar on both a micro and a macro level. 
Come for the history lesson, stay for the party
."—
WALL STREET JOURNAL
"For when you really miss going out… This book will make you miss it even more. Atherton Lin's stylish debut explores the history and cultural resonance of gay bars…It's a wistful exploration of queer life, history, liberation, and identity. And feels especially vital right now when we're all stuck inside."
 —
THE SKIMM
"A detailed, frank and brilliantly personal account…Already,
Gay Bar
reads like a cult classic."
 —
PAUL FLYNN, EVENING STANDARD
"I can't remember the last time I've been so happily surprised and enchanted by a book.
Gay Bar
is an absolute tour de force."—
MAGGIE NELSON
"Jeremy Atherton Lin's personal history of queer nightlife is shot with vibrant intellectual adrenaline. With keen original insight, he celebrates the gay bar as a site of ribald, sensuous, and urgent resistance. A must-read for all."—
CATHY PARK HONG, author of MINOR FEELINGS
"This book of creative nonfiction links theory, geography, and romantic memoir via the knowledge made available through the erotic…We peep the emergence of nonbinary gender identities as they come to be claimed, and behold the finitude of gay identity—itself a nineteenth-century construction—from inside the pissoirs and cabarets where it was conceived and continues to unravel… The essays' lyrical prose gives pleasure through the space it builds for paradox, deferring conclusions in much the same way one might desire to stay for one more song."—
ARTFORUM (Best Books of 2021)
"An essential read in 2021."—
VOGUE, Best Books of the Year
"Lively and dirty, intellectual and gossipy,
Gay Bar
is the rare book that feels both like a guilty pleasure
and
like it is making you considerably smarter as you read. A super-exciting debut and an important document of queer lives."—
MICHELLE TEA, author of BLACK WAVE and AGAINST MEMOIR
"
A book of rare dream-like power
, an exacting anthropology of queer life. Brainy, audacious, funny, vulnerable, and sexy,
Gay Bar
is endlessly awake not just to codes and signs but to a culture that's changing faster than most of us are able to see."
 —
PAUL LISICKY, author of LATER: My Life at the Edge of the World
"Utterly blown away. Jeremy Atherton Lin creates something new from a territory that feels so familiar and known. We can never have enough complex, intersectional writing about queer experience, and this is such a welcome, needed addition to the canon."—
NIVEN GOVINDEN, author of THIS BRUTAL HOUSE and DIARY OF A FILM
"
Gay Bar
 is searching, erudite, and sexy. With verve and grace, it probes the past, present, and future of queer life while refusing easy binaries.
Gay Bar
is about pleasure, but deeply serious too. It is wonderful — one of the best books I have read in ages."—
KATHERINE ANGEL, author of UNMASTERED and DADDY ISSUES
"Each page made me yearn for the dance floor and each chapter made me think about our need for queer spaces in new ways. I'm so glad that someone has written the definitive book about gay bars...but specifically, Atherton Lin, who has captured the subversiveness and sexiness that make these places what they are, or, tragically, were."—
AMELIA ABRAHAM, author of QUEER INTENTIONS
"Like the hypnotic thumps of good house music, Jeremy Atherton Lin's voice pulses. Painstakingly researched and tenderly written, 
Gay Bar
 marks queer bars as sites of resistance and reinvention. I longed for nothing more than to club hop with him, to occupy the spaces between light and shadow, between love and desire, and to consume the night alongside him so that we might emerge wholly new."—
ALEX ESPINOZA, author of CRUISING: An Intimate History of a Radical Pastime
"A fond evocation of queer spaces that are sordid, deviant, and defiantly anti-mainstream—the bathhouses and club basements that are integral to queer history but rarely historicized in the traditional sense."—
PITCHFORK
"Raunchy, tender, and bracingly erudite,
Gay Bar
is an archaeology, a 4 a.m. afterparty, a disco-and-glitter drenched fever dream. In luxuriant, sublimely evocative prose, Atherton Lin wafts between personal anecdote and political history, exploring the evolution of queer spaces, and how their disappearance is a sign of what we've both gained and lost.
Gay Bar
is pure pleasure to read: like having an intimate conversation with your funniest, smartest friend."—
DAVID ADJMI, author of LOT SIX
"A vibrant and wistful report on a bygone era in gay culture."
—
KIRKUS, Starred Review
"A work of genius. Smooth and ferocious; tumescent and pounding; sweet, awkward, occasionally shy. Phenomenological social history at its most fuckable."—
Grace Lavery, author of PLEASE, MISS
"Playful, hilarious, arousing, shocking and challenging."
 —
THE FACE
"Masterful…[
Gay Bar
] has something for every reader…This superb, multifaceted book takes a close look at gay bars individually and as concept, in history and in the author's life, tackling big questions with wisdom and grace."
 —
SHELF AWARENESS
"Jeremy Atherton Lin's intimate history of gay culture — from the 18th century to today — is electric, immersive, and impossible to look away from. . . . It's an illuminating, sexy, vibrant examination of place and identity."
 —
BUZZFEED
"Jeremy Atherton Lin's intimate history of gay culture — from the 18th century to today — is electric, immersive, and impossible to look away from. . . . It's an illuminating, sexy, vibrant examination of place and identity."
 —
ELECTRIC LIT
"A grand, cross-continental adventure. . . . [Atherton Lin's] deep and vivid details bring his memories to life in a way that will make you feel like you are smack dab in the middle of those bars alongside him. His examination of these spaces from all sides will make you think about them in brand new ways."
 —
ASSOCIATED PRESS
"A kinetic bar crawl through space and time and subculture. . . .
Gay Bar
  feels like a love letter, and of the realest sort — one that expresses devotion through piercing, sustained attention, that takes delight in negotiating."
 —
BUZZFEED
"[A] diamond of a book; its milky imperfections streak through the text like a hot load shot across a greedy, gorgeous face…
Gay Bar 
elides categories, determined to queer gender and genre alike, smearing even this commonplace with a sweaty, gropey touch…Atherton Lin's thick description of this mélange works the magic of a Proustian madeleine. This is, in part, because he writes the way gay culture looks and feels: he is both evasive and effervescent…But Atherton Lin is after something more: the glam camp of undiluted faggotry. This is writing as drag, and it aims at times to be just as tawdry and exhibitionist."
 —
THE BAFFLER
"With his incisive, kinetic prose, Atherton Lin fuses together memoir, travelogue and history lessons, turning a lifetime of bar hopping into a richly queer palimpsest… Right now, when most bars are closed, Atherton Lin is the friend you cannot wait to have sitting on the barstool next to you when they reopen. Brilliant, intelligent and witty, 
Gay Bar
 will intoxicate you until they do."—
WINNIPEG FREE PRESS
"A refreshing glimpse into the sweaty glory of the humble queer haven we've missed in the last year…If you're looking for an honest and visceral reading experience,
Gay Bar
really is the book for you." 
 —
GAY TIMES
"Atherton Lin takes us on a journey threaded by his own heady experiences, reflecting with unbridled sexual honesty on the role various gay bars played. Always unvarnished – appropriately salacious – the gay 'scenes' of Los Angeles, San Francisco, and London come to life, rich with smell, taste, tribalism, and always a frisson of sexual tension…This is exceptional writing."
 —
FINANCIAL TIMES
"Filled with well-researched history, entertaining personal anecdotes, and a healthy dose of queer theory…a well-timed reminder of who we become when we're surrounded by our own people."
 —
QUEERTY (Best Holiday Reads)
"I'm a year late, but Jeremy Atherton Lin's
GAY BAR
was a knockout: a responsible history of places that at the time aspired to nothing more than a few hours of lurid fun and total oblivion. God knows how he remembered any of it."—
Philip Hensher, THE SPECTATOR